TESOL Certificate
"Fast, Flexible TEFL/TESOL Certification Gets You Overseas In Only Two Weeks"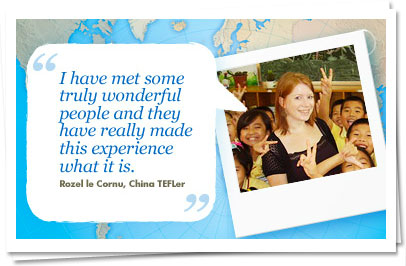 As one of the world's leading TESOL certifiers, i-to-i knows what it takes to get you teaching abroad. We've been training TESOL teachers since 1994 and offer a range of courses with immediate, round-the-clock access to get you qualified and overseas quicker. You can earn your TESOL certificate purely online, get practical teaching experience on our weekend course or combine both for fully comprehensive training.
Save cash and save time
Study as quickly or slowly as you want
Add practical teaching experience by taking our highly-recommended weekend TESOL certificate
Full-time support from TESOL tutors, day or night
Accredited and globally-accepted certification
Online TESOL
Certificate
"TESOL training time and study wherever (and whenever) you want!
Save cash and save time
Full-time tutor support, day or night
True flexibility
Add the face-to-face weekend course at any time
Certification accepted around the world
Learn More
Classroom TESOL
Certificate

"Combined training… at a price and pace that suits you"

Share your training with others
Full-time tutor support, day or night
Teaching experience combined with flexible online training
Quicker and cheaper than most pure classroom courses
Certification accepted around the world
Learn More
"Practical Skills Learnt from Experienced Teachers"
We focus all our energies on you, striving to transform you from an aspiring TESOL teacher to one with the confidence and skills to face your first class and inspire students of your own.
We keep things simple, focusing on developing the essential skills required to be an effective TESOL teacher.
You will learn crucial detail about our language's intricacies and how to convey them to your students in a simple, easy-to-understand way
You will become skilled at teaching English to a range of students
You will be taught how to inspire and fascinate your students
You will build the confidence to teach in a range of classroom situations, with a variety of materials
On top of all this, you'll stand out from the crowd and be far more employable.
"Don't Risk It, Be Prepared, Get TEFL Certified"
You may have heard that you don't need a TESOL certificate to get a job overseas. The truth is that, in many countries, you don't.
However, the more important truth is that if you head out without any training, you'll find it much tougher to find work. In this situation it's easy to find yourself working for an unscrupulous employer who provides few benefits and even fewer resources for their teachers to use. Either way, you'll be doing both yourself and your students a disservice. Is it really worth the risk when you can fully prepare yourself by becoming TESOL-certified for just Not found ?
Proper training in EFL teaching not only ensures that your future students gain value in the classroom, it also goes a long way to making sure you enjoy it. With inadequate preparation, the first few weeks of teaching WILL be the longest weeks of your life!

Bob, i-to-i TEFL teacher, South Korea
"Earn Thousands And Recoup Your Investment Quickly"
As a fledgling TESOL teacher you can expect to earn £800 each month on average.
That wouldn't usually get you much, but the cost of living in many TESOL destinations is far lower than you'd find at home, so your money will be worth much more. This means you're your course could pay for itself within as little as two weeks; while you could recoup the cost of your flights in less than two months.
Here's what value our 120 hour course will give you:
An accredited TESOL certificate that's been 14 years in the making. It's accepted around at language schools globally and quality-checked by the ODLQC
24-hour access, from within minutes of registration. Get started straight away so you can get overseas quicker!
Quality tutoring from teachers who've worked abroad for at least 3 years
FREE TESOL workbook with the weekend classroom course
FREE access to our TESOL helpdesk experts… for life
FREE access to our brand new i-to-i TEFL Jobs Board
24-hour IT support for the online modules
24-hour support from TESOL tutors worldwide
Risk-free money back guarantee if you're not completely happy
"Open To Almost Anybody"
There are few limitations to becoming TESOL-certified. These are the requirements:
Native English speaker or at least very close to native in your ability.
A handful of countries such as Japan insist that you have a degree, but these are few and far between. This isn't a requirement for our courses!
You DON'T have to speak the local language
Real testimonials, from real people
I had become bored with getting up every morning to go to a dead-end job. I wanted to travel, and what better way than to get paid at the same time as seeing Asia?

Robert Clarke
I completed my online course in 3-4 weeks... My dream was to work & live in Milan, Italy... The work was fun.. and I really enjoyed the experience... everyone should live in another country at least once...

Francesco Grandi
I was working as a computer programmer in London... I decided to do an intensive weekend (TEFL) course... I now get paid to teach in Japan, I have been here a few months and I enjoy it...

Richard Guy