Introduction
The crème de la crème of teaching resources, we've included ALL of our top TEFL eBooks in our Ultimate Resource Pack – plus some tutor-designed lesson plans ready for you to use, some exciting ice-breaking activities such as warmers, fillers and coolers and our Finding Work Abroad Guide to help kickstart your new career.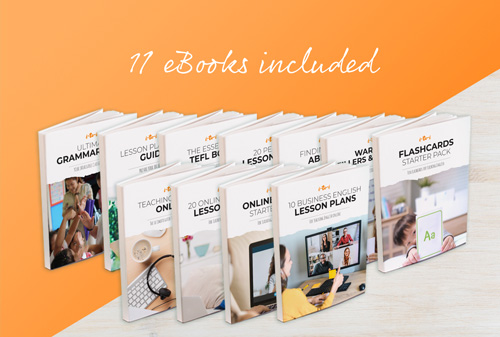 Is this bundle good for me?
If you're setting your sights high for your TEFL career, the Ultimate Resource Pack will give you the career-enhancing skills, classroom confidence and TEFL industry know-how to help give you a leg-up from day one. Offering expert advice on online English tutoring, the Teaching English Online guide is a favourite amongst our graduates. Or, if it's support in the TEFL classroom you're after, our DELTA-qualified tutors have generously donated some of their own lesson plans for you to use in your own classes. Whatever your TEFL plans are, we've got you covered!
How do I get the The Ultimate Resource Pack ?
If you're an existing i-to-i customer who's currently working through one of our Level 5 Courses, or you're purchasing one now, simply add this Pack to your cart to buy online any time.
Please note: If you've already got a TEFL Course with us, please make sure you use the same email address as your previous order when you check out. This will ensure that your new upgrades are added to your existing course.
If you want more info or to chat it through, request a call back from one of our experts here.