Our jobs
Here at i-to-i TEFL we pride ourselves on a few different things… our knowledge of TEFL, our passion for the best service possible and our enthusiasm for a slice of decent cake… If you're looking for a company who are hard working and professional, as well as being fun and enthusiastic about all things TEFL, we might just be the perfect match for you.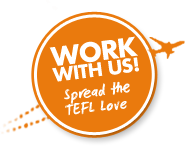 UK Office
Academic Head wanted – Part-time or Full-time!
If you're a talented EFL Professional with a minimum of 5 years' experience in the industry then we want to hear from you!
Established in 1994, i-to-i TEFL is the world's leading provider of Ofqual regulated online and short-course TEFL certification, with 15,000 graduates per year. We are looking for a dynamic, experienced EFL professional to join our busy team and spearhead our academic strategy. i-to-i has been at the leading edge of TEFL course innovation over the years, so as well as overseeing the academic rigour of our existing courses, the successful candidate will also play an active role in establishing and developing new courses too.
So, If you're looking for a company with innovation at its heart, and who are hardworking, professional and enthusiastic about all things TEFL, we might just be the perfect match for you!
Responsibilities:
The successful candidate will be responsible for a wide variety of duties, including:
Ensuring the highest standards of teaching are delivered to online and classroom students
Overseeing our lively bunch of online and classroom tutors
Ensuring student satisfaction ratings are consistently high for teaching and learning
Resolve areas of academic concern quickly
Liaison with our partner, Gatehouse Awards, with respect to maintaining our Ofqual responsibilities
Providing academic input to all new product development, to ensure that academic standards are always of the highest order
Online course marking & occasional classroom teaching (full-time role only)
The successful applicant will be required to attend a minimum of one practical course for observation and training purposes.
Qualifications:
A DELTA qualification or equivalent qualification strongly preferred
Three years' teaching experience (ideally overseas)
A minimum of Five years' experience in the EFL industry, including three years' teaching (ideally overseas) preferred
The ability to motivate and inspire!
A strong commitment to customer service
A passion for teaching overseas and inspiring our students to achieve their dreams!
A strong desire to work in a small busy SME office environment, with an innovative and commercial flair
Knowledge:
Expert user of English
Strong language awareness
Familiarity with communicative methodology and PPP
A broad knowledge of the current TEFL job market
Compensation:
£23k – £25k FTE depending on experience
25 days holiday
Stakeholder pension
Gym membership contribution
Breakfasts & fruit every day
Regular team nights out
Chocolate biscuits (Mon/Tues only, as by Wednesday they are all eaten!)
This role will be available on a full-time or a part-time basis. Part-time will be 5 days/week for 4hrs/day, specific hours to suit, and can be discussed at interview.
How to apply:
To apply, please send a CV and covering letter to jo.bearcroft@i-to-i.com.
Please apply by Friday 31st March 2017.