Kristy and her partner, Jarryd, decided to spend two days relaxing in Cartagena before embarking on their two month Colombia TEFL Experience. Here's what they got up to.
Our South American odyssey begins with a flight into Bogota, (where it's a chilly 15 degrees – not at all what we were expecting!) and then another flight into Cartagena, where we will spend two days exploring before heading to bustling Barranquilla.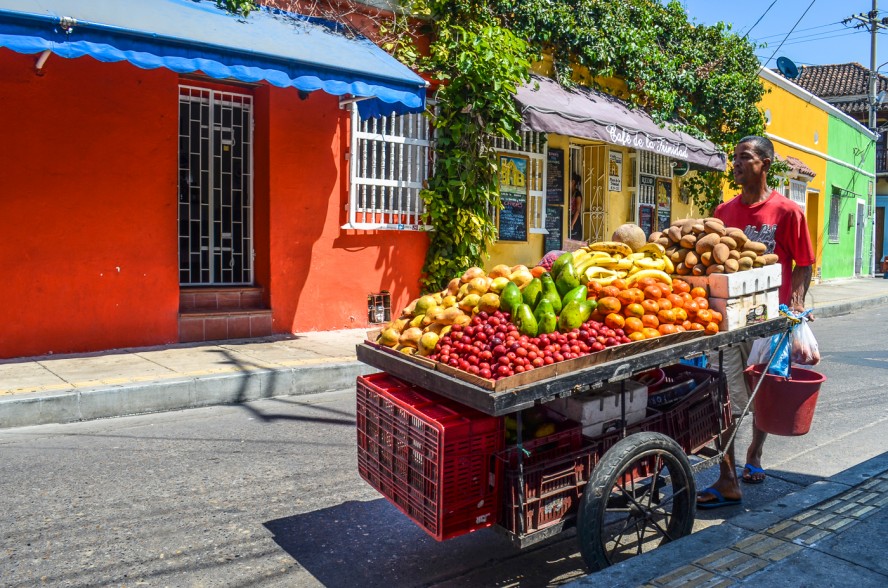 Balmy Beachside Living
The weather in Cartagena is completely different to the country's capital: 27 degrees, even at 5.30pm.
The sun is glowing and the sky turns pink as we make our way in a taxi along the coastline to our hostel.
We stare at the crashing waves and people frolicking in the water, families enjoying some late afternoon beach time.
On the other side of the road, opposite the beach, there are people already taking up their positions on the city's famous fortress walls to watch what will no doubt be a stunning sunset.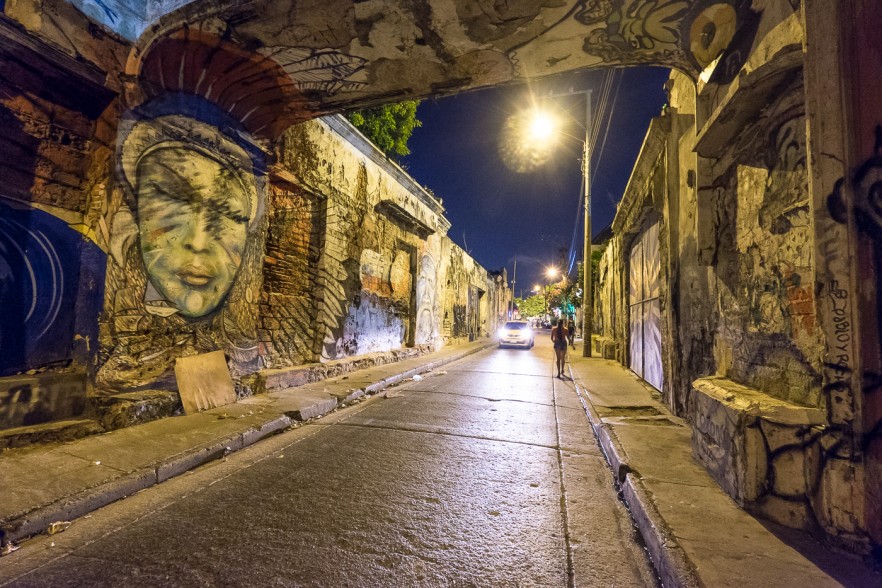 The Fun Begins
We check into our hostel, which is in a funky part of town full of restaurants, bars and street art.
Cartagena is buzzing and it's only a Wednesday night.
At the end of our street is a small plaza, where buskers are juggling, children bounce on a trampoline and lively music blares loudly into the balmy night.
People are dining and sipping cocktails on the street, while staff members do their best to entice passers-by with a look at the menu.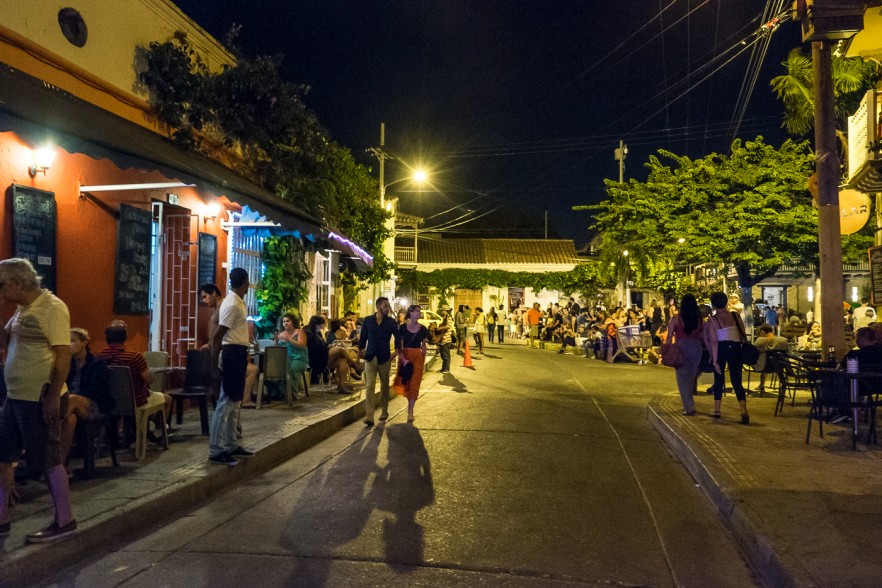 We walk through a gated park with market stalls selling sizzling street food, souvenirs and secondhand books, as heavy traffic circles around, causing a traffic jam of yellow taxis and blaring horns at one street corner.
We pass beautiful historic buildings with Romeo and Juliet-style balconies adorned with pretty flowers.
We gape at oversized arched doorways with their elaborate carvings and big brass knockers, which look more like they belong to the drawbridge of a fairytale castle than something you'd see in this day and age.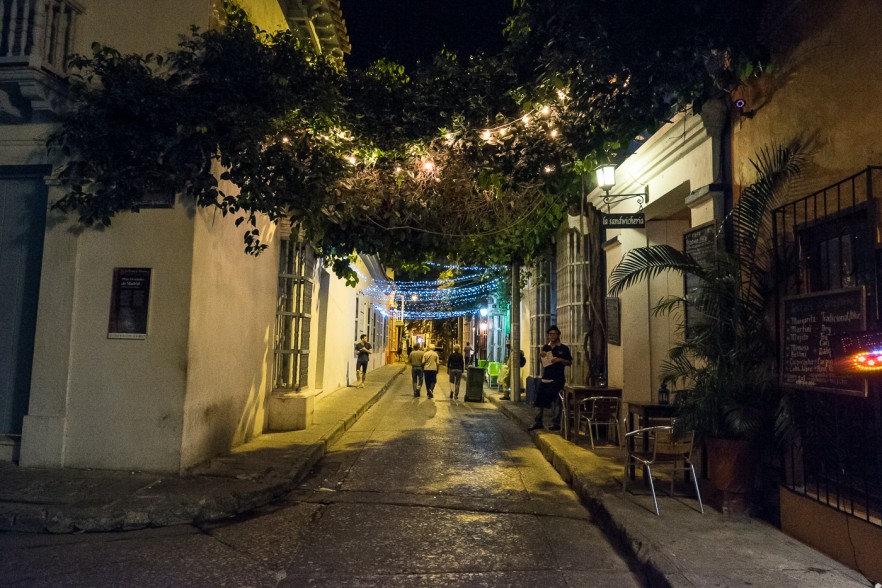 We stroll cobbled streets until we arrive at another plaza with upbeat Colombian music, outdoor dining, late-night shopping, souvenir stands and street food carts.
It is an absolute feast for the senses – chaotic, busy, fun, fascinating.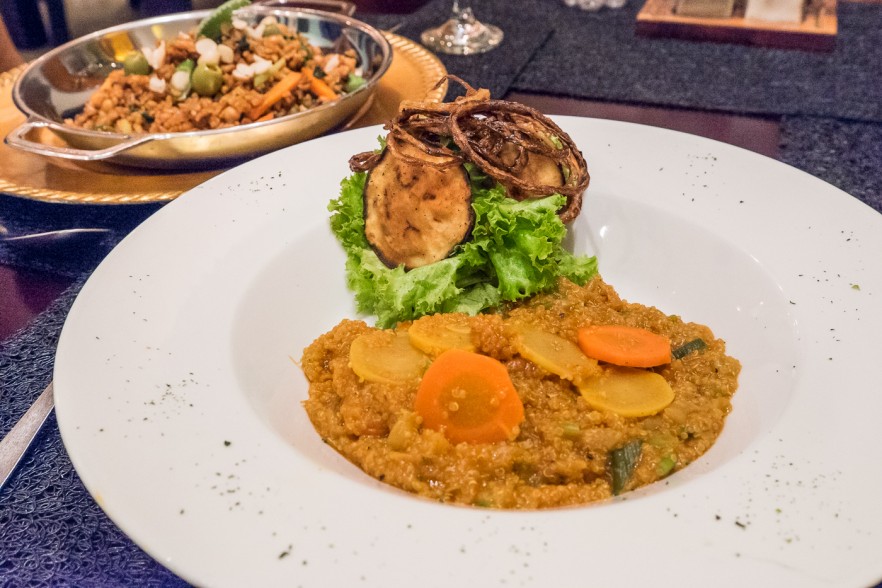 Our First Dinner in Colombia
We find a lovely restaurant for dinner and take a seat by the window so we can continue to watch the hordes of people passing by.
We don't want to be left out of anything that is happening on the streets outside.
We order entrees of lentil croquettes and falafel with tahini, followed by a delicious quinoa risotto and vegetarian paella for mains.
The falafel is the best I have ever tasted and the tahini is light and flavoursome, not at all like the thick, heavy versions you get back home.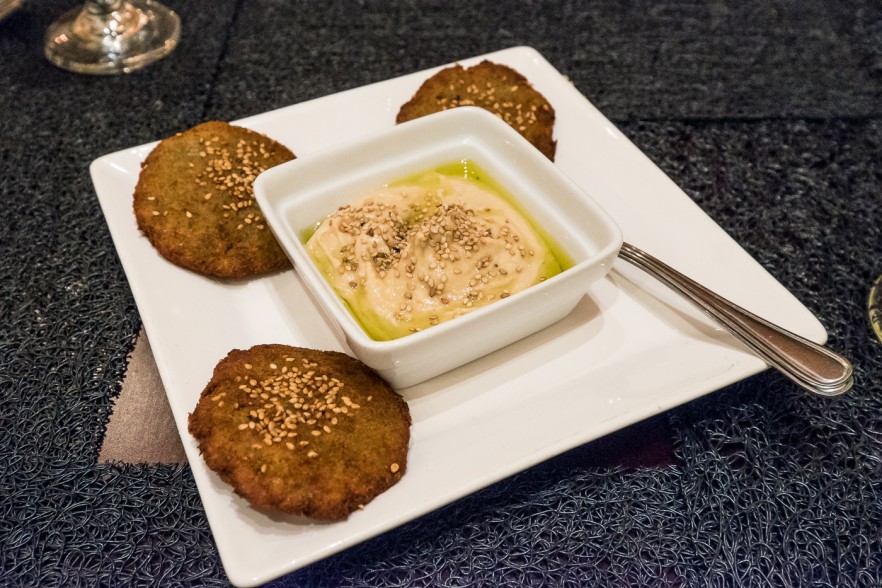 The paella is packed with beans, vegetables and olives and we leave the restaurant with full bellies and happy hearts.
Exploring Cartagena's Old Town
The next day we are up and at it, as we brave the scorching sun to spend a few hours exploring Cartagena's famous historic city.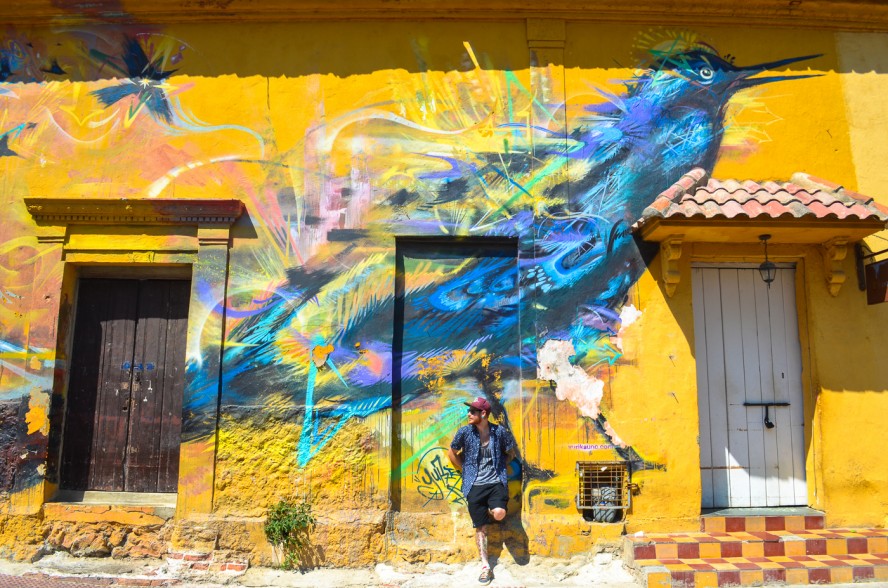 The walk to the old town is just as exciting as the previous night, and we are constantly surprised and delighted by the impressive street art and beautiful, vibrant, old buildings.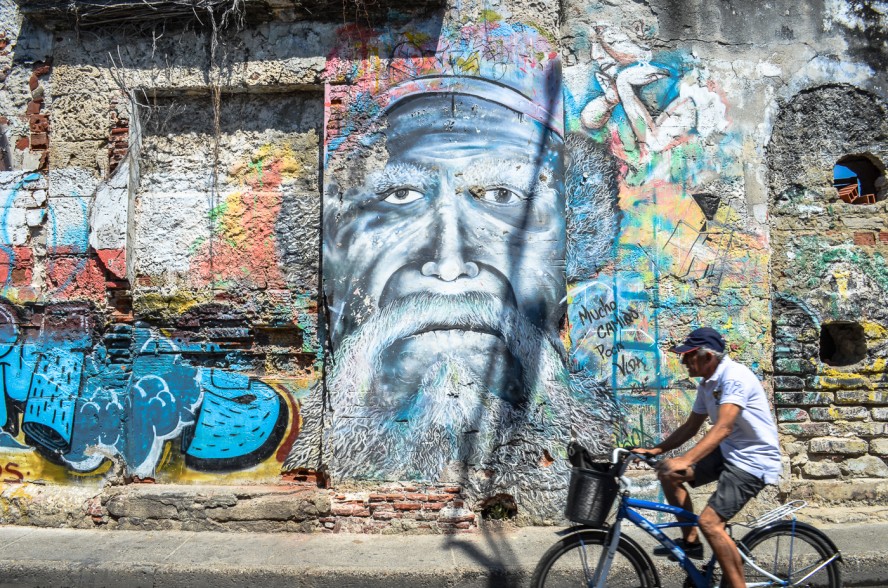 When we arrive inside the walled city, we see hawkers selling colourful wares and local women parading around in brightly-coloured traditional dresses.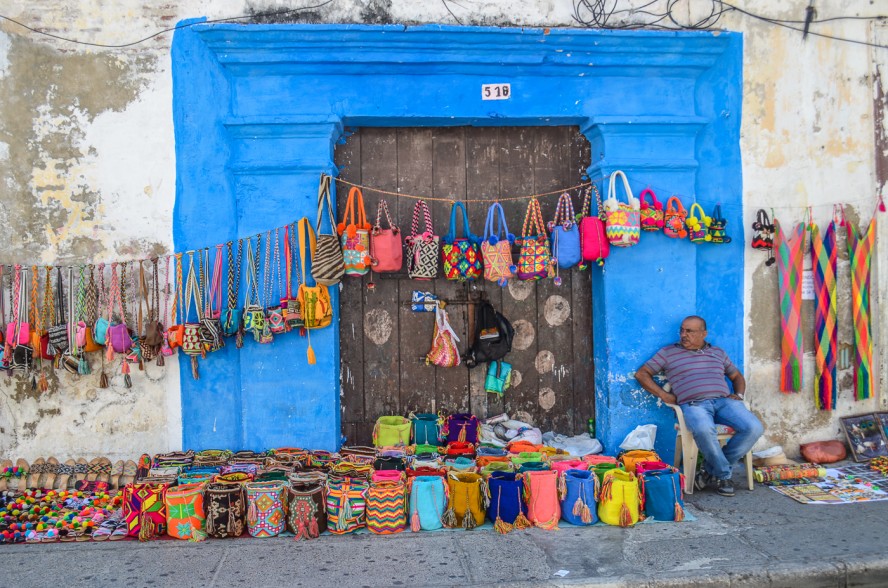 We photograph beautiful doorways and eat fresh fruit bought from street vendors for just $1USD – such a refreshing snack on a hot day.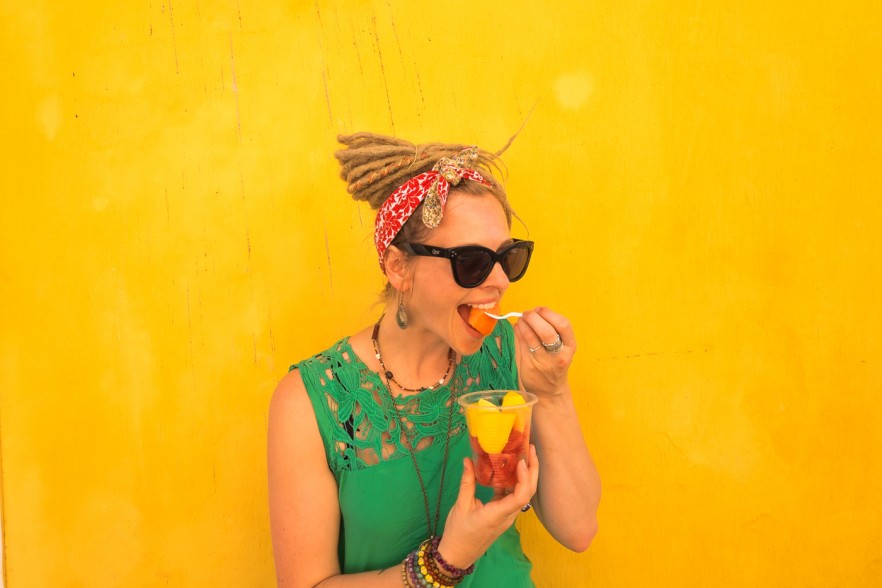 Jarryd and I are so blown away by all the bright and colourful buildings that we can't help but take a bunch of silly photos in front of them, which we later use to make a selfie montage.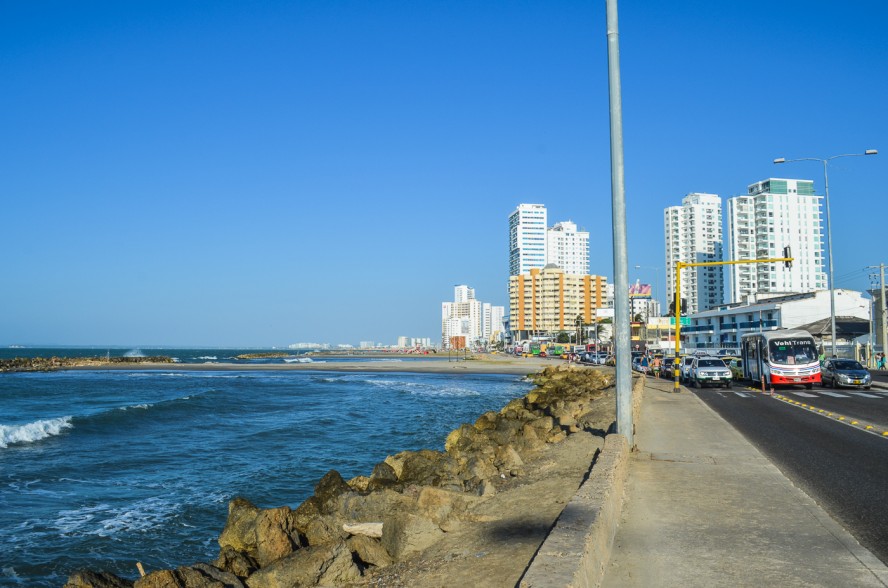 Time for the Beach
It's humid and the streets are busy, so we walk to the closest beach for a quick swim before heading back into town to find a restaurant on top of the fortress walls where we can sit, sip cocktails and get an unrivalled view of the sunset.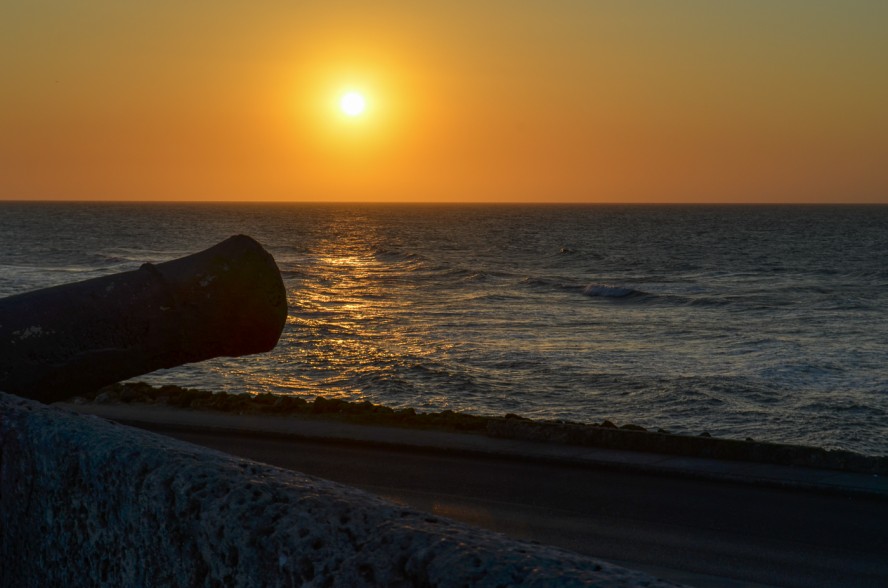 Sunset and Margaritas
It's a gorgeous sunset with a fiery hot pink sun that makes for great photos, particularly with the barrel of an old cannon in the foreground.
We then head off to settle our rumbling stomachs with a satisfying dinner of veggie burgers, fries and huge frozen margaritas with a thick layer of salt lining the glasses – just what we need after a long, hot day exploring Cartagena.
We slurp the drinks down greedily and order another round, as we chat about how beautiful the city is and how much we have loved visiting the old town.
We are excited to spend more time in Colombia and to start our teaching roles, and we can't wait to see what Barranquilla and Santa Veronica have in store for us.