We get asked heaps and heaps of questions every day about teaching English online! So, to make things easier for you and to put everything is one place, we thought it'd be a great idea to collate all of our frequently asked questions into one, easy to read blog and get our TEFL expert and Academic Director, Emily to answer them – thanks Emily!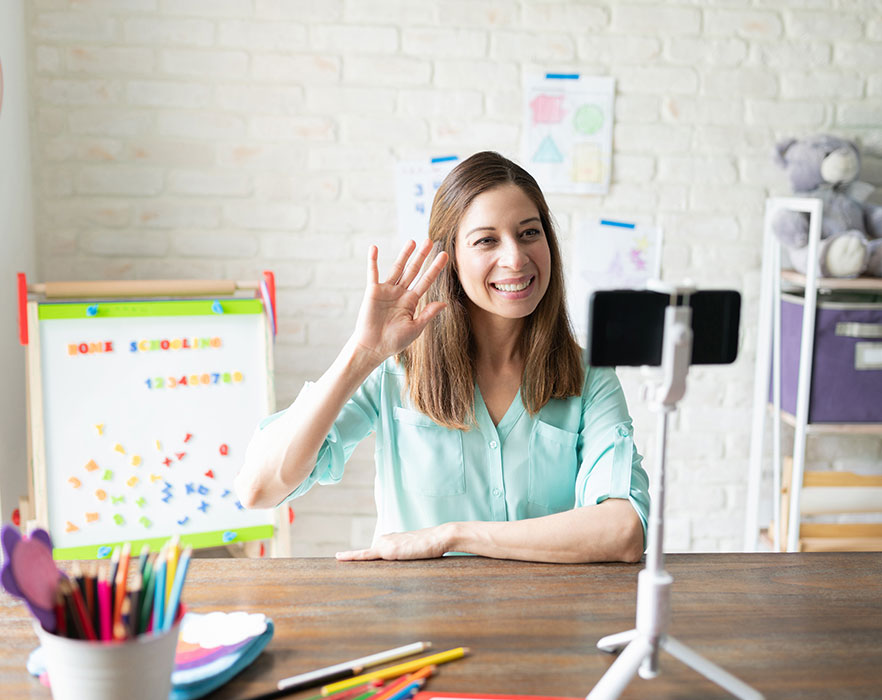 Q:

Do I need a degree to teach English online?

No, you don't always need a degree to teach English online. Although some companies do require it, there are also companies who don't require their teachers to have a degree, and you can find a list of these here!
Q:

Who can teach English online?

Yes. As long as you're TEFL-qualified, and you have a computer, webcam, and internet, you will be able to start the process of becoming an online English teacher. It is important to take the TEFL course first, because as well as boosting your employability, you will be shown how to plan and deliver a good English lesson. Still not sure if you're eligible? Take our quick eligibility quiz to find out!
Q:

Can I plan my own schedule?

Some online teaching companies have a minimum number of hours you'll need to complete each month, but you'll generally be able to choose when you work these hours. They'll often ask you what your availability is, and you can then work with them to plan when you'll be teaching. If you work as a freelancer, you can set your own schedule and have students book classes in the times that you have made available.
Q:

How much can I earn teaching English online?

If you work for an agency, you can earn anywhere from $10-$30+ per lesson. If you work as a freelancer, you can set your own salary. We recommend you start off with a lower price and gradually raise it as you start to bring in more students. Want to know more about how much you could earn? Use our salary calculator to find out!
Q:

Do I need a TEFL qualification to teach English online?

Most online teaching agencies will require a TEFL certificate. We recommend this, as the TEFL qualification helps to prepare you for planning and delivering lessons, and we also have specialist courses that shows you how these lessons can be delivered online.
Q:

Do I need to be a native level speaker to teach English online?

No. As long as you're fluent in English and TEFL-qualified, you will be able to apply for online English teaching jobs. Some online English teaching companies will ask for certain nationalities for their positions but not all.
Q:

Where can I get free resources?

Our teaching English online guide has lots of free information in it, plus there's a section dedicated to free online teaching resources that you'll find super helpful.

Q:

Which TEFL qualification do you need to teach English online?

We'd recommend taking a TEFL course with specialist training in teaching English online, like our Level 5 300-hour Diploma. In this course, we show you what to expect when you teach English online, and we give you ideas on the types of activities you can include in online English lessons.
Q:

If I have a degree in teaching, do I still need a TEFL certificate too?

Most online agencies will require a TEFL certificate but having a degree will help you land teaching English online jobs. Although you may have experience in mainstream education, teaching English as a foreign language is quite different, and the TEFL course will prepare you for this.
Q:

Can you help me find work once I finish the course?

Everyone who completes a course with us will be automatically registered with our sister company, LoveTEFL Jobs. On this jobs board you'll be able to apply for online teaching jobs. Plus, we have a super dedicated TEFL jobs support team who are there to help every step of the way!
Q:

Are there specific dates when online teaching starts?

You can find teaching English online jobs all year round, and you can check vacancies by staying up to date with our LoveTEFL jobs board. If you are working for a company then you may find that peak recruitment times match the school terms in that country. However, if you're working as a freelancer with private clients there will be no specific dates, it is year-round.
Q:

Can I still do the TEFL course through the COVID-19 crisis?

Yes. All of our courses can be completed 100% online without having to leave your home! Although everybody in the office is working remotely, this doesn't affect the service we provide, and we will still be able to help you through the course.
Q:

What are some TEFL lesson ideas?

It depends on who you're teaching, but a good activity is writing a letter to a pen pal. You can create a letter from a pen pal and get your students to reply to it – fun and engaging! Alternatively, speaking activities are very popular. Many students sign up for classes online because they want to practice speaking with a fluent English-speaker. If you're teaching children, you might want to show toys and flashcards and have them tell you what they are, but with adults, you can hold debates or even practice their speaking skills by role-playing. We have lots of free lesson plan templates available for you to download, so go and check them out!
Q:

Can I teach online whilst travelling?

Yes. You need to make sure you always have a reliable internet connection when you're teaching, but as an online English teacher, you can teach wherever you want. If you're working at an English academy abroad, always make sure they're happy with you teaching online outside of their working hours.
Q:

Are there any companies that allow you to teach using just a smartphone?

This is usually only acceptable when you work as a freelancer. Most companies require you to share your screen on your computer and have a suitable webcam. If your smartphone is high quality then you may get away with this but it is always best to invest in suitable technology so that you're giving the best lessons you can.
Q:

Are high school students eligible to teach English online?

You generally need to be at least 18 to teach English online.
Q:

How do I get started?

Firstly, you need to get TEFL qualified. You can do this by enrolling onto one of our TEFL courses, and we will show you what you need to plan and deliver an effective English lesson. Once you are qualified, you can then start applying for jobs with LoveTEFL!

Q:

What would a normal online lesson look like?

Lessons vary depending on what type of English you're teaching and who your students are. If you work for an agency, they will give you an idea of how to structure your lessons. Just like in the classroom, you will have an aim of what you want your student(s) to achieve by the end of the lesson. You will then present some new language and have a variety of tasks prepared to practice this.
Q:

How long are online lessons?

This depends on who you are teaching. Adult classes are generally an hour, but children's classes are often shorter and can sometimes be just 25 minutes long. If you work with a company, they'll let you know who you're teaching and how long the class will be, and if you work as a freelancer, you can decide how long you want the class to be.
Q:

What are the best platforms to us to teach English online?

There are so many different platforms you can use to carry out online lessons. We recommend the following:

Have any other questions? Get in touch!