You've landed in Thailand, and blazed / blurred (we'd love to know which!) your way through those frantic first days as a TEFL teacher.
It's all starting to fall into place. You've even prepared next week's TEFL lessons in advance. Showing off, are we!?
This can only mean one thing: you are ready to really start exploring Thailand. And a brilliant way to begin your travels is with a day trip to the UNESCO world heritage site of Ayutthaya historical park.
You can even catch a boat from Bangkok and imagine yourself arriving at this ancient capital like the royalty of old.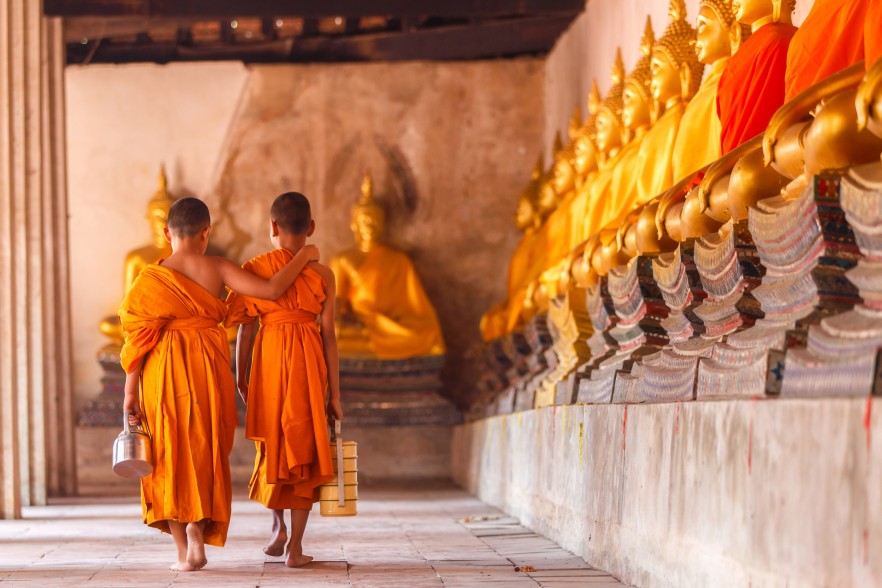 Go for a day, go for more
Burmese armies destroyed the formerly great civilisation of Ayutthaya in 1767. But this doesn't mean that there's nothing left to see.
In fact, we know we said that you should go for a day trip but perhaps it's best to pack your bags and stay overnight – you don't want to run out of time to visit all the fascinating temple complexes within these mesmerising grounds. After all, one perk of being a TEFL teacher in Thailand has to be that you can do this sort of stuff. And you don't want to waste it!
Wat Phra Sri Sanphet
Whether you stay for a day or more, a great place to start is the 15th century Wat Phra Sri Sanphet. We can guarantee you will be impressed by the three magnificent restored chedis (stupas) that house the remains of past kings, with their towers spiralling above you.
Whilst you are here, spend a moment imagining a 16m golden Buddha image. There once was one here – before the Burmese invaders melted it down for the gold.
Hide and seek at Wat Mahathat?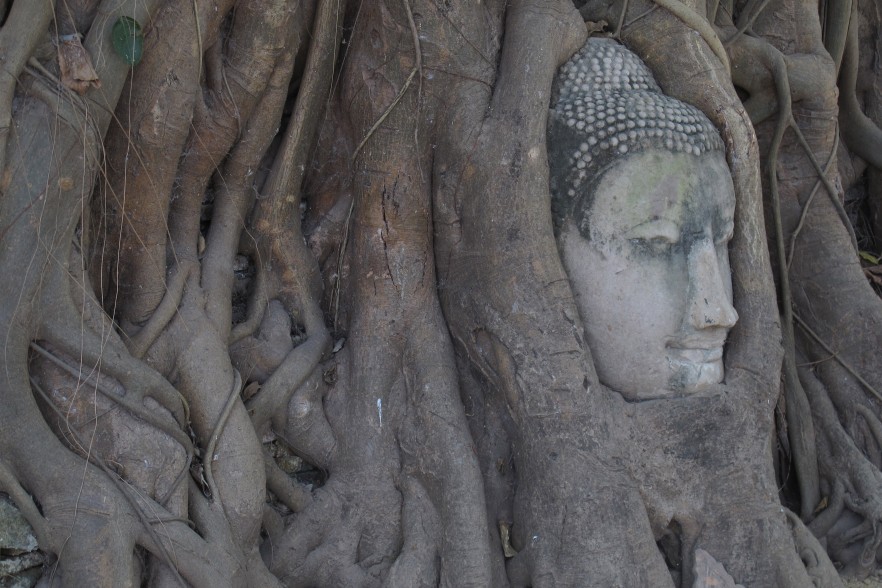 Despite losing a few to invading armies, one thing Ayutthaya certainly is not short of is Buddha statues – many wearing bright yellow robes.
But we still would not expect to find an image of the Buddha's head entwined into the roots of a fig tree is. Well, would you? Really? And there is definitely something other-worldly about the sight of a face protruding out from an otherwise inconspicuous tree around the corner from Wat Mahathat.
Sadly we don't seem to be able to convince anyone that it's all part of a spiritual game of hide and seek. But we don't see why not – particularly as no-one actually knows how the head got there.
Giant Buddhas
Awesome in a completely different way is the shimmering sight of the 37m long reclining Buddha at Wat Lokayasutharam. In a country that goes in for giant Buddhas this one definitely is up there with the best.
Oh, and its shimmer is due to gold leaf rubbed onto its image by devotees. Not a bad compensation for a life spent unprotected outdoors.
Although if it's really shiny glamour you're after, you'd better pay a visit to this giant's extremely popular (and still pretty huge) neighbour – the beautiful gilded Buddha statue at Wat Phanan Choeng.
Mythical creatures at Wat Phra Ram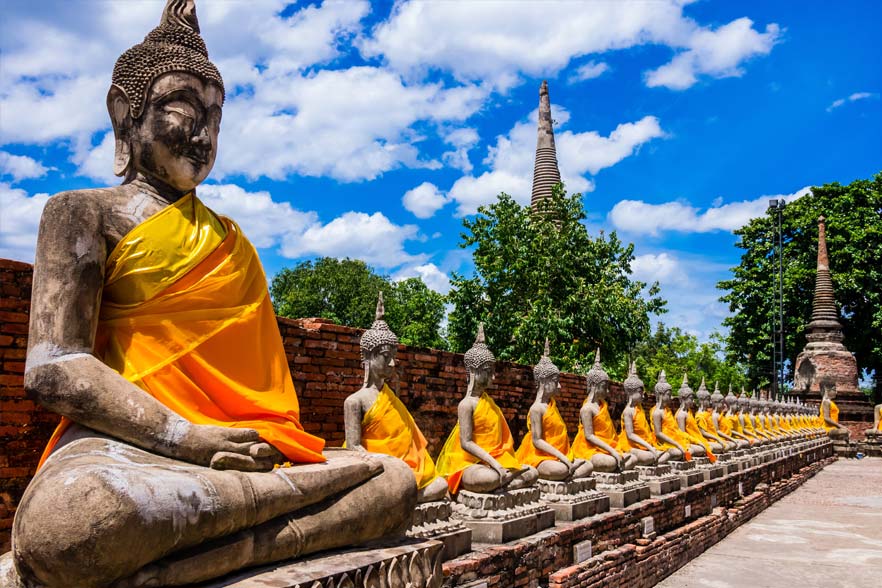 Wat Phra Ram is not short of a Buddha statue or two either. In fact, the long line of stone Buddhas in the cloisters of this 14th wat is definitely a strong contender for most instagrammable image.
Come to think of it, the reflecting ponds surrounding the wat make the whole scene pretty photogenic. (We probably should mention that wat means temple, just in case you haven't picked this up yet – Bangkok has some amazing wats, by the way).
However what we particularly love here are the details. Like the elephant gates. And the intriguing mythical creatures – naga and garuda. Take your time and see what you can spot.
Dream at Wat Phra Mahathat
Wat Phra Mahathat is possibly the most beautiful of all the temple complexes in Ayutthaya. Once upon a time this 15th century wat housed riches of gold, crystal and other precious stones.
Sadly, pretty much all the treasures have now gone – some moved to the National Museum in Bangkok, others stolen for less salubrious homes. However, like everywhere we go in these expansive grounds, we always find that it is the spaces between the ruins that inspire our imaginations to dream of past glories.
Stay serene
We love all the sights, history and myths that surround Ayutthaya.
But what really holds our attention time and again are the Buddhas meditating serenely amongst the ruins. There is something deeply moving about the persistence of this peaceful religion amidst the crumbling towers of the ancient capital.
We're sure there's a moral in there somewhere. If only we could think what it is!
Ready for your own Thailand adventure? Amazing Ayutthaya happens to be where our Thailand Experience TEFLers spend their exciting orientation week…just saying!