In a country where over 90% of the population is Buddhist, Buddha images can be spotted around pretty much every corner in Thailand, not to mention in most schools, businesses and homes. However, these statues fade into the background when there is a "big Buddha" in the town.
And when we say big, we mean BIG!
The Tallest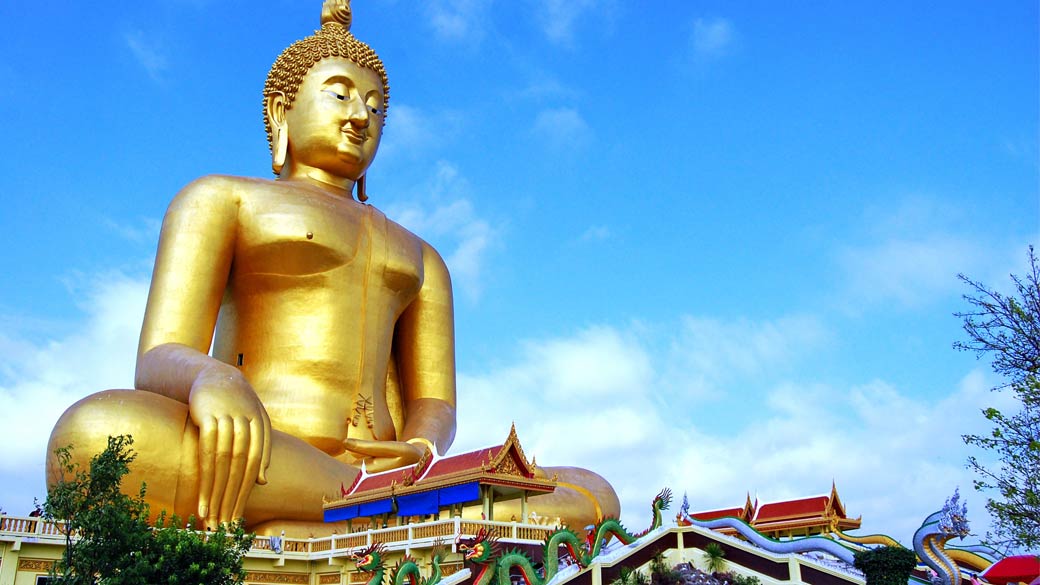 Topping the size list (for now at least) is the Phra Buddha Maha Ninawam at Wat Muang in Ang Thong Province. Taking 18 years to build – and finally completed in 2008 – this gold-plated sitting Buddha measures a whopping 92 metres high by 63 metres wide. Or, put another way, its knee-span alone is the size of three cricket pitches and, if you happen to like balancing double decker buses, try putting 21 of them on top of each other and you will get an idea of this Buddha's height.
The Most Reclined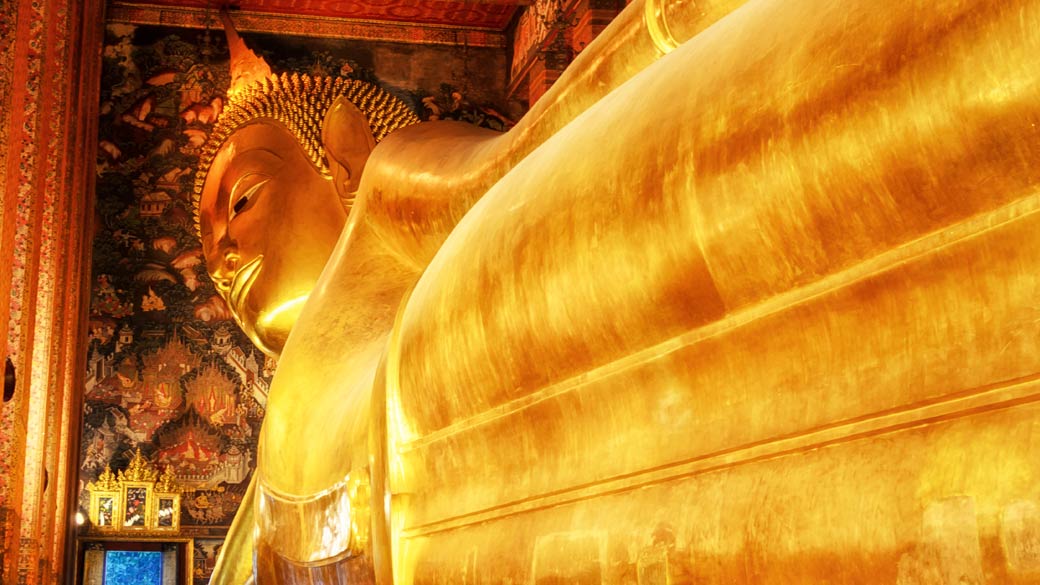 If you don't fancy the trip out to Ang Thong Province, you can find an easily accessible giant Buddha behind the Temple of the Emerald Buddha at Wat Pho / Wat Phra Chetuphon Wimonmangkhalaram in Bangkok.
Now almost 200 years old, this reclining Buddha is a huge 46 metres. The soles of its feet alone are four metres long, and are inlaid with 108 segments of mother-of-pearl representing the 108 "lakshanas" (auspicious characteristics) of the Buddha.
In case you were wondering, it is not fatigue that led to this Buddha lying down – nor was it to simplify the task of building such a huge creation. The reclining Buddha is in fact one of the traditional poses of Buddha statues, representing the passing of the Buddha into the final nirvana, after death.
The Best from the Coast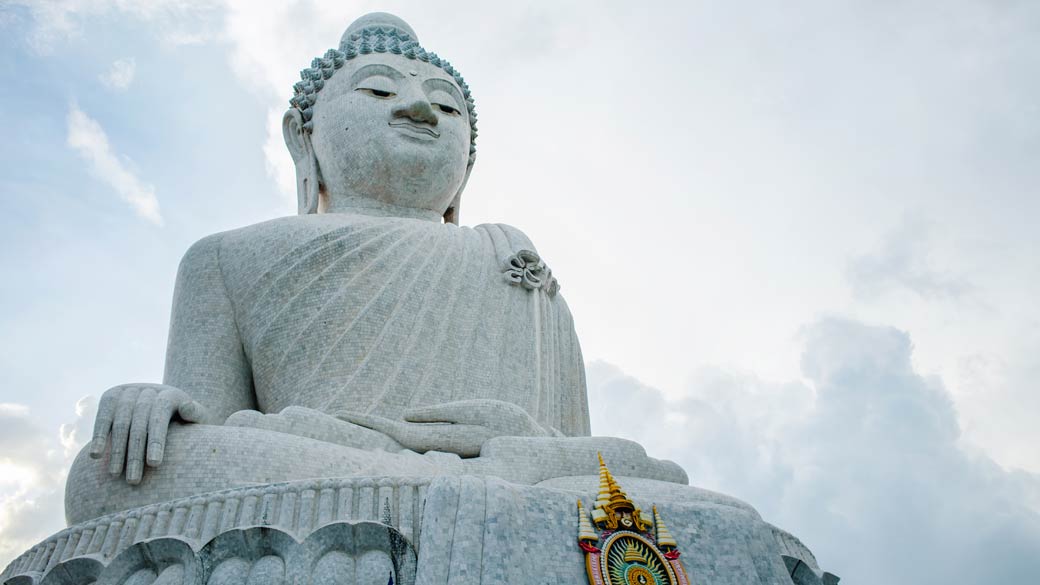 Giant Buddhas are not confined to the mainland. If you fancy a quick beach break to the glittering seas and white sands of Phuket you won't be able to miss the Phra Puttamingmongkol Akenakkiri.
Facing eastward towards Chalong Bay, this 45 metre high Buddha watches the sun rise each day from its hill top perch. Once risen, the sun reflects off the statue's Burmese white-jade marble exterior, making the Buddha itself appear to shine.
For fans of big Buddhas, Phuket has another draw – a 29 metre reclining Buddha lying on the roof of the main temple at Wat Srisoonthorn. Whilst sometimes overlooked in favour of its bigger neighbour, it is definitely worth a visit, if only to see its extraordinarily large ears.
The Shiniest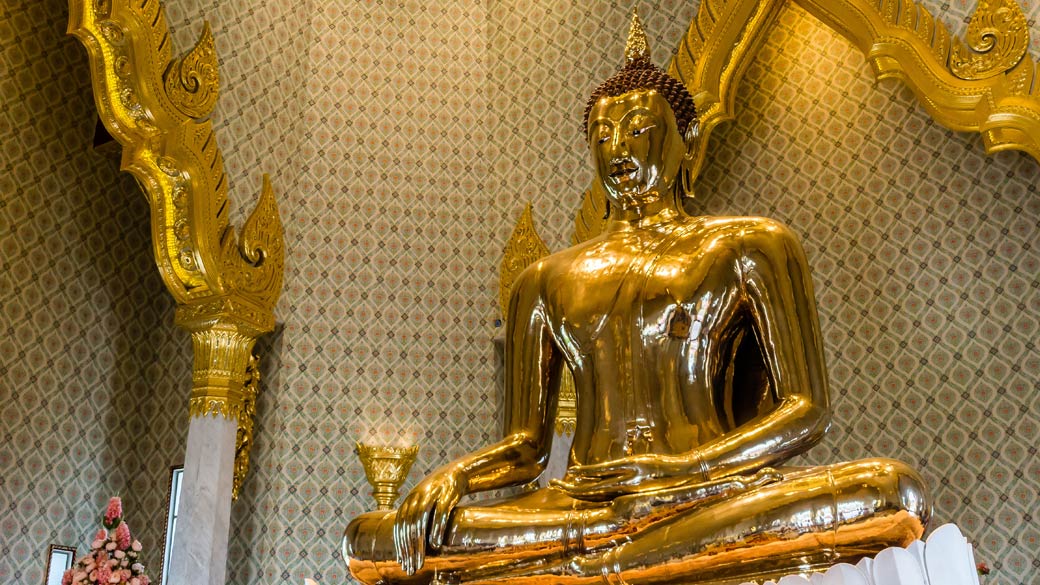 And if you can't compete on size alone? Go for quality instead. Most Buddha statues are coloured gold to emphasis their importance. However, the Buddha at Wat Traimit (Chinatown, Bangkok) goes one better. It may be only five metres in height (a mere baby in giant Buddha terms – it would hardly even be able to look over the top of one double decker bus), but this Buddha is claimed as the largest solid-gold Buddha in the world.
Originally made around the 13th century, for many years the gold was hidden under a layer of plaster, probably to prevent its theft by invading armies. Its golden nature was only revealed when it was accidentally dropped whilst being moved. Let's hope the person responsible was congratulated rather than told off!
The Best Dressed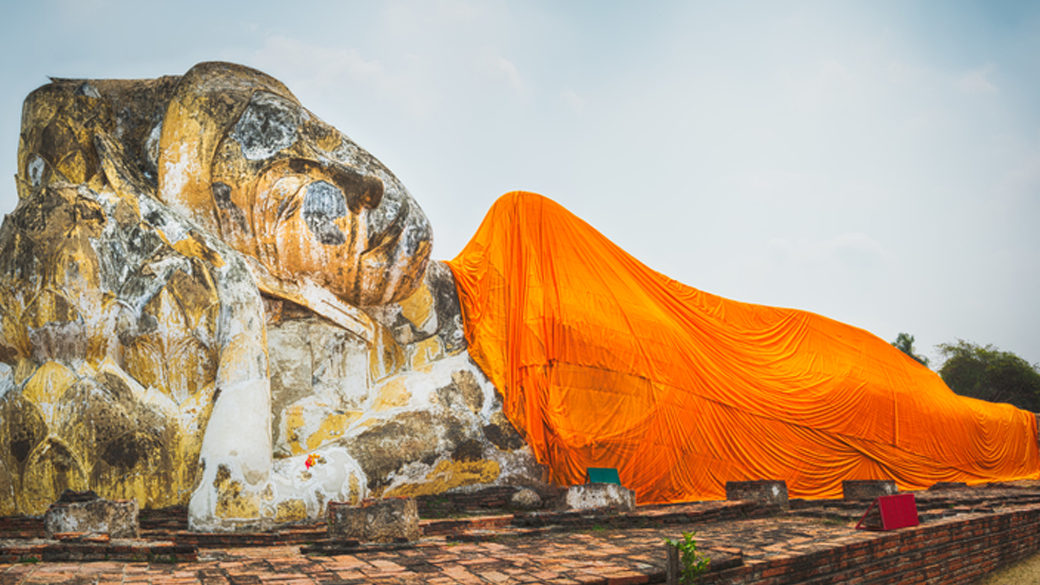 In contrast to such polished gold, the Phra Bhuddhasaiyart / Phra Nonn at Wat Lokayashutharam, Ayutthaya is rather more bedraggled in appearance – but is over seven times its size.
Constructed of bricks and cement, this 37 metre reclining Buddha has its head on a lotus and is covered with a saffron-coloured robe. However, it has no shelter to protect it. Apparently its original tin-roofed shelter was struck twice by lightning, after which the locals agreed to leave the image outdoors.
Even this Buddha does get its moments of glamour however. Devotees often cover the feet of the Buddha with gold foil during prayers.