South Africa TEFL intern, Ross, explores the jaw-dropping scenery of South Africa.
Starting Point: Kirstenbosch National Botanical Gardens
Chosen Trail: Skeleton Gorge
Elevation: 1084m
Start time: 10:00am
Starting the climb…
Setting off nice and early on a train to the city, the weather was pretty much perfect for a hike up one of the world's most impressive of mountains. Table Mountain provides the staggering backdrop to the city of Cape Town has many different trails to hike. You also have the option of taking the cable car up if you're not feeling too energetic.
As we set off from the beautiful Kirstenbosch National Botanical Gardens, we were faced with an extremely steep start to our hike, along a dirt track followed by what seemed like an endless number of steps. Thankfully this part of the trail was very shady, beneath the cover of indigenous trees that surrounded the gorge we were hiking alongside. This part of the trail is not for the faint of hearted.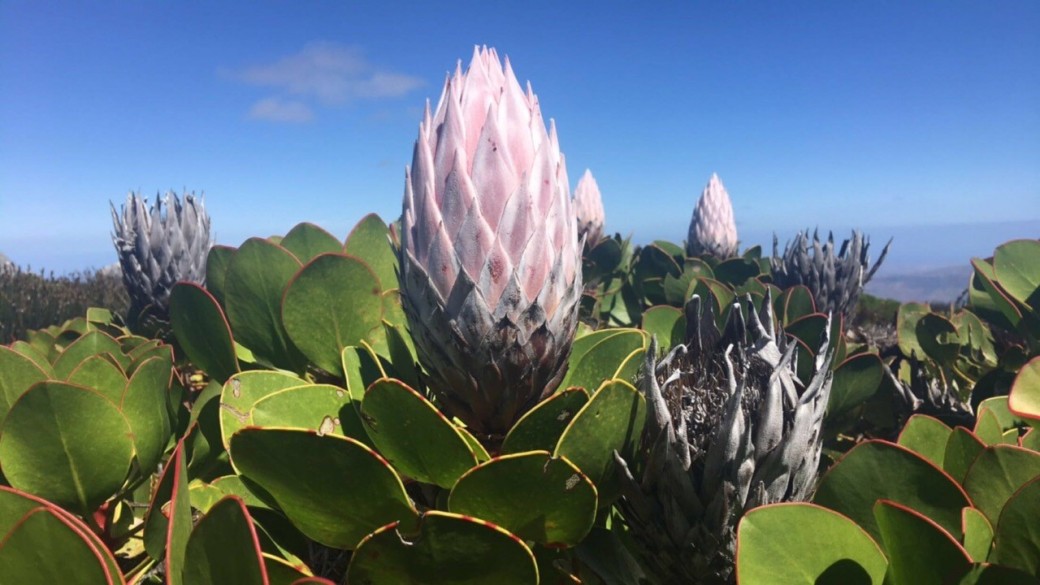 Time for a shower!
The trickle of a waterfall at the top of the gorge was a welcome break as well as a shower for myself! I even decided to top up my drinking water from this supply of fresh water as it was running so clear. From here we ascended the rather hairy wooden ladders, which took us to a bunch of fallen rocks we need to scramble over. This is much more interesting and a lot more fun than the countless steps we tackled earlier.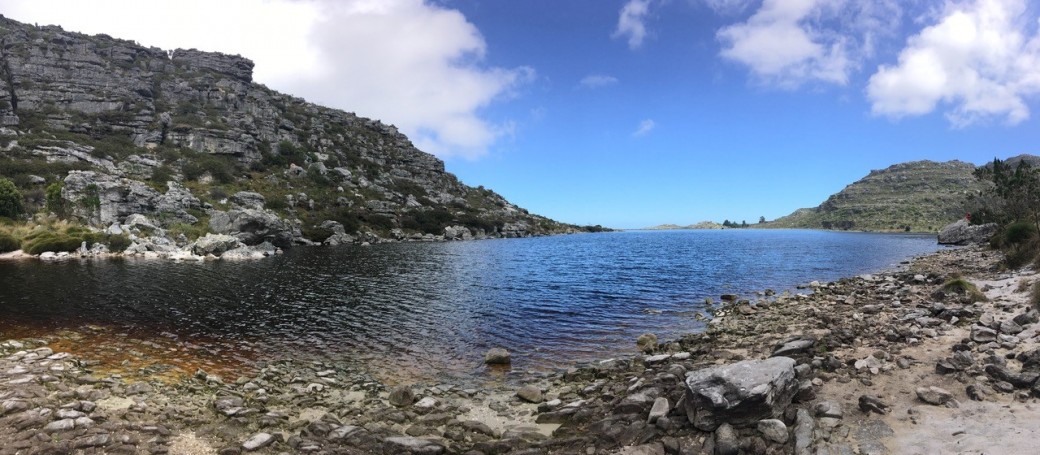 As we emerge from the cover of the forest, we eventually come across a beautiful reservoir named the Hely-Hutchinson. Some of the group took a swim in its dark and cool water, I was more than happy enough to sit on the rocks with the frogs and paddle my feet while the sun warmed my skin. This is an area of outstanding beauty and I recommend anyone who takes on Table Mountain pays it a visit along their way.
Onwards and upwards
From here we head back up the mountain after a well-deserved rest, trekking through the lush and floral landscape until we reach the plateau. Before we get to this point however, it's worth mentioning how deceiving this mountain can be. There were many times when we assumed that we couldn't possibly climb any higher, but don't be fooled! The plateau itself is a welcome level surface stretching some 3 kilometres from side to side. Up here we find the Maclear's Beacon, a mound of rocks built in 1865 to assist in measuring the curvature of the earth.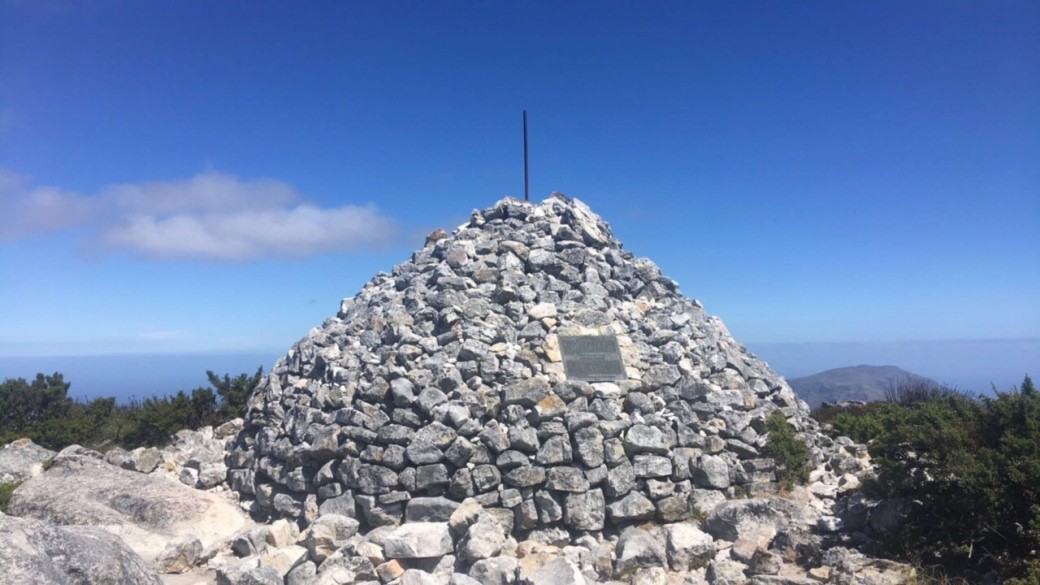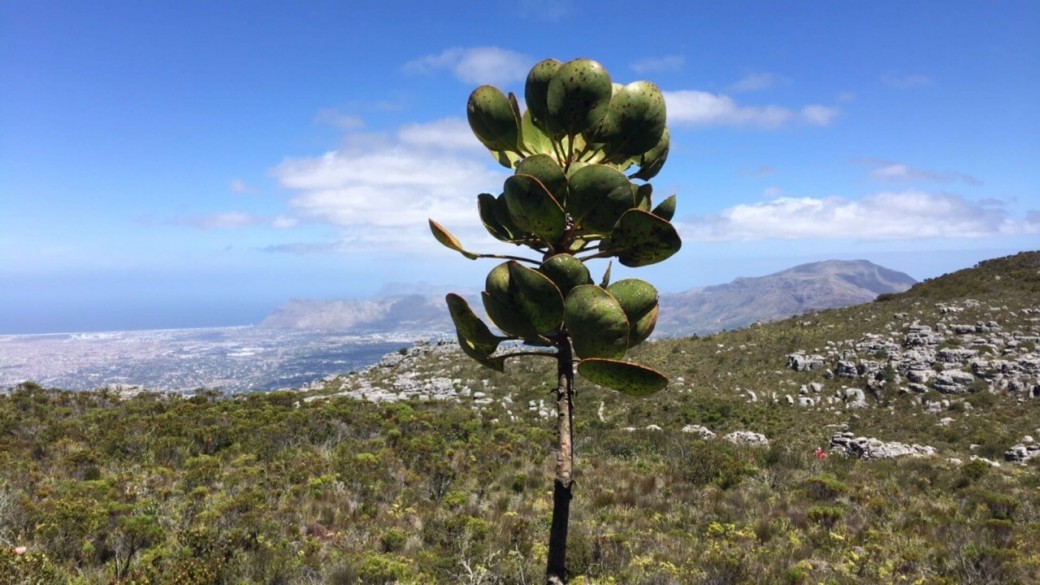 We made it! Now to get back down…
The final push along this stretch leads us to the end point for us (or the starting point for many others) where the cable cars transport passengers up and down the mountain. A quick coffee and a snack in the mountain cafe is essential before we make our way back down in the cable car. I would also strongly recommend getting the cable car back down after hiking up unless you are feeling extremely adventurous. My thighs were giving me all sorts of trouble so I would not have liked to entertain walking back down to the bottom, even via one of the shorter routes available.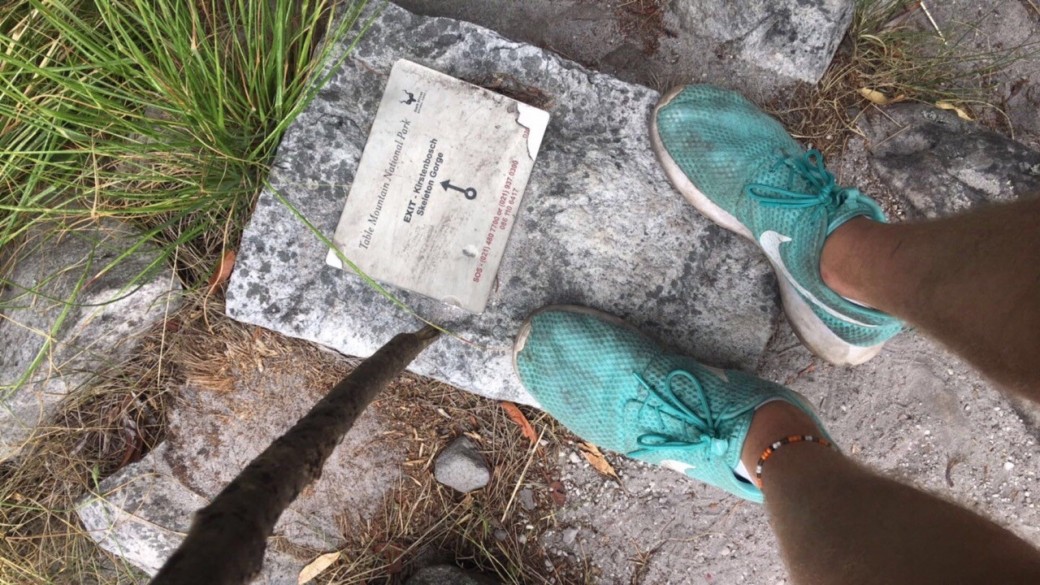 Time for a well-deserved meal – Nando's!
What a sense of achievement though. I really do love that feeling you get after a good hike when your body feels broken, pushed to the limits & you simply can't wait to have a good meal and a cold drink to recover. And that's how we ended our day – a more than extravagant meal at Nando's Long Street in Cape Town. It was the first Nando's I've had in over a month so I went all out and probably ordered too much food. It was an amazing meal though and very much appreciated by my body after the ordeal it had been put through!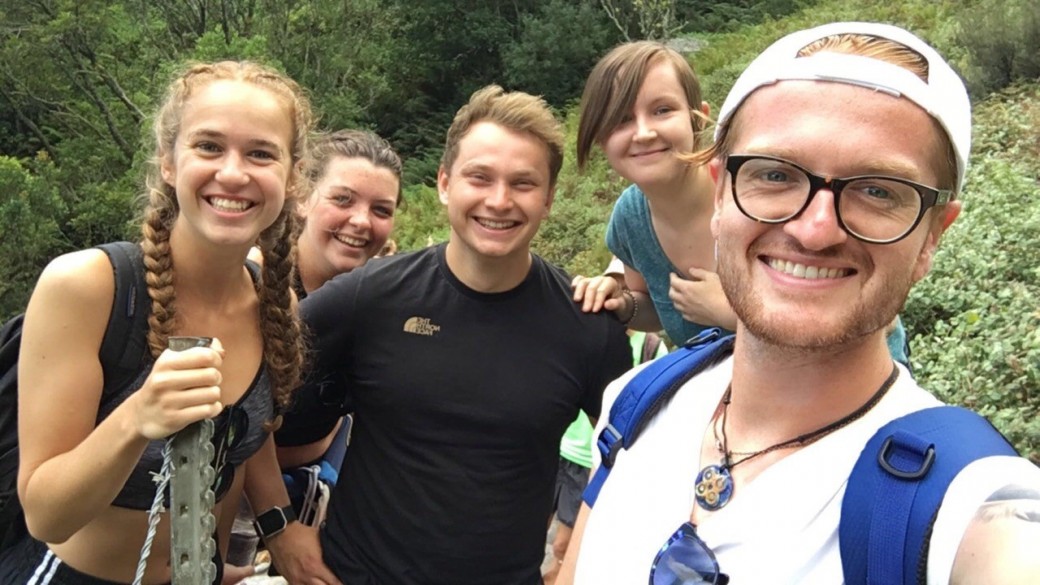 Our hike ended around 16:00pm so we clocked between 5 and 6 hours of hiking time. I'd highly recommend the Skeleton Gorge trail for anyone who is keen on hiking but doesn't want anything too dangerous or anything too basic. The scenery is unbelievable and the area is very safe, plenty of tourists (although not too many!).
There's nothing quite like the sensation of feeling on top of the world, where the air is silent and everything feels so peaceful. That's just what you get upon Table Mountain, especially on a perfect day like today.