Ever wanted to run around while being pelted with tomatoes? Well your (very odd) wish has come true! Every year in August, thousands of people make their way to La Tomatina Festival in Spain to take part in the world's messiest tomato throwing event. They've even had to limit the number of people allowed, as the tiny town that hosts the festival was getting overrun by people dying to throw tomatoes at each other!
To each their own…
But, if you think you might want to teach in Spain, or you're already teaching there, you should definitely add this one to your bucket list. After all, how many people can say they've been involved in the world's biggest tomato fight on their day off?!
Why did this festival come about? 
No-one is really 100% sure, and there are so many different versions of the story, but a popular belief is that it started in 1945 when some youths got a bit rowdy at a religious festival and started pelting each other with tomatoes from a nearby market stall. The inhabitants of the town obviously thought this was great fun, as the new tradition continued the next year, with people preparing in advance and bringing tomatoes from home. And, apart from a brief official hiatus in the early 50s (due to Franco banning it- a ban that was ignored by numerous enthusiasts and only increased its popularity!) and cancellations due to Covid-19, it has been a yearly event ever since.
One thing is for sure, Spanish people absolutely love to enjoy themselves and this festival is a great representation of that fact. So, if you do choose to teach in Spain, you're in for a good time and will have lots of fun festival experiences!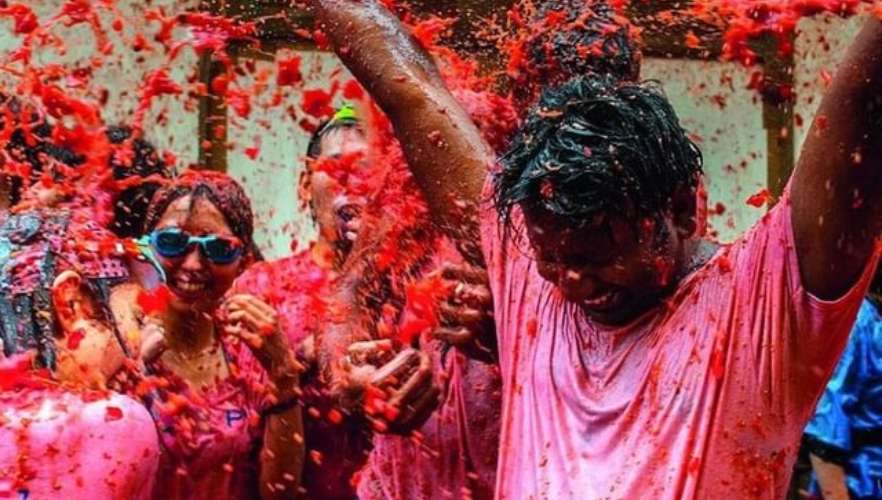 (Photo from @lightfoottravel on Instagram)
What do you do during La Tomatina?
At 11am on the selected date, numerous trucks arrive bearing low quality, overripe/rotten tomatoes and tip them into the main square. People then position themselves around the tonnes of tomatoes, in preparation for the start of the fight.
The start and end of the tomato fight is signalled by the firing of water cannons or fireworks. It lasts for 1-2 hours total and then the streets are hosed down to get rid of the tomato debris. You might find a friendly fireman willing to wash off the pulp for you (although, let's face it, you won't be wearing those clothes again…) but, if not, you can join most other people in the nearby river to rid yourself of your tomato coating!
Although it is complete chaos (I mean was anyone expecting anything less?!), there are a few rules to abide by to keep things fun for everyone involved (source: latomatinatours.com):
No bottles/hard objects that, if thrown, could cause injury to other participants
No ripping of other peoples clothing
Squash the tomatoes before throwing (to reduce force of impact)
Keep a safe distance from the trucks
You must stop throwing tomatoes after the second cannon fire/firework
Aim for people, not buildings!
Everyone is also encouraged to use safety goggles and gloves, sensible shoes, leave expensive jewellery at home, and to bring a waterproof camera if you want to take pictures (that's a seriously extreme food fight!)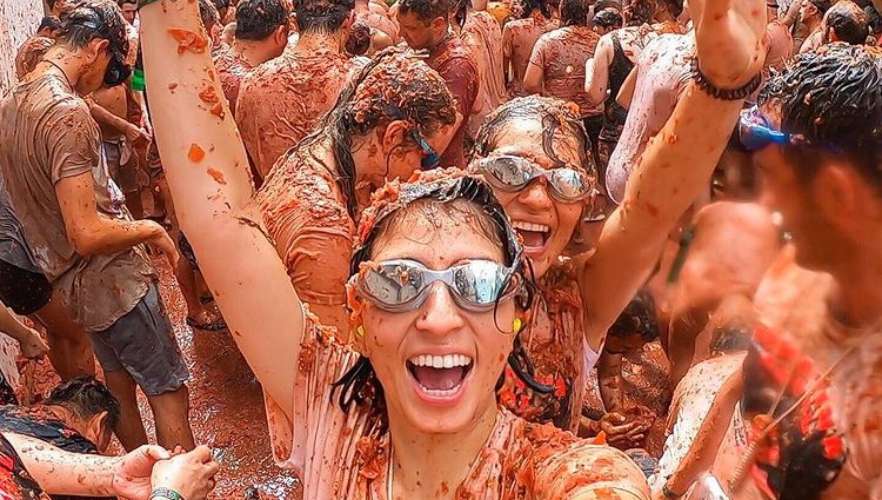 (Photo from @barby724 on Instagram)
Where & When is it celebrated?
It's held on the last Wednesday in August every year, so in 2022 it will be held on Wednesday the 31st of August. The location of the festival is the main square (Plaza del Pueblo), in the Valencian town of Buñol. This town is just a short distance from loads of major Spanish cities, so wherever you choose to teach in Spain, it shouldn't be too difficult to get there!
Remember, you'll need to get a ticket if you want to attend, as numbers are now limited to 20,000 total, in an attempt to minimise the mayhem!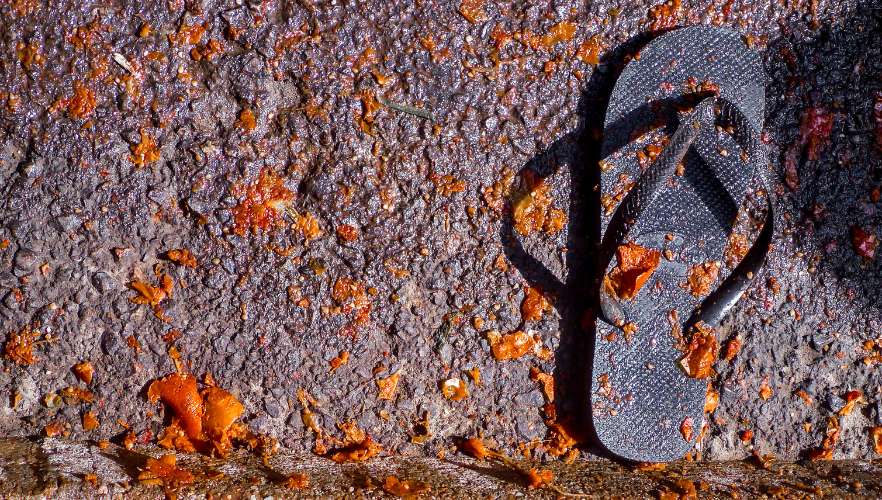 Do you have a food throwing festival in your home country? Do you think it could rival La Tomatina? If so, let us know on our social media, and we'll check it out!
If you want to teach in Spain now, after reading about this weird and wonderful tomato festival, check out our TEFL in Spain page for more info about getting a job there and what life is like in this amazing country.
Ready to get started? You'll need a TEFL certificate first! Check out our range of courses or take this 2-minute course-matching quiz to find out which one is right for you.
Have questions? Or want to speak to someone before you book? Arrange for a free call back with one of our friendly TEFL experts!