Buenos Aires, Argentina is smack bang on the radar of Nick and for good reason: he's moving to Buenos Aires in under three weeks.  Before you ask, he hasn't got a job lined up as of yet, but he is currently learning Spanish (and doing well, gracias!) and he doesn't actually know a single person in Argentina.
No, this isn't some kind of game show challenge: Nick Petrou is making his own TEFL adventure in life.  Is he scared?  Possibly.  Does he have any regrets?  He doesn't seem to.  In fact, instead of worrying about trying to find a way out, he wants to share his story of moving to Buenos Aires – hopefully to inspire more TEFL teachers to make the move!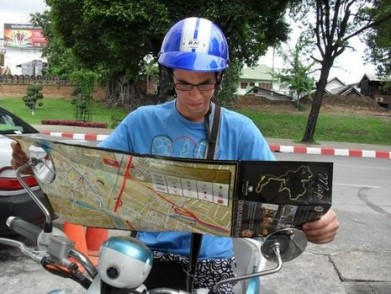 Hey Nick! Why did you decide to look at teaching English?
After graduating University in the summer of 2010 I have spent over a year experimenting with different work placements in an attempt to find my niche!  And you'll be pleased to know, that I found it, and so I'm enrolling on an MA Magazine Journalism course this coming September.  Because of this, I have 10 months to twiddle thumbs and work at an uninspiring job before my course begins – of course, I'd prefer to travel (who wouldn't?!) but monetary circumstances left me unable to do that… unless I TEFLed!  TEFL was recommended to me by a friend, and after 3-4 minutes of thinking time I had decided to teach English!
Well you didn't take much persuading!  What was it that attracted you to TEFL?
I love travelling and I'm not ready to reminisce about past travelling experiences just yet, I want to make new ones; and TEFL offers an exciting new dimension to travelling . At the end of my 6 months I hope to have a job, friends and an apartment as aspects of an enjoyable living experience in a foreign land where I currently know nobody; would be considered a proud accomplishment if I achieve it.  It's a little scary – in fact, it's very scary – but it's also ten times more exciting.
What 3 items can you NOT leave behind?
Shorts, sun cream and a Jason Mraz CD (bye-bye winter blues!).
What age kids/adults would you like to teach?
Now?  Before I've arrived in Argentina?  I'll take whatever I can get.  I'll teach children, adults, dogs or even plastic pieces of fruit, as long as I get paid.  I think I would prefer to teach children – I really want to make my lessons fun and enjoyable, not just for the students but rather selfishly, for me too.  I think children will be more engaged and will enjoy fun learning activities and games.
What are you looking forward to the most?
I'm looking forward to enjoying and learning about a new culture, I'm looking forward to learning Spanish, and I'm looking forward to meeting new people and watching the progress of my students over the 6 months.  I am, albeit shamefully, also looking forward to using stereotypical teacher phrases: "The bell doesn't dismiss you, I dismiss you!" It's going to be fun.
What would your advice be for someone thinking of TEFL?
Take the plunge: purchasing a TEFL course can be a daunting decision, but it is your first big step on this exciting journey, so make the transaction!  Of course, completing the course is the next (and rather important) step, so make sure you give yourself plenty of time to complete it before you go.
What's the last thing you think of before going to bed?
How many days, hours and minutes before South America
It's safe to say he's pretty excited about starting his South American adventure in Argentina then!