You're teaching English in Mexico this November? Lucky you! You've got a fantastic opportunity to experience Mexico's Day of the Dead festival.
Day of the Dead versus Halloween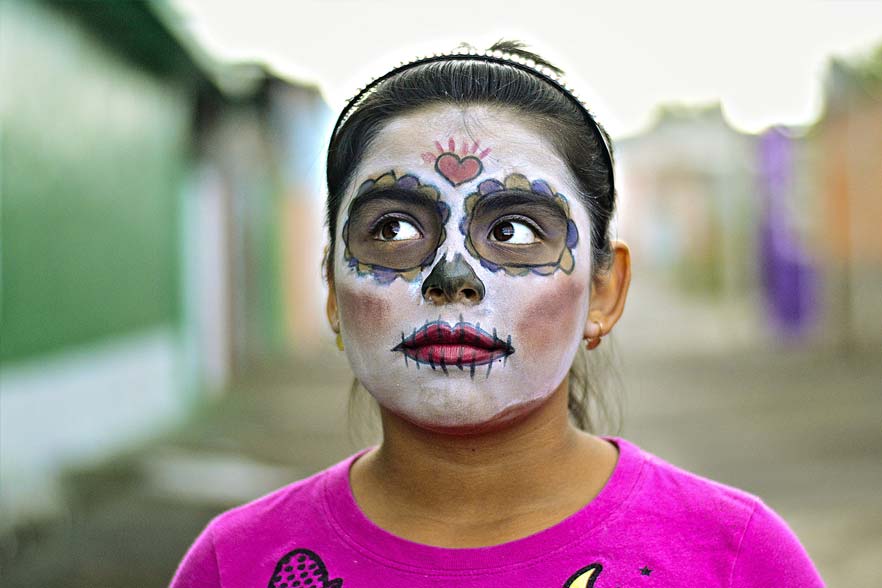 But what is the Day of the Dead I hear you cry. Is it the same as Halloween?
Good question. And no! They are COMPLETELY different.
Well, we say completely but …
Mexico's Day of the Dead takes place at pretty much the same time as Halloween (1-2 November – which is actually two days, if you're being picky). And it does involve ghostly spirits. Oh yes, and you may well see a fair amount of dressing up too.
So they do have some similarities, now we come to think about it.
But we have good reason for saying they are not at all the same festival. For Halloween is about scaring off evil ghosts. Whereas on the Day of the Dead Mexicans welcome the spirits of their ancestors back home.
See. Completely different!
The Day of the Dead festival
The Day of the Dead originated several thousand years ago with the Aztecs, who b
elieved that the spirits of the dead were still a part of their community.
And on the Day of the Dead these spirits make their annual trip back to spend time with their loved ones in the physical world. So perhaps more like a ghostly family Christmas gathering than Halloween.
Think petals strewn along the streets to lead the spirits back home, amazing night-time parades plus music, eating and dancing lasting all night long. All intertwined with candle-lit reflection and remembrance.
Welcome the spirits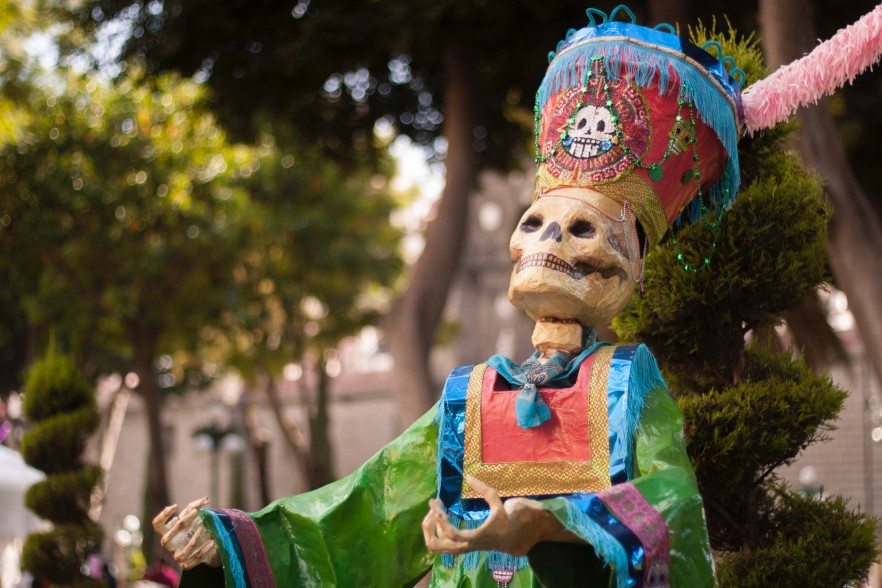 Now have you ever wondered how to encourage spirits to pay a visit? To be honest, we've not either.
But if we had, then the answer would be to pile altars high with their favourite foods and drinks of course (plus a candle for each spirit and a few family photos). After all the spirits are likely to be pretty hungry and thirsty from all that wandering about.
Or, if you prefer, try enticing them with an intricately designed sugar skull. Or some pan de muerto – a sweet bread decorated with dough bones and skulls. And don't forget drinks such as pulque made from fermented agave sap and hot chocolate.
All great stuff – particularly for those of us still living who get to enjoy these treats too.
Colourful altars
Add into this glorious mix the fantastic explosion of colour and texture that is the Mexican folk craft papal picado. It's essentially piles of coloured tissue paper chiselled into glorious designs – simple and yet incredibly intricate all at the same time.
And this is what's used to decorate the altars.
Now if you were a spirit, could you resist? Those of us with a bit more bodily substance reckon the altars look pretty amazing too!
Amazing costumes
It's not just the altars that look gorgeous.
Whatever your age, if you fancy dressing up then this brilliantly sociable holiday is the day to do it. Just remember to make your face up too.
Skeletons and skulls are by far the most popular choice of outfit, but there are no real rules – so let your imagination run wild!
And why not throw in a few shells to noisily clang together as you dance down the streets? After all, you want the dead to know you are there!
Where to go to experience the Day of the Dead
If two days of celebrations just doesn't sound like enough, head to Aguascalientes where they agree with you whole-heartedly. Here the festivities start at the end of October and merge into an almost week long Festival of Skulls, all culminating in an impressive parade of skulls.
At the other end of the scale, Mixquic is a brilliant example of the more reflective side of this festival. Here the community carry candles and flowers to their local cemeteries, and then clean and decorate the graves.
For us however, the most spine-tingling sight of all is the fishermen's boats rowing over from Patzcuaro to celebrate on the island of Janitzio – each lit by a single candle.
Are you still here?
What do you mean you're not in Mexico yet?
Have you somehow managed to ignore all the fantastic reasons to teach English abroad before you die and decided to spend your life in the grey back home?
Or are you hoping to get a chance to pop back from the after-life and join in that way? We don't think you should risk waiting. Get your bags packed and head there now. This is one festival you definitely do not want to miss.