Guest written by our Thailand Intern Jenny! Here's her top tips on settling into the Thai community and making the most of your time in Thailand!
You've landed to teach English in Thailand – hooray! Here's my top tips on how to survive and thrive in beautiful Thailand!
1. Realise that everyone knows you're a teacher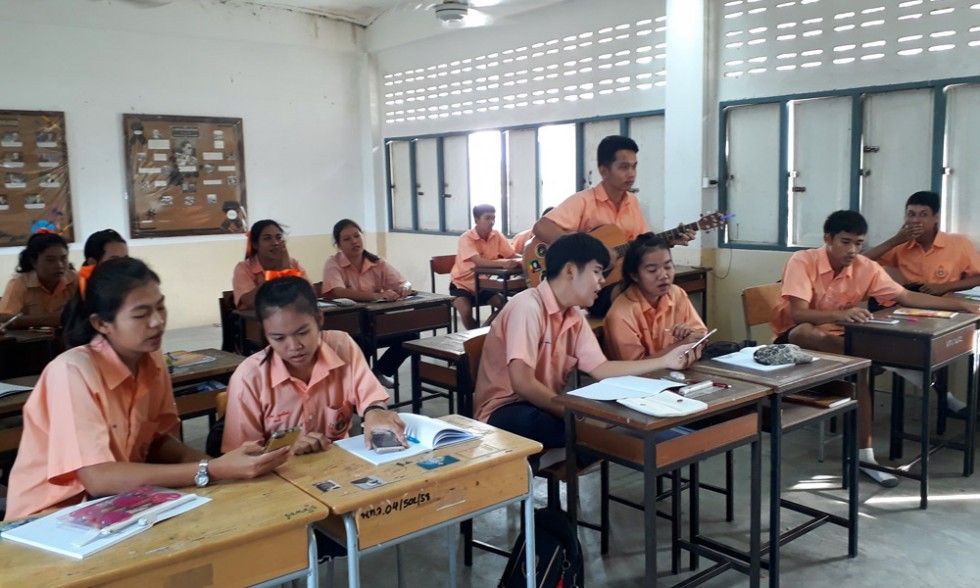 There will be hundreds of new faces when you reach your town and school. Too many for you to remember. But to the local community you will become familiar very quickly. So when you're ordering food at a restaurant, bartering at the market, or buying some sweet Thai snacks from 7/11, treat everyone with the great amount of respect that they deserve. You do not want to be known for being the grumpy and unfriendly foreigner! And if you make the effort to greet Thai people appropriately, use the language when you can. If you politely mention you're "Kru" in the local school, you might even get a discount!
2. Remember that the price is good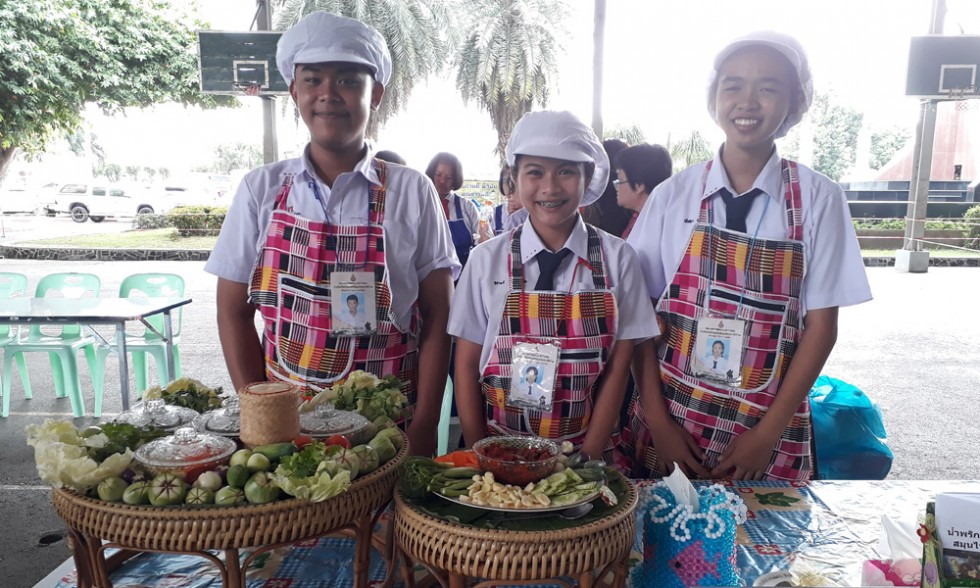 On the topic of money, be respectful when you barter or pay for goods and food. DO NOT raise your voice, look frustrated and get confrontational. The locals will feel very awkward and it certainly won't do you any favours. When buying clothes at markets in the bigger towns and cities it's worth trying to get a small discount. But the prices in the town I live in for school are so low that I cringe at the thought of asking for a discount. It's practically 80 pence  for dinner and £2 for a t shirt. And if you do try to haggle the price down, do it with a smile on your face. The Thai locals will like you for it!
3. Try new places and new foods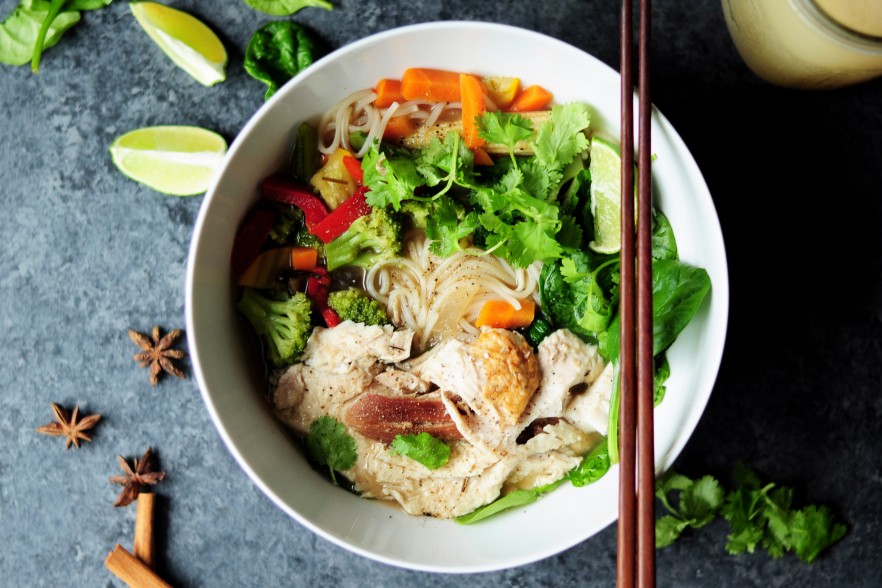 I understand that after arriving in a new country and having to adjust to a new way of life, it might be tempting to revert to familiar comforts foods e.g. chips and chocolate whenever you see them on the menu or in a shop. But I can't emphasise enough how yummy Thai food is. Talk to the teachers at the school about where and what they eat. Or go one further and ask to go to dinner with them! Being adventurous has huge benefits – I discovered my new favourite foods of sweet bread containing shredded coconut, and also banana and coconut cooked in plant leaf.  I also sit with the Thai teachers at lunch most days and observe what they eat. They often offer me a little to try. Finally, markets are a fantastic place to try new foods in small quantities and for a cheap price.
One word of warning: If your Thai language ability is limited then don't always expect to get what you think you ordered!
4. Get involved in the local workout spaces e.g. gym, volleyball, Muay Thai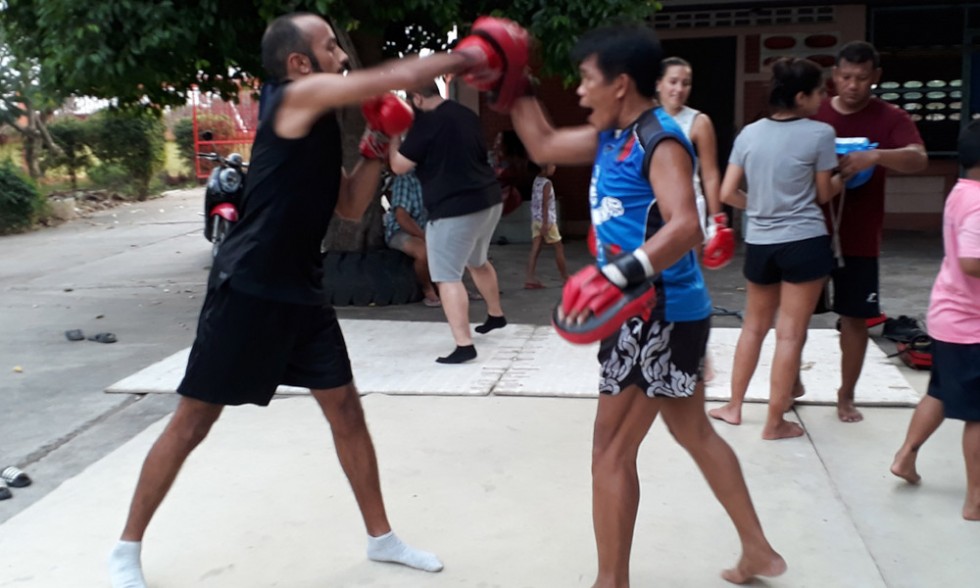 I was pleased to find a park and outdoor gym across the road from my school. The equipment is better than any outdoor gym I've seen in England! On my first visit I found myself working out along side half of the town – which is actually really cool! It's a good opportunity to say hello and have a chat with the locals. I often get laughed at when I get stuck into my HIT routine. And I once had three young children attempt to copy my squat technique. But it's all amusing and I enjoy feeling like I'm doing what the locals do.
Last week I tried Muay Thai boxing for the first time in a nearby town, along with fellow interns. It was such a good workout! We had an expert trainer and a former fighter coach us one to one. I was pushed to my limits and learned some pretty awesome moves – imagine smashing someone's head with your elbow or knee… Plus it was free! Again it was great to meet anther group of locals and experience Muay Thai – which seems to  as much a part of Thai culture as football is to the British.
5. Be open to everything and everyone. And go with the flow.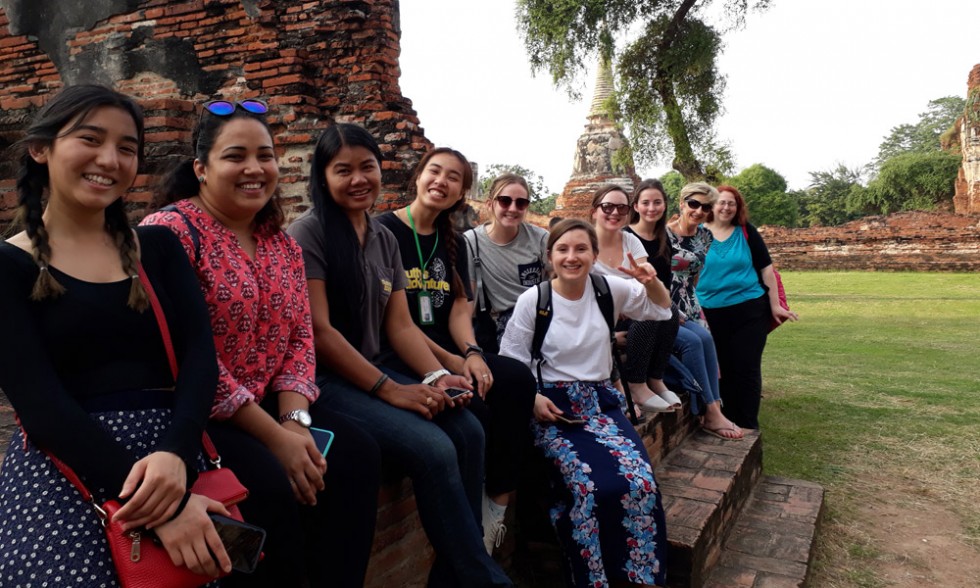 Something I learned in the past week is that it's sometimes good to not have a plan. After finishing teaching for the day last Wednesday, I learned that my school was closed for the next two days. It was explained to me that many students were travelling to other schools in the province to compete in competitions. Some students were entering cookery competitions. Others were doing sport and decoration making. I was curious to know more but couldn't find out how to join in. Instead I booked  a hostel in Kanchanaburi for a long weekend. But then I received an unexpected phone call from a former teacher of English at my school. She asked if I would be around the next day to tutor her niece, who was in need of speaking practice before an important exam. I was excited to have been asked and the next morning I spent an hour talking with the niece. On ending our lesson her Aunt invited me to lunch and then to go watch some of the school competition – I leapt at the opportunity! I ended up having a delicious lunch with a lovely Thai family, and then spent a couple of hours observing the cooking and decoration competitions at a nearby school. I was pleased to see students from my own school win one of the competitions! Afterwards I was kindly dropped off at a bus stop and made my way to Kanchanaburi. The whole bus ride I couldn't help but smile as I reflected on what a wonderful and unexpected day it had been! So my advice is take any opportunity you can to spend time with local people. And don't be afraid to be spontaneous.
If you fancy your own Thai adventure, here's where to start!