One of the biggest perks of getting a TEFL job in South Korea is the free accommodation provided by almost every employer.   This combined with good salaries (£1500 per month*), ridiculously cheap eating out and a beer in a bar only costing £1.30 means it's a teaching hotspot for TEFL teachers looking to save cash!  So, you're sold on South Korea… but before you sign that first job contract – let's find out what that free accommodation really looks like**.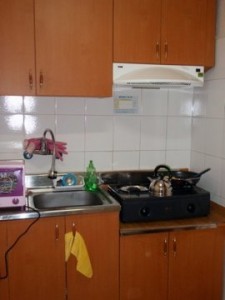 Yep, that's your kitchen! Tiny though it is, it should have all the essentials that you need (multitasking rice cooker/casserole maker anyone?!)… but if you'd prefer, eating out is also cheap, tasty and easy – with a restaurant on almost every street corner.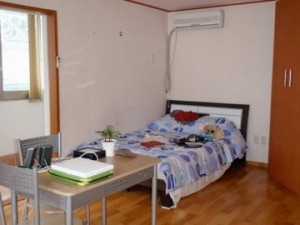 Even though it's somewhat traditional for Koreans to sleep on the floor, employers have now wised up to the fact that westerners prefer a bed and most will supply a double!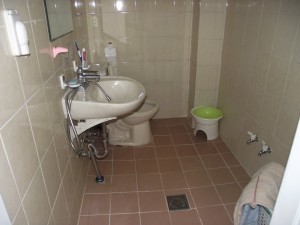 Welcome to your bathroom!  Strange though it may look, an open plan wet room with an unenclosed shower can actually become quite a boon when it comes to cleaning.   Toilets might have heated seats, fake flush noises to 'protect modesty', automatic flushes and adjustable water jets!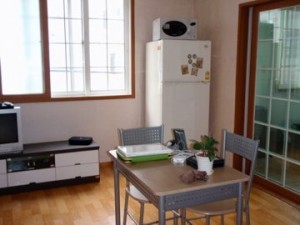 Most apartments will also have a small living area with a table, chairs a sofa and a TV. Yes… the fridge is in the living room – we didn't say this guide would make sense!
All ready for your TEFL adventure to South Korea?  If so, then take a look at our free South Korea country guide, to find out about the birthplace of Kimchi and Gangnam Style!
*£1500 per month is equal to about 2.4 million won – see we weren't lying to you!
**All pictures provided by  teacher Kat from her apartment in Ulsan, South Korea. Your individual experiences may vary (maybe you'll end up with a penthouse at the Hilton)!