Here at i-to-i, we have a range of expertly-created TEFL certification courses for you to choose from. All of our TEFL certification courses are government regulated and accredited – and they're designed to give you the skills and knowledge you need to excel as a TEFL teacher, whether you want to teach English online or abroad! But with all these options, you might be asking yourself, "Which TEFL certification course should I take?".
Breakdown of our course levels
First things first, let's start with a breakdown of our TEFL certification course levels and what they all mean:
Level 3 TEFL certification – our Level 3 TEFL course is the most basic TEFL Course we provide; equivalent to a UK A Level. It will help you achieve the minimum number of hours of training required by TEFL employers (12o hours) and is mainly designed for anyone with fluent or native-level English that's looking for entry-level or volunteer teaching positions.
Level 5 TEFL certification – our Level 5 TEFL certifications are much more advanced TEFL Courses, in fact they're CELTA-level equivalent, so they're pretty high up on the TEFL scale! These courses are designed for native-level English speakers as they dive deeper into the English language and how to teach it. They range from 180-hours all the way up to 500-hours, and the more training you do the more TEFL specialisms you will be trained in (and the more money you'll be able to earn!) A Level 5 Certification Course is perfect for anyone wanting to start a career in TEFL, online or abroad, or for those looking to access the higher paying TEFL roles.
We hope that's cleared up some confusion already, but if you still need help choosing, ask yourself these 5 questions:
Are you a native-level English speaker?
No
If you're not a native-level English speaker but you're fluent in English, we'd generally recommend getting a Level 3 TEFL certification. With your level of English, you'll be able to complete a Level 3 TEFL Course with ease and you'll learn all the basics about teaching English so that you can go on to teach online or abroad – winner!
Yes
If you're a native-level English speaker you're more than qualified to complete our Level 5 TEFL certification and we'd definitely recommend you do! Our Level 5 TEFL Courses will give you the in-depth knowledge you need about teaching English to land some of the best TEFL jobs out there. Plus, it looks amazing on your CV and will give you the edge over your competition (especially our 420-hour and 500-hour Advanced Diplomas).
Do you have any teaching experience?
No 
If you don't currently have any teaching experience, don't worry – most of our graduates come to us with no teaching experience and look at them now! All of our courses are suitable for beginners, so you should have no issues working through them (especially with our stellar tutor support!) If you're looking to just dip your toe in to the TEFL pool initially, we'd suggest you consider our Level 5 180 hour TEFL certification. This way you'll receive training in the basics and be able to ease yourself into the world of teaching. You can always upgrade to more hours later on once you get going!
If you're looking to kickstart a brand new career, we'd suggest our Level 5 420 hour Advanced Diploma, as this will get you qualified in the all the fundamentals plus some key TEFL specialisms – Teaching English Online and One-to-One, Teaching Business English, Coaching Exam Preparation, and Teaching Other Subjects in English. It will boost your TEFL CV, so employers can see that you're committed and well-trained, even though you haven't got classroom experience just yet!
Yes
Amazing! You're already one step ahead! If you're already a qualified teacher, we'd definitely recommend getting a Level 5 TEFL certification. With your experience, you'll absolutely fly through the Level 5 Courses. Plus, team your experience up with a high level TEFL certification, such as our Level 5 500-hour Advanced Diploma, and you're bound to jump to the top of the TEFL employers shortlists!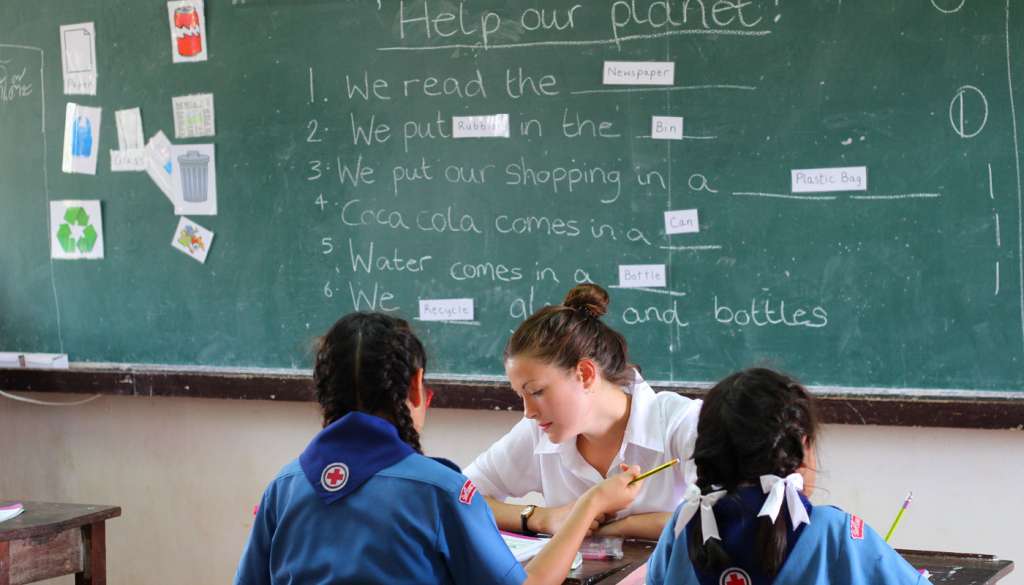 What are your long-term teaching plans?
I want to TEFL as a career
Amazing choice – you're going to love it! If you're wanting to ditch the 9-5 world of work and break into a more exciting and flexible career – TEFL is the one for you! To give yourself all of the skills you need to make your career move as easy as possible, we'd recommend getting the best TEFL certification! Our Level 5 Advanced TEFL Diploma is the highest level TEFL certification you can get and it will give you in-depth knowledge and training, so you can hit the ground running and progress quickly in your new career.
I'm not sure
No problem! If you're unsure of your long-term career plans but think teaching English could be right for you, then our standard recommendation is to start with a Level 3 Certification. This course will introduce you to basic concepts of TEFL and can also give you an idea of whether teaching English is a good fit for you. You can always upgrade or add on some additional training in the future!
How quickly do you want to get TEFL qualified?
I want to get qualified quickly
No worries at all! Lots of our graduates came to us wanting to get TEFL qualified as quickly as possible and it's certainly doable. All of our TEFL certification courses can be completed online and at your own pace, so if you put in the time, you could be qualified within a matter of weeks! For example, with our Level 5 180-hour Certificate, the average completion time is just 4-8 weeks!
I'd rather take a bit longer and get more training
If you're here for the long-haul and want to make sure you can aim for the higher-paid TEFL roles once you qualify, we'd ALWAYS suggest opting for our Advanced Diplomas. Designed by DELTA-qualified tutors, these comprehensive courses will give you all the training you need to know everything there is to know about TEFL, be able to access those competitive positions, and be able to impress potential employers.
Where do you want to teach English?
Abroad
If you want to teach English abroad now or in the future, it's a great idea to consider where you want to teach, and what the TEFL market might look like in your ideal destination. Generally speaking, Africa, parts of Asia, and Latin America are less competitive markets for teaching positions, so a lower Level 5 certification should be enough to teach in these countries. Whereas higher paying countries like the Middle East, Europe, and popular countries in Asia (such as South Korea and Japan) are super competitive, so if you want to teach here you're going to have to give yourself a competitive edge by taking a higher-level TEFL certification!
Online
If you want to teach English online, we'd always recommend getting a TEFL certification with specialist training in teaching English online, such as our Level 5 300-hour, 420-hour, and 500-hour Diplomas. Teaching English online is very different to teaching English in classroom and requires a different set of skills that a specialist course will give you!

Still not sure which TEFL Certification to choose?
If you're still not sure which TEFL certification is best for you and your goals, our TEFL experts can help! Book a free call with them today and let them help you start your TEFL journey right!
Want to find your perfect match right away? Answer the questions in our course matching quiz to find out now!