Teaching English as a Foreign Language, or TEFL, is a phrase you might have heard a lot but what does it actually mean? And how do you become a TEFL teacher? Well, we're here to explain everything! Read on to find out more.
What does Teaching English as a Foreign Language (TEFL) mean?
This means teaching the English language to those that don't speak it at all, or don't speak it as one of their primary languages. Teaching English as a Foreign Language tends to happen more in non-English speaking countries, like Thailand or South Korea, but it can also happen in English-speaking countries, like South Africa, the USA, or the UK!

How do you start Teaching English as a Foreign Language?
Step 1: Find your course provider
To be able to teach English to non-native speakers, the very first thing you'll need to have is a TEFL or TESOL qualification. This is essential, as being fluent in English doesn't necessarily mean you can teach it. You'll need training in how to create lesson plans, manage the classroom environment, and, most importantly, how to teach a language to those that don't speak or understand it (a lot trickier than you might think!) Before you invest your hard-earned money in a course, you'll need to make sure you find the right provider.
Reputable TEFL course providers offer accredited courses, that have been fully checked and verified as 'fit for purpose' by well-known organisations, such as Ofqual in the UK (who are affiliated with the UK Government). Getting an accredited course means it'll be recognised and respected by employers around the world, so you won't have any issues with your job applications. Opt for a non-accredited course and you'll probably find you've wasted your time and money on something you can't actually use for paid work! (Just so you know: all i-to-i courses are fully accredited and regulated by Ofqual in the UK and have been checked and approved by DEAC in the USA)
Step 2: Select your course level
There are lots of different qualifications out there but the accredited ones, which are the ones you need to go for if you don't want to waste your money, tend to be either Level 3 or Level 5. Which one you select will all depend on how much training you want to do and what you want to use your TEFL course for.
Level 3 – equivalent to an A Level qualification (UK framework) – best if you want to get qualified quickly and you're looking for volunteer/entry level teaching positions.
Level 5 – equivalent level to a Foundation Degree or a CELTA – best if you want to access higher paying TEFL roles in more competitive locations.
Step 3: Selecting where/how you want to teach
Once you're qualified, the world is your oyster! But first you need to decide whether you want to teach students from all over the world online, or whether you want to go and teach in a classroom abroad.
Benefits of teaching English as a foreign language online?
You can teach from anywhere in the world (including your own home, if you're not up for travelling)
You can opt to teach full-time or part-time, as a way to boost your existing income
You can teach students from multiple different countries – getting more exposure to different cultures and expanding your ability to teach students with widely varying needs
You can set up your own business and freelance
Benefits of teaching English as a foreign language in a classroom abroad?
You get hands on, practical teaching experience and get to be face-to-face with your students, which can make things like discipline and maintaining focus a lot easier!
You get to explore a new country and experience a new culture and way of life
You have the opportunity to learn a new language and meet new people
You'll build a lifetime's worth of amazing memories
You get international work experience to add to your CV – highly valued by employers all over the world, whatever field you're looking to get into
Step 4: Apply for Jobs
Now that you've decided how/where you want to be teaching English as a foreign language, you can apply for a job! We would always recommend you send out applications to a number of different jobs, providing you like the look of more than one of course, and really do your research on the employers beforehand. You should be making sure that each application is tailored to the needs/preferences of each employer, to give yourself the best chance of being snapped up!
Not sure where to start? We'd recommend heading to the LoveTEFL jobs board first. It's an easy site to use, is regularly updated with new positions, and has both online and abroad roles to apply for.
Need some help with your job application? No problem! We have an amazing Jobs Support Team at i-to-i, and they are more than happy to help with your applications, to make sure you're giving yourself the best chance of getting positive responses from employers!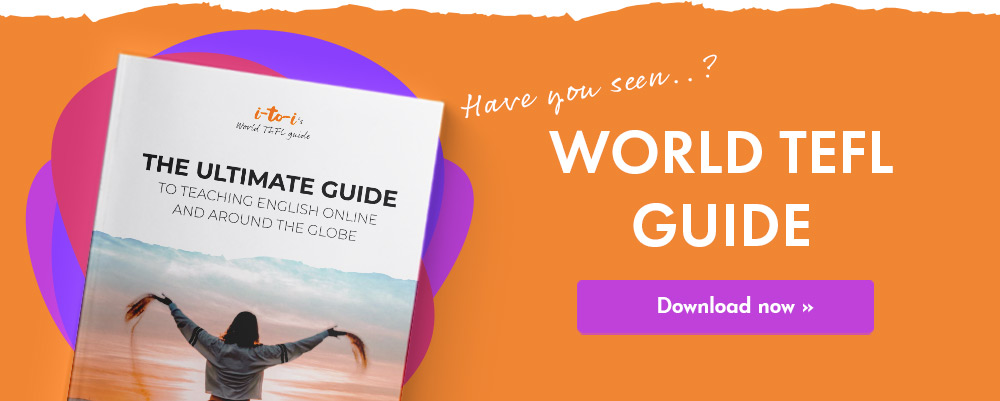 Can I start Teaching English as a Foreign Language without a degree?
Yes, of course! There are lots of roles around the world and online for those that don't hold a degree-level qualification. We also have many graduates without a degree in full-time TEFL employment, including Audrey from the USA – who lives in Italy but is currently teaching English as a foreign language online to students from around the world.
Do I need to be a native English speaker to be able to Teach English as a Foreign Language?
Not at all! All you need is a high level of fluency in English to be able to teach it to others. And, if you've learnt English as a second or foreign language yourself, you're almost in a better position than native speakers, as you'll have inside knowledge of what it's like to learn English and which areas will be trickiest/where you students will need more support. We have lots of non-native English speaking graduates who are excellent TEFL teachers and very popular with their students! Check out Joana's blog to find out more.

Ready to get started but want to speak to someone first? Arrange for a free call back with one of our TEFL experts and they will be able to help you out!
Want to find out which course is your perfect match? Take our 2-minute course-matching quiz here!
Want to find out where in the world you could be teaching English as a foreign language? Get your free World TEFL Guide to find out more!