Today I will be sharing the top 5 games for teaching English online to children. Teaching English online can be more challenging than in-person classes, as it is easy for young students to get distracted. By including lots of online games within your classes, it keeps the students engaged and interested in the lesson material. There are lots of games available online, to aid children's learning and keep lessons fun and interactive. You can also use online games along with the traditional in-person games too, where appropriate.
When looking for online games, it is important to make sure the games have a combination of learning and fun, and that they are easy to interact with. There are lots of online English games around, however, I have found these Top 5 to be the easiest to access and to use, and they don't require paid subscriptions!
1. Kahoot
Kahoot is a really popular website and provides a great setup to aid learning with online classes. It is easy to use for students and teachers alike, which is another important thing to look out for when finding online games to use in the classroom. Kahoot is a free-to-use website, you just need to register and you can pay to upgrade if you want, to use more features and share with more students.
How to use Kahoot for online teaching
With Kahoot, you share the screen with students and they can play the games using their mobile phones. It's a great site for group classes, as the students will see it as a competition between each other to win. There is a huge variety of games available, with games for beginners, games tailored around the Cambridge learning programme, themed games like Disney or Star Wars, and games on current affairs for the advanced learners too. It is perfect for all ages and all levels of students. You can even create your own games too if you can't find a game suitable to your class! Students have a time of 10/20/30 seconds to answer each question and they are all multiple choice, so it's a great opportunity for students to review their learning of a subject for example, and for you to see what has been understood. It is also a great way to introduce a new topic to students and find out what they already know.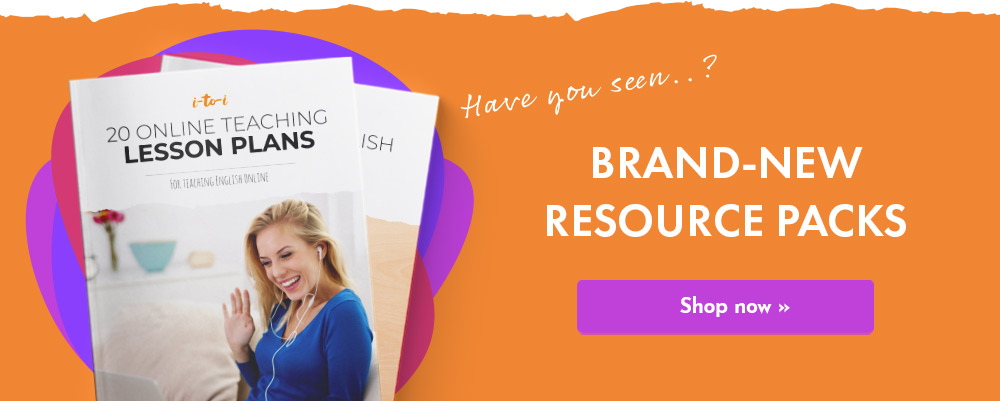 2. Baamboozle
Baamboozle is another great website to use when you have multiple students in your online classroom. Again, it is free and easy to use for both the student and teacher. They have over 500,000 games available to choose from, covering vocabulary, grammar, tenses, and sentence structure. You can also create your own Baamboozle game, if you can't find one suitable for your lesson. Baamboozle also enables students to compete against each other, as students win points for each correct answer. It has a cool feature, which my students enjoy, where points can be swapped and stolen from their classmates. It always goes down well!
How to use Baamboozle in your English class
The games work by students choosing a number on a grid and answering the question, either with a complete sentence or choosing the correct option, and they win points accordingly. With Bamboozle, you can also put your students into teams, if you have a big online class, and they can work as a team to answer questions. The games can be used to introduce new topics or review current or previous work to check students' understanding and also works really well as an ice breaker for new students and classes.

3.  MES Games
How to use MES Games during your Online Class
I have recently started using MES games and it is a great platform that is really easy for students to interact with. It's another free site and it has a large choice of games, covering lots of different topics, vocabulary, and grammar. Each topic has a choice of games from listening and selecting, memory games, vocabulary, grammar, and spelling.
Teaching English to young learners
This is a great website to use during lessons to review a lesson topic and to break up the class, especially for the younger learners. I have found that my younger students enjoy the animations and different characters in the games! MES Games also offers a great addition – online flashcards! This is a great tool and can really aid younger and beginner learners with new vocabulary.
4. ESL Games World
Keeping young learners engaged in the online classroom
Another recent find is ESL Games World, a free games website providing a wide range of online English games for younger learners. Covering a wide range of levels, grammar & tenses, and vocabulary, it also includes lots of listening practice and memory games for different vocabulary topics. An easy-to-use site, you can browse the different games via levels and for the younger learners, games include treasure hunts, online car races, snakes and ladders, and mazes, along with memory games which I have found to be really popular amongst my younger learners. They have a better memory than me sometimes!

5. Games to Learn English
Games to Learn English has a huge range of games available to students and teachers, from practicing sentence structure, question, and answer games, speaking & listening practice, spelling, and a wide variety of grammar and tenses games too! It also has games like hangman, memory games, and lots of games based on different vocabulary topics. There are plenty of instructions for each game and, although these games are aimed at younger learners, they can be adapted to suit a range of ages and abilities. One of my favourites is 'fast English' or 'fast phrases', where students have to select the answer before the time runs out, but the time gets shorter each round. It's a great game to use mid-way through the class to break up the lesson and get energy levels up again!
Setting homework/activities for your Students Online
The site is free, and there is no need to register to access games. However, if you want to set homework or practice activities/games for your students, you can create an account and share the homework with students. Another great way to check students learning in between classes.

Hopefully, these games will help you to build on your students learning experience and bring a bit of fun and a different type of interaction into the online classroom! All of these games and websites can be used for introducing new topics, reviewing current or past topics, or just to break up the class and energise your students.
Still need to get qualified? No worries! Check out our range of TEFL courses or arrange for a free call back with one of our TEFL experts who can talk you through your options and answer any questions you might have!
Want to find out which course is your perfect match in under 2 minutes? Take our quick course matching quiz!
You can also follow Catherine on her teacher Instagram, or check out her website to learn more about online games!