Whether they're asked by inquisitive students keen to practice their English, fellow teachers, or friends at home over Facetime, answering daily questions is a big part of being a TEFL teacher in Thailand! The majority of queries, however, come from aspiring TEFL teachers wanting to switch their home country for a new culture in a far away continent, and I get it! Of course you want to know more before you go.
But what better place to choose than "The Land of Smiles", with its thriving cityscapes, pristine beaches backed by sprawling jungle, and dazzling cuisine: all with a community so hospitable that you'll never want to leave! So, without further ado, here are a selection of typical questions I get asked as a TEFL teacher in Thailand and hopefully the answers will help you feel more confident about heading out here!
"How Much Can I Get Paid as a TEFL Teacher in Thailand?"
TEFL jobs in Thailand come in a variety of different forms, just as the teachers themselves do! Each position will vary in its schedule, workload, employee benefits, and of course monthly salary.
In such a desirable TEFL destination, prospective teachers find themselves entering a competitive market, where the most lucrative jobs are often given to qualified teachers or those with previous experience. Some of these private academies may ask for a master's in education, or a PGCE, as the level of responsibility in such positions is normally higher. As such, private school teachers can expect to earn around $3000/£2,300 or more a month.
While finding a job at a private school increases your earning potential, it can be difficult to go it alone and you'll lack the benefits you would get with a paid TEFL internship: such as the culturally immersive orientation week, rent-free accommodation, and a group of fellow ex-pats to share the journey with! With internships you're also guaranteed a paid position at a public school in Thailand: living on a comfortable salary of up to £860, or 40,000 Thai Baht!
It's important to note that, thanks to the infamously low cost of living in Thailand, although it might seem low by western standards, this salary allows you to live comfortably, even lavishly! Grabbing a morning coffee or mango smoothie will set you back around 40 baht, or just £0.90, and a delicious pad thai will cost the same! After a rewarding week of teaching, enjoying an ice-cold Chang beer costs as little as 30 baht, while a "treat yourself" meal at a high-end restaurant will only set you back 250 baht, or £5.75!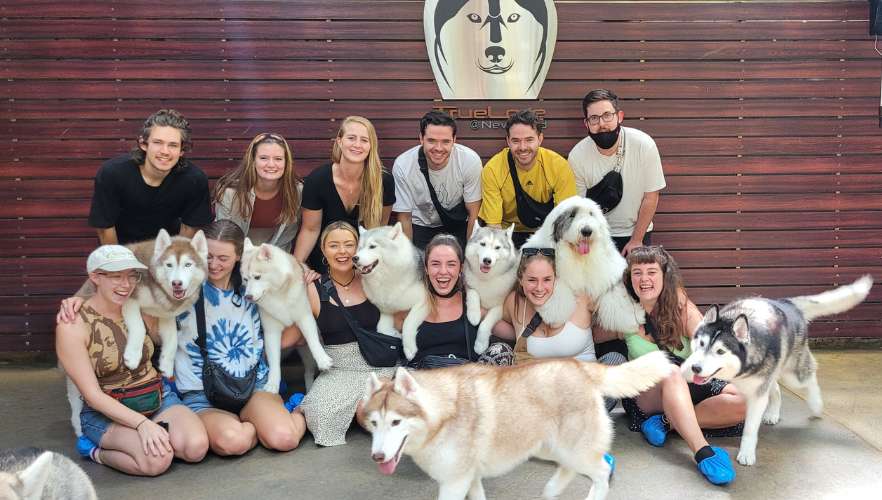 "What Qualifications Do I Need To Teach English in Thailand?"
While each teaching job is different, one aspect that remains the same across the board is the qualifications you need. One of the best things about choosing Thailand as a TEFL destination is that it caters for entry-level teachers! In essence, all you need is a degree to teach in The Land of Smiles: and any subject will do. Unfortunately, there's no way around not being a degree holder, as this is the only way to legally obtain a work permit in Thailand for public schools. (If you want to work online but live in Thailand- be a digital nomad- different regulations will apply, but you'll need to do your research! Check out Support Adventure for some of the latest info.)
While a degree is the only truly essential certification for visa purposes, there are of course other qualifications you will need to impress future employers. It's highly recommended that you complete at least a 120-hour TEFL course to enhance employability and prepare you for the Thai classroom! If you have yet to get your TEFL certificate, you won't even have to go as far as to open a new tab. There is a huge range of options here on the i-to-i website, from the 120-hour course featured in their Thailand internship, to CELTA-level equivalent qualifications, that will enable you to work in schools and online.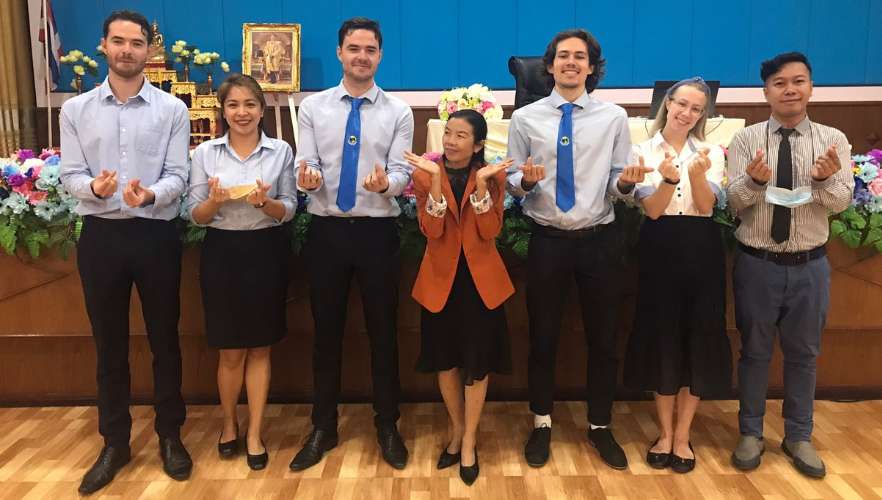 "What's Your Day-To-Day Routine As a Teacher in Thailand?"
However you choose to go about getting your teaching job in Thailand, you'll be guaranteed an enviable work-life balance: 2 days off each week and a light workload of between 15-20 hours. While one of the best things about TEFL in Thailand is that each day is refreshingly different (though most of them include eating mango sticky rice!) but there's still a basic structure to life here that you can expect to experience.
07:00-12:00
Despite the "no worries" or mai pen rai way of life in Thailand, you can forget the possibility of week-day lie-ins! My mornings in Chaiyaphum city begin at around 7 am, leaving me time to grab an iced coffee from 7/11 before making my way to school. As it's only a five-minute drive from my accommodation, I can either choose to get a taxi, cycle, or walk and take advantage of the cool morning air.
After clocking in at 8 am, I join my co-teachers in our communal office area and begin prepping for the day. After joining the students for a brief morning assembly, I make my way across campus to start teaching. The first lesson begins at 8:40, and there's the potential to teach four of them until lunchtime (although you'll often have a free period).
12:00-13:00
What with Thailand's dazzling food culture, there's a huge emphasis on lunch and plenty of options when it comes to your lunch break. Thai people are huge fans of communal eating, so it's not unusual to receive lunch invitations from your Thai colleagues!
Usually, I'll walk a few minutes up the road to meet some friends at our favourite midday spot: an eatery owned by the loveliest Thai lady with Michelin-star cooking skills. After enjoying a yellow curry with tofu for just £1.00, we grab a freshly blended fruit shake to take away and head back to our schools: where afternoon lessons begin at 1 pm.
13:00-16:20
With everyone fed and happy, it's time to resume teaching. While your students might be a bit sleepy straight after lunch (locals will tell you to avoid eating sticky rice at noon for this exact reason!) afternoon lessons have a more relaxed vibe. As with morning lessons, I usually teach two or three classes interspersed with a break for lesson planning and other admin work.
Regardless of whether you're teaching one or four lessons in an afternoon, school finishes at the same time for everyone, with students and teachers heading home on their mopeds at 4:20 pm. This leaves enough time to catch the sun setting over the lake near our accommodation, followed by grabbing dinner at the local night market: the hub of every Thai community!
"Is Thailand Vegan-Friendly?"
Regardless of whether you're a long-time vegan, a recent discoverer of oat milk, or simply an advocate of plant-based eating, moving abroad conjures the same concerns. You might be worried about how to locate dairy-free products in Thailand, how to navigate your vegan food order, or discovering surprise chicken in your supposedly vegetarian meal.
Fortunately, Thailand is one of, if not the best country in South East Asia to sustain a plant-based diet. Even among the older Thai folk, the concept of veganism is well understood, as omitting animal products forms the basis of jay Buddhism: an ancient vegetarian religious creed.
Thai food markets are awash with stalls specifically catered to the country's estimated three million Jay Buddhists. Locals and ex-pats alike flock to these vibrant pieces of the Thai market jigsaw puzzle- searching for tofu, veggies, and rice. Easily recognized by their vibrant yellow flags and red Thai characters spelling "Jay", these stalls are ubiquitous across the country.
Even in rural Thai communities, where eating meat has long been a sign of wealth and good health, there are still plenty of options for vegan TEFL teachers. Night markets are awash with bundles of fresh fruit and vegetables alongside all the plant-based staples like rice, beans, tofu, and the infamous Som Tam: a green papaya salad showered in chillis and garlic. Even your local 7/11 is bound to sell plant-based milk, snacks, and even vegetarian sushi.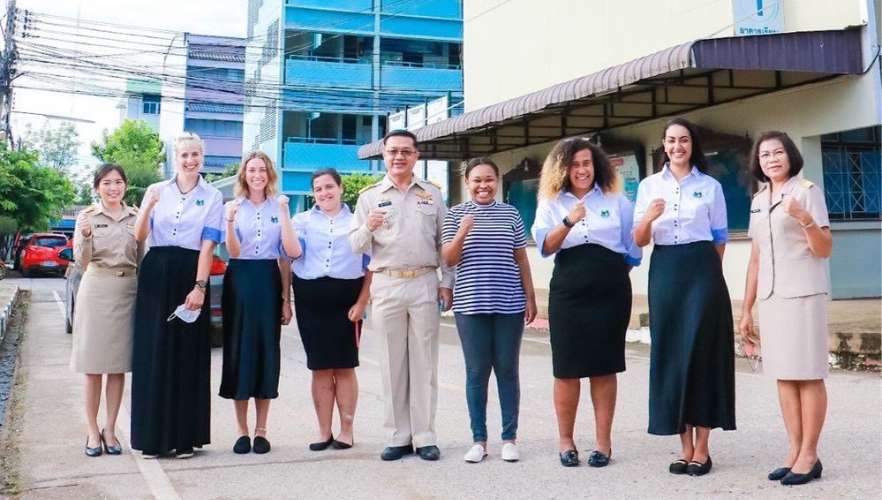 "Where Do I Sign Up?"
It seems fitting to end this blog with the most frequently asked Q of them all. After all, who wouldn't be tempted by Thailand's rewarding teaching roles, low cost of living, and relaxed lifestyle?
As someone who's stayed working in Thailand for longer than planned, alongside countless other TEFL teachers, you can take it from me that there's truly something for everyone in The Land of Smiles. If you're interested in taking the plunge and becoming a Kruu Angrit in Thailand, check out i-to-i's Paid Thailand Internship, reach out to a member of the i-to-i team for guidance, or, if you want to go it alone, scroll through the LoveTEFL jobs board!