With travel reopening, Thailand has been paving the way for a return to normality. You can actually enjoy quarantine for once, on the dreamy islands of Phuket or Koh Samui, and we TEFLers are already being welcomed back into the Thai classrooms. If like me, you've decided to TEFL in the land of Pad Thai (and other amazing food), preparation is often the most overwhelming stage!  Whether you've secured a job independently or have signed up for a Paid Thailand Internship, ensuring you're ready to undertake a new way of life is very important. But fear not, in this blog I'll be taking you through 5 key preparation tips so that you can waltz onto your flight stress-free!
Learn basic Thai
Who wouldn't jump at the opportunity to learn a new language? Now, you have the perfect excuse! Not only will learning basic Thai provide a more immersive cultural experience, but it also allows you to build rapport with the locals!
While there are over 44 consonants, 28 vowel forms, and four tone markers- don't be disheartened, as you can work up to learning these. Instead, start with everyday phrases (hello/goodbye, thank you, excuse me, how are you?) that'll help you navigate social interactions, and get a feel for the tones and vowel length. Phrasebooks are super handy for this because Thai is one of the only languages that sounds the same when spoken as it does when printed on the page! I'd highly recommend the Lonely Planet Phrasebook & Dictionary; it's compact, lightweight, and has a list of "survival phrases" accessible on the first page.
Here are a couple of tips to help get you started. It's crucial to note from the beginning that, akin to French, Thai has masculine and feminine variations. Whereas the french use "la/le" at the beginning of words, in Thailand, you'll place "ka/kráp" at the end of every sentence depending on your gender: even to say hello! For women, you'll opt for "Sá-wát-dee-ká" alongside your friendliest smile- whereas men will say "Sá-wát-dee-kráp". Similarly, the pronoun "I/me" is gendered, and it's customary to refer to yourself as "pom" if you're male, and "dí-chan" if you're female: simple!
Thankfully, resources are plentiful! You can easily digest the Thai phenomes by listening to YouTube channels, music, or podcasts. There's even an app called thaipod101, which would be a great way to pass the time in quarantine or on your flight!
Research the cultural Do's and Don'ts
Thailand has an endlessly fascinating culture: rich in myth, kaleidoscopic colours, and traditions that span centuries. As such, I can guarantee you'll have a wonderful time just researching the customs of this beautiful country. Knowing the cultural dos and don'ts has added benefits of course, such as avoiding embarrassment or unknowingly offending your hosts. After all, nobody wants to do the Thai equivalent of queue-jumping in the UK!
Luckily for us, Thailand has been on bucket lists worldwide for decades now, meaning there's a huge amount of information and resources online. You won't even have to go as far as opening a new tab! The i-to-i blog archives are full of informative articles, including "10 Crazy Facts About Thailand" and an abundance of "Day in the life" stories from past interns.
Excitingly, if you've opted for i-to-i's Paid Thailand Internship, you'll receive more detailed cultural advice and info in the course package. Split into 2, the Teaching in Thailand and Internship Preparation courses will leave you feeling clued up on Thai customs and help you to avoid experiencing culture shock.
In the meantime, I'll leave you with the most useful points that I've picked up from my research on Thai culture. The first is one that you might already be familiar with, that every greeting is accompanied by a type of bow, or "wai". In these opening interactions, it's deemed respectful to place your hands in a prayer position and gently bow your head. There's an embedded hierarchy of respect in Thailand, and while you'll be expected to bow to monks and seniors, but not to children, it's better just to "wai" wherever you go!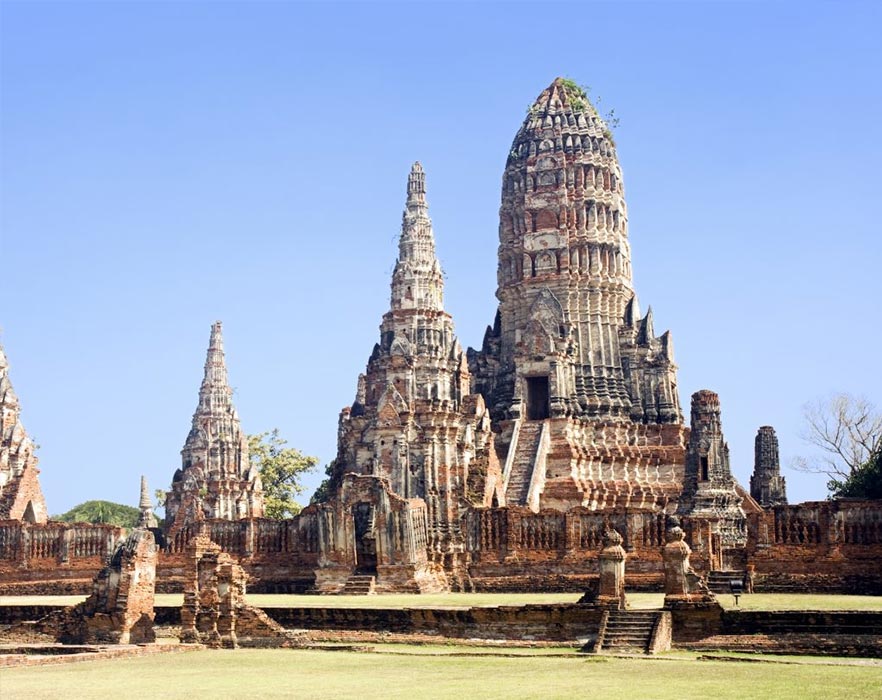 The most prominent idea informing daily behaviour in Thailand is that of "face". This basically refers to your public self-image, and how you appear to others. Remaining calm, collected, and polite should be your mantra anyway, but in Thailand showing respect to others is a way of life! The last thing you want to do is lose face by losing your temper in an exchange, be it with a stall vendor or one of your students. In Thailand, there's a wonderful phrase that everyone lives by: "Mai pen rai", meaning "no worries" or "It's OK!"
Packing essentials
This is definitely the most exciting part of preparing to TEFL in a new country, and there's no happier sight than seeing your belongings laid out and ready to pack. It's the ultimate affirmation of "wow, this is really happening, I'm moving to Thailand!". However, before zipping up your backpack for the last time pre-flight, make sure you've included these essential items:
Suncream. This might sound like a given but, especially if you're quarantining in Phuket (more on that later!), suncream/lotion carries a surprisingly high price tag. This is especially true in touristy locations, so stock up before you leave.
Documents, documents, and more documents! Make sure to pack copies of all your important documents, especially your TEFL certificate, Degree/relevant qualifications, insurance information, and other visa documents.
A mosquito net and lots of anti-bite spray/cream. Essential, because swatting these critters off your legs gets tiring after a while! When purchasing a mosquito net, make sure it comes with thin rope and rings so that you can drape it above your bed. No more waking up to 10+ new bites!
A filter water bottle such as LifeStraw (and extra filters). While this isn't a necessary item, being able to drink the tap water wherever you go will save money and, more importantly, the planet!
Teaching realia. Your students will love learning about you, so it's important to bring objects from your life at home. These can be your local currency, family photos, Christmas cards, or even a childhood toy. Items such as takeaway menus are useful for modules on food/drink, and photos of your family pet can be used in lessons about animals!
Slip-on, close-toed shoes. As it's customary to remove footwear when entering shops or homes, it's best to avoid shoes with too many straps or buckles. When you're teaching, schools will prefer you to wear close-toed shoes with a smart-casual vibe.
Create a budget
While TEFling in Thailand is one of the more budget-friendly options, there are now additional costs to factor in as a result of Covid, so creating a budget is crucial. Trust me, your future self will thank you!
Once again, if you've opted for i-to-i's Paid Thailand Internship, you'll receive a welcome pack that breaks down all the costs for you, so there are no hidden surprises! Your budget as an intern will differ from someone finding a job independently, as your TEFL course and accommodation come included in the internship fee.

However you're planning to get to Thailand, there are some unavoidable costs that'll crop up in the months, weeks, and even days before leaving. Thankfully, these are all very manageable, and the things to pay for are usually numerous but not too costly! Important things to factor into your budget include vaccinations (costs will differ depending on where you live), quarantine accommodation (between £100-£800 for 14 days), and a pre-flight PCR test (around £70).
One of the most important things to remember is that you won't get paid until the beginning of your second month, so you'll need to be able to live on your own funds for the first 4 weeks. While this is very doable in somewhere like Thailand, with its low living costs, I'd recommend taking a minimum of £700 with you. This way you'll be able to gorge on the delicious Thai cuisine and spend your weekends exploring the local area!
Stay current on quarantine rules
How does spending 14 days roaming a tropical island sound? The Thai government has recently launched the Phuket Sandbox quarantine scheme, allowing fully vaccinated tourists to quarantine on the beautiful island of Phuket in specific hotels. Providing you've tested negative for Covid, you'll have free reign of the island's many beaches, mountains, and jungle pathways. The best part? You can stay in a luxury hotel for a fraction of the original price!
In the space of a few weeks, the government has also launched the 7+7 extended Sandbox, allowing you to spend one week in Phuket before travelling to another designated quarantine area, such as Krabi or Koh Samui. While it's exciting, this goes to show that quarantine rules are constantly changing, and so a big part of staying prepared is keeping up to date with the changes. To help with this, there are a number of Facebook groups dedicated to Sandbox reviews. For interns on the Paid Thailand Internship, your coordinators will keep you in the know and guide you through any changes.
The final step? Get ready for a life-changing adventure in The Land of Smiles!