Want to know what a day in the life of a TEFL intern on our Paid Thailand Internship looks like? Well now you can! Discover a full breakdown from Erica below: 
6:15am:
My alarm goes off just as the birds outside my porch start chirping for their morning worm breakfast. A few weeks ago I had noticed a birds nest that must have been built while I was away one weekend, and my landlord's response aligned with the common Thai Buddhist mentality of "leave everything be, until it settles on its own". I have decided to find positivity in the birds, and now it is a joyful morning wake up call I look forward to every morning. I FaceTime my family while I get ready; I could not be more thankful for modern technology making it feel like I'm right back at home. No homesickness here!
7:00am:
I start my brief walk to school, and pick up my morning breakfast of chicken satay with sticky rice. Only in Southeast Asia do you get used to the savory breakfast foods at 7am, as well as rice with every meal of the day. Almost every block I'm greeted with a huge smile from all the locals; being a foreign teacher makes you feel like a celebrity.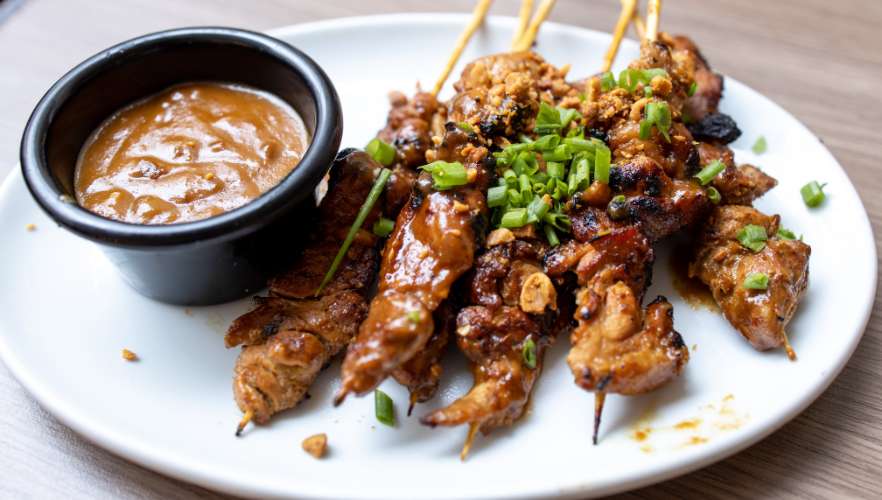 8:00am:
I say good morning to my Thai teachers and we discuss what is ahead of us for the day. My Thai teachers do not speak much English, but we have found a common middle ground and we know there is always someone nearby to help translate if we come across any issues. I then walk over to gate duty where I greet all of my goofy smiling students.
9:00am:
My first lesson of the day! Since my placement is at a Montessori school, I teach for less than an hour a day, so I try to cherish any teaching time I do have. Thankfully, I also don't have to worry about coming up with a curriculum or lesson plans so I pretty much show up and just start teaching! I start off with some singing and dancing, so I can try and get the kids (and let's face it me as well) more awake and comfortable. I then review some skills and communication vocabulary, and thankfully have my Thai teacher as well as Thai assistant to help me with the tougher students who can't quite sit still.
10:00am:
Recess time! This is one of my favorite parts of the day. This is the time I really get to engage and have fun with the kids. At first, I struggled with making connection with the kids because I didn't know Thai, but we very quickly figured out certain words that are known in both of our languages. Now, we play "zombie" every day at recess, which consists of us just chasing each other around the playground.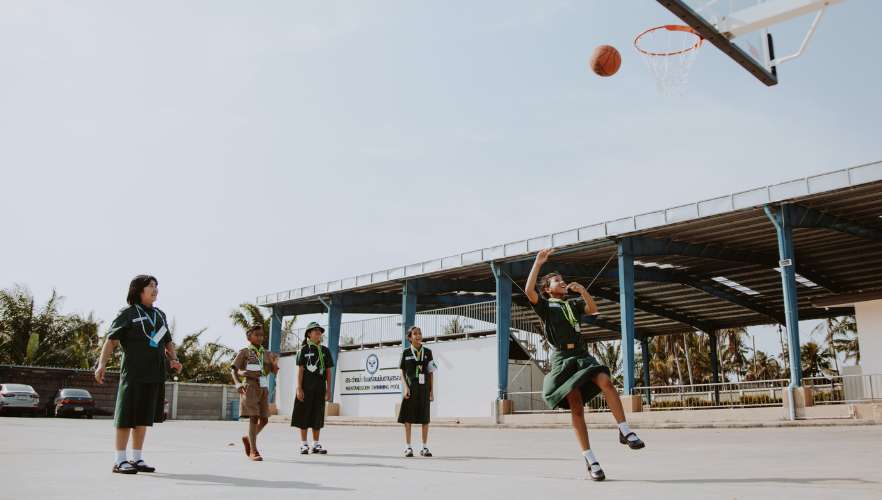 12:00pm:
Time for a break from the kids, and off to lunch with my coworkers. I am very lucky that my school has so many foreign teachers, and you really do bond so fast with people who are also teaching abroad. Lunch has became our time to laugh and vent about the day. Not to mention our time to enjoy the amazing food! Today's lunch at the school was a spicy cilantro onion chicken, fried rice, and yummy clear soup. The lunch lady always makes sure to add extra chillies on the side for me because she knows I like my food spicy! I spent the rest of my lunch discussing with my coworkers what our plans were for the upcoming weekend. Word on the street is there is a new bar opening in our area, so a few of us want to check it out.
2:00pm:
Back to the classroom. My kids are starting to wake up from their afternoon nap, so I help feed them snack and start getting their stuff packed up to leave. We sing some goodbye songs and go over one last skill.
3:00pm:
I then walk each kids to their parent, and we exchange the Thai "wai" (greeting and thank you hands/bow). The kids are finally starting to get used to me, and this day was smoother than most.
4:30pm:
Now for my first tutoring lesson of the day! I was introduced to this family by another teacher at the school, and although I was extremely nervous to teach an adult for the first time, it has been such an incredible learning experience. We discuss how our weekends were and go over some business English vocabulary. He is so kind and never fails to remind me that he is always a phone call away if I have any issues arise during my time in Thailand. We work on another English assignment, and then make plans for me to go to a nearby floating market with him and his family the following weekend. Afterwards, I work on the alphabet and phonics for his son's tutoring lesson.
6:30pm:
Tutoring lessons are done for the day, and they drop me off at my apartment because I don't have a car in Thailand. I walk to meet up with a friend at a nearby night market and we walk around the countless stalls deciding what to eat – everything smells so good! We end up deciding on 'pad see ew', and listen to some live music while we enjoy our food and drinks. We then continue to walk around, looking for some clothes for the music festival we are attending in a couple of weeks. I make sure to grab my favorite dish of mango sticky rice right before we leave.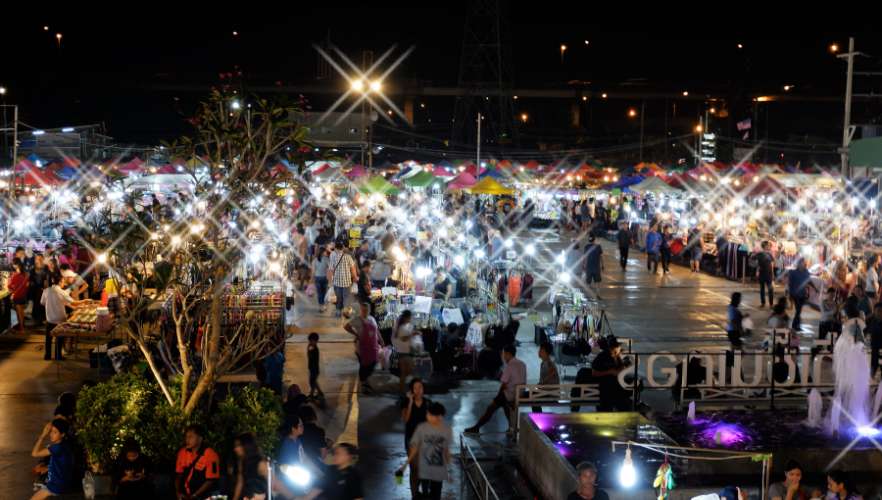 8:30pm:
I then wave down a motor taxi and ride back to my apartment. When I first started taking motor taxis I was terrified, but slowly I started getting used to it once I noticed the streets were 80% motorbikes anyway. I smile as I see all the lights of the night markets fly by with the warm breeze in my hair.
9:00pm:
I take my second shower of the day, and bring in my laundry that was drying outside. I then finish my episode of the new South Korean drama I've been watching, and crawl into bed.
10:30pm:
Night time! Can't wait for the next day.
Ready to get out to Thailand and enjoy a day like this? Find out more about our Paid Thailand Internship with this handy free brochure or arrange for a free call back from one of our TEFL experts, who will be happy to take you through your next steps!