South African TEFL teacher Rosland went live on i-to-i's Facebook page to share her story of TEFL as a South African and answer all your questions about teaching English online and overseas. Watch the full webinar or read on for edited extracts.
How did you become a TEFL teacher?
I was a PR manager and events coordinator for three years. However, it's always been a passion of mine to find a job that allows me to travel. 2019 was the year I decided to follow that dream.
I did the Level 5 TEFL Diploma with i-to-i. I was working full time in Cape Town and doing the TEFL course when I came back from work and over the weekends. At the end of my TEFL certificate, I signed a contract for a job in China and was supposed to go in February 2020 but, as you know, Covid happened.
I had already resigned from the PR agency so I was left without a job. I had enough savings to get me through six months but I realised that Covid was not going to end any time soon, so I started looking for online teaching jobs.
How long did it take you to find an online TEFL job?
I thought it would be easy to find an online TEFL job. I had my TEFL certificate and my bachelor's degree and a contract to teach in China, so I thought I had got this in the bag but it took me about two months before I managed to get a break.
I was applying to the big companies and the majority of them require you to have prior teaching experience. At the time I was applying, the jobs market was quite saturated. Covid had just hit. Many people had come back from the countries they were teaching in and were applying to teach online.
I'm not going to lie. It was not easy. I was on LoveTEFL's jobs board, Dave's ESL Café, and Google every day, trying to find which companies do actually take South African citizens. I did not stop there. I would apply through jobs boards. I would then fill out the application form on their websites and send my application to them by email. I would even go onto LinkedIn and try to find people who worked for that company and apply through those platforms.

How did you find your first online TEFL job?
Landi English was the first company that got back to me. I did my interview and thought I would hear good news. Three days later, I got a 'Sorry, your interview was not successful.' Before I applied again, I went onto YouTube and found a mentor who worked for Landi English. He told me I was a good candidate but there were things that I needed to be aware of in the interview and when doing the demo class.
I had a few master classes with my mentor, nailed the demo class with him and was ready to apply to Landi again. This time they were happy with my interview but referred me to their sister company, Dazao English who was taking on South Africans who had no prior experience. I worked for Dazao English for three months.
What are your tips for applying for online TEFL jobs?
When you apply for online TEFL jobs, make sure you have a great, clear photo that makes you look professional but friendly and also include a short introduction about yourself, your experience and your personality.
Tailor your experience towards teaching and working with kids. For example, if you have been a waiter in a restaurant that has a lot of foreign customers, you could say you work well with people from different cultures. If you have any experience of working with children, as a babysitter or a swimming coach for instance, definitely put that in and highlight it. That is very important.
I also recommend that you tailor your skills towards teaching. For example, if you have good communication skills, good classroom management skill, if you're patient, if you have good listening skills, if you're really technically savvy – you can highlight any of these.
It is also really important to include your tech set up. If you have a headset with an external microphone, mention that. If you have a quiet space to teach, mention that in your application. If you have good WiFi and 5MB upload / download speed, mention that. Also mention the make of the laptop / PC you will be using. I've got a MacBook Air so I say that.
Most companies ask you for a demo or intro video. Film yourself beforehand so you have the video ready to upload onto online applications. Make sure you show a bubbly personality, do lots of smiling and use TPR (total physical response). TPR is really important for online teaching and they look for it in interviews. Go onto YouTube and type in 'Online Teachers using TPR' and you can get a whole host of videos that will train you on how to use TPR.
What equipment do you use for teaching online?
I have a MacBook Air, fibre broadband, and uncapped WiFi with 5MB upload and download speed.
My headset is a gaming headset that can be used in a laptop. It has an external microphone that is needed for online teaching. I paid about 200 Rand [£10] for it. If you can find a cheap one like this, that does the trick. Headsets can be really expensive. Don't spend 500 Rand on a headset!
Is load-shedding an issue for South African TEFL teachers?
Unfortunately, load-shedding happens. If you are South African and you want to work online, I highly recommend that you invest in a load-shedding back up plan.
I have a portable WiFi dongle, which I always keep charged and I also always keep my laptop charged, when I am working on it. Load-shedding in Cape Town is generally two to two and a half hours so, if we do have load-shedding, my laptop battery and WiFi dongle can last me through that. My back-up plan is pretty simple. It gets me through my classes and I have not had a problem with it yet.
What was your experience of teaching for Dazao English?
At Dazao English, I taught kids from ages of about 4 to 14. The classes were 30 minutes long, I taught one child at a time and the lessons were already prepared. I would check the class the client had chosen, have a refresher of what I needed to teach, make sure I had the necessary props or teaching aids for that specific lesson and that was pretty much all I had to do.
I taught online for Dazao English for three months and I really enjoyed it because it was minimal prep and quite flexible. There are obviously peak hours when it comes to teaching online, which is when the kids are back home from school or at the weekends when they are not at school but you could choose the working hours you wanted to teach.
Who are you working for now?
In September 2020 the school in China I had signed a contract for, contacted me and asked if I could teach their classes online. I teach classes of about 10 to 15 students from grades one, four and five and I have also tutored Matric students.
The classes last 45 to 60 minutes and I have to create my own lessons. I have a set teaching guide, based on topics that need to be covered for that learning unit or for that month or term. I tailor the class according to that, using my own teaching materials to make the classes more fun and engaging and to get the kids to speak and interact more with me. I enjoy that because I can tailor my lessons to what I want to teach them.
How much can you earn teaching English online?
Your pay depends on the company and your experience. The more experience you have, the better earning potential you have. The bigger companies pay you more but they do require a degree, teaching experience and a TEFL certificate. The smaller companies might take you without a degree or if you have no experience but pay you less.
If you get offered a job with a smaller company, I would advise you to take it and get experience while you continue looking for bigger companies. That is what I did. The pay was not great but I took that job because I knew that the experience would be valuable for me.
With Dazao, I was earning $6 an hour. You had to work 15 hours minimum but I put in extra hours. The kids were all on their summer holidays so lots of parents had enrolled their kids on these courses. I was fully booked, every day – whatever opening I had was getting booked. I was working back-to-back for two hours, then I would take a 30-minute break and work another two hours. I was walking away with about 10,000 Rand [£500] a month, working pretty much full days and opening as many slots as I was able to.
How do TEFL companies pay you?
When you are teaching English online, how you get paid depends on the company you are working for. Dazao English paid directly into my South African bank account. They asked for banking information and I don't think any deduction was made.
The Chinese company I am working with now also pays directly into my South African bank account but some companies will ask you for a PayPal account or another type of banking system. You just have to go with the flow and use whatever they are using.
How did you find a TEFL job abroad?
There are quite a few jobs boards out there that advertise posts for teaching abroad. I started by looking at LoveTEFL's jobs board and Dave's ESL Café. They were also the jobs boards I used to find jobs online.
I found applying to teach overseas much easier than finding work online. I went through a recruiting agency called Horizon ESL, which is based in China. I told them the salary I was looking for, the placements I was looking for in China, the benefits I wanted – I was looking for housing and I was looking to teach at a private school. Within a week, she came back to me with five companies I could apply to.
The following week, she set up interviews for me with all five companies. I asked which one was willing to offer me a job and she said all of them! I had all the options. I was the one able to choose which company to teach for.
If you are looking to teach overseas, I would definitely recommend it. If you don't have teaching experience, it is much easier to find a job abroad than online and still get a fairly good salary – a bit better than what you would find online.
With TEFL, it is okay to keep on making yourself available to the different opportunities that are out there. Just because you are in one job does not mean that you have to stay there forever. I still have my job lined up for me in China but, if I can get into another country sooner, I am definitely going to that because my focus is to travel and teach.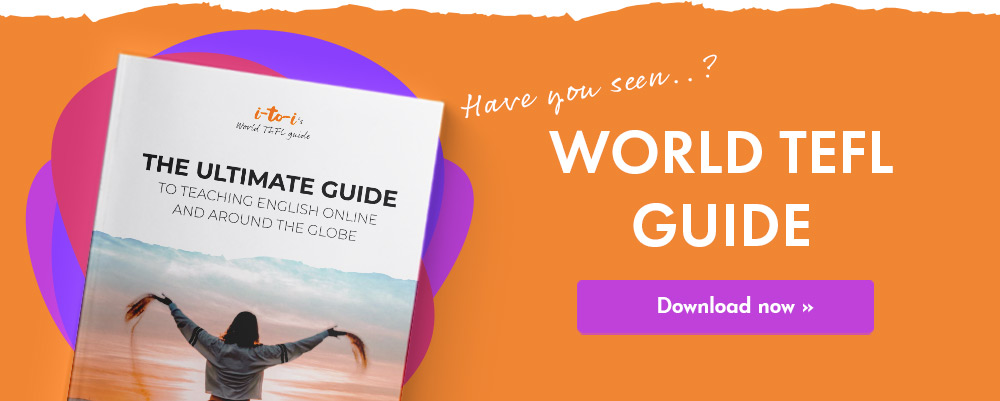 What is the application process for TEFL jobs abroad?
There are a lot more things that need to happen for jobs overseas than for online jobs. Horizon held my hand throughout the process but I had to do the steps on my own.
You send through your application, which includes your CV, your TEFL certificates, your bachelor's degree, and your passport. If you meet the school's requirements, they will ask you to an interview. If you are successful, you need to go through all the process of documentation.
For China, you need to have a police clearance certificate and you need to get your degree, your TEFL certificate, and your Matric certificate certified by the Chinese Embassy. Once you have all of that paperwork, you get an invitation letter from your school. You then have to take your invitation letter, your police clearance, and your authenticated documentation to a Chinese Embassy and you apply for your visa.
When you have your visa, you can purchase your plane ticket and head over to China. Once you get there, there is a whole process of applying for residency, applying for work permits. If you go through a recruitment agency, they will also help you with that.
Which is the best country to TEFL in?
There are so many countries to choose from, so it's important to do your research. Think about the language you want to speak, the culture you want to be immersed in and how much you want to earn. As a South African, I would recommend looking for jobs in an Asian country because those are easier to get.
The pay to teach overseas depends on the country and the type of teaching job you do. If you teach at an English learning centre, the pay might not be as much as it would be in a private school or a public school and you are most likely going to teach in the afternoons, evenings and at weekends, as you teach English after the kids are done at everyday school.
When I was doing my research, I found a really good YouTube video called 21 Best Places to Teach English by Vagabrothers that rated the countries to teach in. I thought it was really helpful in summarising places in terms of travel, safety, earning potential and stuff like that.
Can I find a TEFL job without teaching experience?
I had zero experience when I applied for jobs overseas. I was still in my PR job in Cape Town. In those interviews, I knew I had no experience but I did not make that a thing. I told them I gained a lot of knowledge from the TEFL courses that I did and that I know a teaching method that I am comfortable with, which is the PPP method.
If you don't have experience, fake it until you make it! Speak about what you learned in your TEFL course. Speak about any experience you have working with kids. I said I don't have traditional experience working with kids but I come from a big family. I am trusted around my little nieces and nephew and I enjoy being around kids. I am a good leader. I am a good communicator. That is what convinced them. I had no teaching experience prior to that.
Can I find a TEFL job if I'm South African?
Many people talk about the struggles of being South African and wanting to teach. I am not going to say that it is easy but if you are dedicated to finding a job and doing all the steps to become a successful candidate you definitely can teach online or teach abroad. It just requires a bit more work. I am living proof that it is possible for South Africans to do TEFL.
Can you help me find a TEFL job?
i-to-i has launched a free job seekers support service. If you're just finishing your TEFL certificate or you don't have a degree or you're trying to find which companies hire South Africans, reach out to the team and they will assist you.
I can't say they will find you a job because you obviously have to put in the work yourself but they will definitely navigate you into the spaces where these jobs can be found for people with your qualifications and experience.
I wish you all the best on your teaching journey.
Want to learn more about TEFL?
Download our free TEFL for South Africans Guide to find out more about teaching English online and abroad as a South African
Read our latest TEFL Jobs Market report  for a hot-off-the-press snapshot of who's recruiting, the qualifications you need, and what you can earn both online and around the world
Contact the jobs support team for free, personalised support to help you find your dream TEFL job