Do you fancy teaching English in Thailand? Are you wondering how to get started or what life will be like when you get there? UK TEFL teacher Molly is currently teaching English in the Isaan region of Thailand. She went live on i-to-i's Facebook page to share her experience and answer your questions about TEFL in Thailand. Watch the full webinar or read on for edited highlights.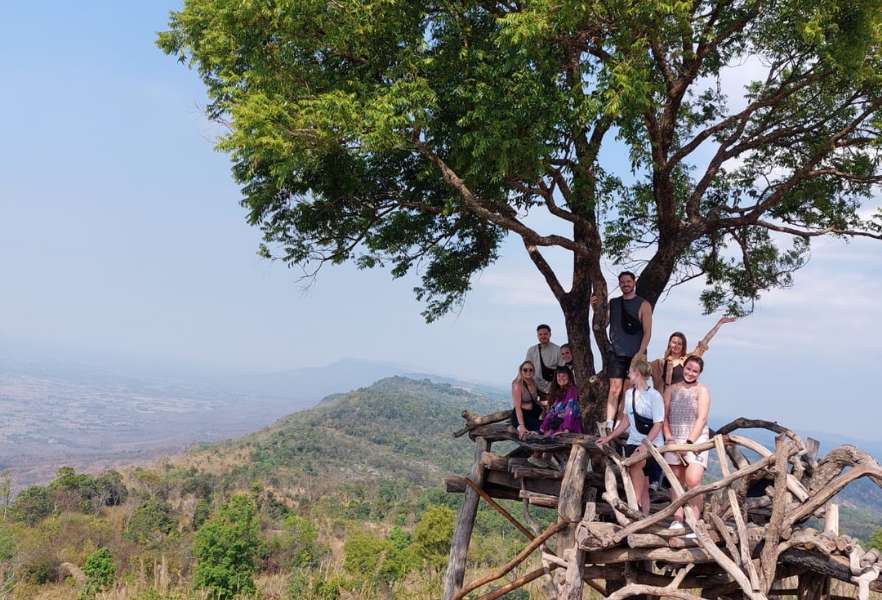 PREPARING TO TEACH IN THAILAND
How did your TEFL journey start?
In January 2019 I jetted off to Hanoi for i-to-i's paid Vietnam internship I taught for five months initially and loved it so much I decided to stay for another five months. That was my first experience of teaching English in a foreign country and also my first time in South East Asia.
I came home to England in January 2020 just as the pandemic was kicking off. I taught English online with PalFish  and English First until about five months ago, when I came to Thailand through another internship.
Why did you decide to teach English in Thailand?
After teaching English in Vietnam, I wanted to explore even more of South East Asia as I loved it so much. I felt Thailand had the most going for it as a TEFL location.
The landscape is gorgeous. There are mountains in the north near Myanmar and thousands of islands down south. It's really accessible and easy to travel around plus they had the sandbox quarantine scheme during the pandemic, which made it super easy to get here.
Thailand is very western-friendly while also remaining very authentic. It truly is the land of the smiles. Everyone is super friendly, really chilled, relaxed and everyone is always smiling. It's a very welcoming and hospitable country and the students are really enthusiastic and want to learn English.
The low cost of living was another big deciding factor. The salary that you earn from teaching is enough to live well in Thailand and you can also put a bit aside to save.
What is the application process for a TEFL job in Thailand?
My friend found an internship for a big group of us to go out to Thailand. I had to have a degree and a TEFL certificate. If you choose one of i-to-i's internships you get a TEFL course included in the internship cost. That is really handy because it means that you're TEFL qualified when you arrive in the country.
I had an interview by Zoom, with three other people. After the interview, the company offered me a placement in Isaan region of Thailand, which is near the Lao border about four hours from Bangkok. It's in a really good position for getting to the city and is also semi-rural so I get an authentic lifestyle here.
I then had to apply for my visa. I needed a legalised degree, my TEFL certificate, a clear criminal record check and additional documents from my school, like visa invitation letters. I sent that all off to the Thai Embassy in my home country and my visa came through in about seven days. Going to Thailand with an internship programme really helps because the co-ordinators tell you what documents to submit and when to submit them. It was super easy.
What are your top tips for applying for a TEFL job in Thailand?
My tips are to get the most difficult things done sooner rather than later, especially if you're a procrastinator. Start your TEFL course early, even if you're applying for a job that doesn't start for a few months – it's easy to let time go by.
Be energetic and positive in the interview. Don't worry if you haven't got previous teaching experience – I didn't when I had my interview for Vietnam. As long as you're a degree holder and TEFL qualified and you come across as friendly and personable, you'll be fine. They want to know that you're enthusiastic and eager to gain more experience, rather than necessarily having teaching experience already.
A big part of the application process is getting your degree legalised. This basically means sending it to a solicitor to certify that it's an original copy and then sending it to the Embassy who put another stamp on it. I suggest going through a company called Hague Apostille. It's a bit more expensive but they sort out all the solicitor certification for you.
What should I pack for a TEFL job in Thailand?
The main point is to pack light. Remember that Thailand is a well-established tourist destination. It has everything that you need. Even if you're placed semi-rurally, you'll always be within walking distance of a small supermarket or a shopping mall.
There are a few things that I suggest you do pack, however. First, bring a pair of smart shoes for teaching. If you're a girl, also pack a long skirt as you're not allowed to wear trousers in school. If you're quarantining in the sandbox scheme, remember to pack clothes that are suitable for that location as well as for where you'll be teaching.
It can be good to bring a mosquito net to have over your bed when you're travelling. However, I suggest you wait until you get out here to buy repellent as you can buy sprays that are specially formulated for the mosquitos in Thailand.
Do make sure you pack your favourite toiletries as many of the products here have whitening agents in them. It might be a bit trickier to find exactly what you are looking for here.
Apart from that, try not to bring anything that is unnecessary.
Will I need to quarantine when I arrive in Thailand?
When I arrived in Thailand, I went to Phuket as part of the sandbox scheme. With the sandbox scheme, you book a government approved hotel for two weeks. In the first week, you have three Covid tests. If you test negative on each of those tests, you are then free to go about in the island sandbox location.
Since I arrived in Thailand the situation has changed and it has become even easier. At the moment there is a test-and-go scheme, where you do a PCR test on arrival and another PCR test on day 5. However, you can still go to a sandbox location. The locations are Phuket, Koh Samui and Krabi. They're all beautiful coastal locations and absolutely gorgeous places to quarantine.
TEACHING IN THAILAND
Due to the pandemic, schools have been going between online and on-site teaching. My time here has been roughly split in half between on-site and online teaching. At the moment, I'm teaching online but we're going back into school next week.
What is online teaching like in Thailand?
Teaching online in Thailand is a bit easier than teaching in person, as you can get up later in the morning, but it's not as fun. You don't get to see your students in person and you don't get to build the same rapport as you would do in the face-to-face classroom. However, Thai people are overwhelmingly positive and have remained positive through the pandemic.
If you're teaching online, you have to adapt the activities you give your students. Group work and pair work are tricky online, as it's hard to mediate. It's more focused on presentations, sharing your screen, getting students to watch videos and asking questions and working through online books.
There are two resources that I really recommend for teaching online: Bamboozle which is a free website with lots of ESL quizzes and Kahoot which is really good interactive tool that students can join through an app on their phone.
What is classroom teaching like in Thailand?
When you're teaching in the classroom, you can really get to know your students. I'm teaching at a high school and teach students from age 12 to age 17. I've been pleasantly surprised by how enthusiastic the students are. I was expecting them to be a bit less enthusiastic but they're super into western culture and learning English.
My colleagues have all been really welcoming and hospitable. There is a big teachers' room where everyone has their own desk. In between lessons, we sit in there, sharing food and chatting. It's a really nice social space in the school.
Thai students are obsessed with western culture so they're very keen to learn English. You rarely have students who aren't engaged in the lesson. My kids always ask me about UK culture and the different accents in the UK. They also ask me a lot about Ed Sheeran and Adele and if I've ever met the Queen.
Thai students are also obsessed with Korean culture. All of my students love k-pop bands, like BTS and Blackpink. That is another tip: if you want to really engage your students, throw in some k-pop references.
Will I need to plan my own lessons or follow a curriculum?
The company I work for provides a curriculum for the school and I'm given text books, lesson plans and PowerPoints. You won't have any shortage of resources. However, there is quite a lot of creative freedom within that framework. You can plan your own lessons and decide what activities you're going to include.
For example, if you're teaching the past simple you'll know what kind of language you have to teach and you'll have set phrases. Within that, you can decide how you present the language, whether that is watching a scene from Friends or listening to some western music. There is a lot of freedom but you also have the support via a curriculum.
Will I have a good work-life balance as a TEFL teacher in Thailand?
There is definitely a great work-life balance in Thailand. You'll have plenty of time to explore your local area. I teach about 15 hours a week and my friends teach between 12 hours to 25 hours, depending on their contracts.
You get some time to travel around the national holidays. You might get four days off at a time, so there are opportunities to go on long weekends. However, the main time you can travel is in the semester break. If you sign on for a year, you'll get about five weeks between the end of one school year and the start of another when you can travel around Thailand.
The other teachers are incredibly welcoming and super supportive. When we arrived for our first day at school, we had a big ceremony and a photo shoot. Thai people are also incredibly generous. One day, one of my colleagues came in with loads of beautiful handmade Thai clothes, especially for me – and she wouldn't accept any money for them.

LIVING IN THAILAND
What is it like to live in a rural part of Thailand?
I live in Isaan, which is rural and relatively untouched by tourism. I personally love living here.
Everything is really cheap which allows me to put money aside every month. Another pro is that, although some things aren't as accessible as in a city, I really do get to see the authentic way of life. The countryside is unspoilt, the food is amazing and I get to see a lot of things that an average tourist will not get to see. For example, around this province there are so many beautiful places to go that only the locals really know are there. If you choose a rural location, you'll have an individual, unique experience of Thailand.
In Bangkok and Chang Mai, Thai people are very used to seeing westerners because there are so many tourists. In somewhere like Isaan, it's a novelty and I can feel like a bit of a celebrity walking around my school or neighbourhood. People often want to chat to improve their English. Everyone is super welcoming. The downside is that it can be difficult to fade into the background if I'm tired after a day of teaching.
When you're deciding where to work, make a list of everything that you want: do you want to be somewhere that is really hustle and bustle or do you want a slower pace of life?
Do I need to speak Thai to teach English in Thailand?
No! You absolutely don't need to learn Thai to teach English in Thailand. The level of English is really good, even in the most rural parts of Thailand.
Having said that, it's good to learn a few phrases before you come here, like 'Hello' and 'Thank you'. It puts a huge smile on the locals' faces when you say something in Thai. They really appreciate you trying.
What are your top reasons for living in Thailand?
One of the best things about teaching in Thailand is how relaxed and chilled all the locals are. I've just written an article for i-to-i called 5 Features of Thai Culture that Make you Feel at Home about the hospitality of Thai people. It's a great way to live your life.
Thailand has so much to offer in terms of landscapes. Where I'm based feels a bit like the set of Jurassic Park: there are big grasslands with huge rock structures. It's a bit crazy. To the north, you have rainforests and mountainous areas. To the south, you have all the islands and the tropical coastline. If you come to teach in Thailand, I think you'll end up staying far longer than you planned because there is so much to explore.
The food is another huge reason to come to Thailand. It's amazing. There is literally a dish here to suit every taste palate, whether you're vegetarian, vegan or eat meat and whether you eat spicy food or want to take the chilli out.
Can I get medication in Thailand?
Thailand is really good when it comes to getting medication. There are so many pharmacies scattered everywhere.
If you're near a big city like Bangkok or Chang Mai, there will be a range of pharmacies that speak English, so you'll be able to go in and ask for what you need.
How easy is it to find accommodation in Thailand?
If you go to Thailand through an internship, you'll usually be provided with accommodation, which is great.
My rent is covered by the company I work for which leaves me with more money to save each month. All I need to pay is utility bills, like water and electricity, which are very minimal.
How do you get around in Thailand?
It's very easy to get around Thailand. Driving motorbikes is a way of life here. Everyone uses one to nip around and you can rent one easily.
If you don't drive, a great option is an app called Grab that allows you to order taxi motorbikes or cars. You can get around really easily and cheaply with that. Many companies also offer a taxi service to get you to your school from your accommodation.
Is TEFL a good career choice?
Yes! I think there is so much more to TEFL than simply the teaching itself. It makes you into a more confident, well-rounded person. Even if you don't want to teach long term, having taught English in another country shows that you're proactive, it shows that you're ready to move out of your comfort zone. You've moved across the world and that says a lot about your character.
I think it's a great career choice in terms of the skills you gain from teaching English and the skills you gain as a person. Just do it – you won't regret it.
START YOUR TEFL ADVENTURE
Book a Paid TEFL internship in Thailand
Start your TEFL training today