Imagine making tons of new friends during an amazing, fully supported five months teaching English in Vietnam and being paid while you're there. Great! And it's all on offer as part of i-to-i's Paid Vietnam TEFL internship. Former Vietnam intern and current TEFL teacher Molly hosted a live webinar to talk all about her experience of the Vietnam internship and answer your burning questions. Listen to the full webinar or read on for edited extracts.
APPLYING FOR THE VIETNAM INTERNSHIP
Why did you apply for the Vietnam TEFL Internship?
When I graduated from university, I wanted to travel in a way that would allow me to really immerse myself in a country. I Googled teaching internships and i-to-i's website came up. A lovely member of their team talked to me about Vietnam as a place as well as what was included in the internship and what teaching in Vietnam was like.
I went to Vietnam in January 2019 for five months through i-to-i's paid Vietnam internship. I loved it so much I ended up staying for another five months.
How do I apply for the Vietnam TEFL internship?
You can book your internship place on i-to-i's website or fill in a few details and they'll call you back.
Next, you need to complete your teacher profile. It's a few easy questions like what made you choose Vietnam as a location, why you want to be a TEFL teacher there and what you think you could bring to the role. You also need to attach a picture of yourself and give your qualifications. You do need a bachelor's degree for visa purposes in order to teach in Vietnam but it doesn't have to be in any specific subject.
Is there an age limit for the internship?
For Vietnam you need a degree, so most people are at least early 20s. However, as long as you have your degree and you're over 18, then you can apply. I was the youngest on my intake. A few of us were about 22, all the way up to 30 and beyond. We had a huge range of ages.
Can I apply for the internship with a friend or partner?
Yes! You can apply to the paid Vietnam internship as a couple or with a friend. You'll be guaranteed the same accommodation.
PAID VIETNAM TEFL INTERNSHIP PACKAGE
What TEFL training is included in the internship?
You get the 120-hour TEFL course which has everything in it that you need to become a TEFL teacher. It consists of modules that will help you to become a better teacher and prepare you for life as a teacher in Vietnam. It's super easy to navigate and you can complete it whenever you want between now and when you start the internship. 
What is the internship preparation course?
On top of the TEFL training, you get an internship preparation course. This is split into three mini-courses: building personal confidence, classroom behaviour and writing travel blogs.
The course on building personal confidence takes you through internal stress, external stress and how to manage it through things like journaling or exercise. It also gives you tips for building your personal confidence and has a module on setting goals for your personal development, which is amazing.
The classroom behaviour course teaches you how to foster a positive environment for your students as well as how to cater for students with special needs and some really useful tips on how to handle more difficult students.
The course on writing travel blogs is probably my favourite. Writing a travel blog when you're in Vietnam is a great way to record your amazing experiences and all of the memories that you have. If you create a website or a travel blog, you also can use this to open doors for a future career, if that's something you're interested in.
What is the course on Teaching English in Vietnam?
You have a separate course on Teaching English in Vietnam. This goes into Vietnamese culture and customs that will affect your day-to-day life in Vietnam. For example, there's a section about saving face, which is a really integral part of Vietnamese culture.
Saving face is basically avoiding embarrassment or confrontation. For example, in the classroom, you should never single a student out because this can cause them to lose face. If you're shopping and someone bashes into you, you shouldn't show that you're annoyed because this will cause both them and you to lose face. This course goes into customs like that and will be indispensable when you're adjusting to life in Vietnam.

Is accommodation provided as part of the internship?
You will get accommodation provided throughout the internship and most of your bills will be covered. The only thing I had to pay for was when I lost my key and was charged about 30p for a new one.
During your orientation, you'll normally be in a room with one other person and create quite a close bond. They'll often live with you when you leave orientation week, which is really nice. When you start teaching, you'll generally be in a house of between six to 12 people. All the houses are within a five-minute walk of each other so it's really fun.
Don't expect five-star luxury. The accommodation is basic because it is Vietnam but it will be clean and it will have everything you need in terms of amenities. Some lucky people got their own ensuite but that's not something I can guarantee!
What's not included in the internship package?
You will have to pay for your own flights, your own visa and for the legalisation of your documents. That is pretty much it.
Your orientation and all your meals within orientation week are included as well as tours of Hanoi. You get tons of visa support and also support on which flights to book. It will all be planned out for you, so you won't have to worry about a thing.
PREPARING TO GO TO VIETNAM
How do I get a visa for Vietnam?
There are two ways you can obtain a visa for Vietnam. The first is to get a visa on arrival at the airport. You go to the immigration desk with all of your documents and the money for the visa. They create your visa for you on-site, which usually takes about half an hour.
The second way you can get a visa is to apply online to the Vietnamese Embassy and get your visa in the post. I personally think this is better because you're safe in the knowledge that you've already got your visa when you arrive in Vietnam.
To apply for your visa, you need a legalised degree certificate, a legalised police check (or DBS as they're called in the UK) and a legalised TEFL certificate. The legalisation process sounds daunting but it really isn't. You'll be given a form from the Apostille service here in the UK. You send off your documents with the fee and they send them back to you within about 10 days.
For the internship the lovely team at i-to-i will support you. They'll tell you exactly what documents you need, how to navigate the Embassy website and answer any questions.
How do I get the health and police checks?
You can apply for a police check in the UK. It costs about £30 and it's super easy and straightforward. You go to the government website and it's all there for you.
The health check is completed during your orientation week. You'll be taken to the health check centre in the centre of Hanoi. It's a full-on MOT but it's very non-invasive. You have your eyes screened, your hearing tested, a few blood tests and abdominal scans. It's just to check you're fit and healthy. Afterwards, an English-speaking Vietnamese doctor will go over your results and then you get a certificate for your work permit. 
What should I pack for Vietnam?
I definitely recommend taking a LifeStraw water bottle. It basically filters the Vietnamese tap water so you can drink it straight from the bottle. Also, a lot of skincare in Vietnam has whitening agents, so make sure you stock up on your favourite products before you go.
If you're a light sleeper like me, earplugs will be an absolute lifesaver. I could hear military trumpets every night around 11 pm and had cockerels living on the balcony next door. It's part of Hanoi's charm but make sure you pack those earplugs.
Apart from that, pack a lot of mosquito spray and a mosquito net, especially for those humid months. I've written a blog about what to pack for Vietnam if you want to find out more.
How much money should I take?
You won't be paid until your first month of teaching is completed, so you'll need a little chunk of money to get by. I suggest taking between £700 to £1,000. You probably won't use all of this but, if you're going in January, you'll be there for Tet, which is Vietnam's biggest holiday. The whole country goes into a celebration for 10 days and you can go on holiday.
Should I book a one-way or round-trip flight?
You can do either. A lot of people on the internship bought a round-trip flight and, for visa purposes, you need proof that you'll leave the country.
I bought a one-way flight and then also bought a one-way flight from Hanoi to Bangkok (which cost about £30) as proof I would leave the country at some time in the future. It gives you a bit of wiggle room as you're quite likely to want to travel around afterwards or stay on.
When is the best time to do the TEFL course?
You can start your TEFL course at any point before you go. It really depends on what fits in with your schedule. I completed my TEFL course in about a month, as I was working at the same time. I know people who started their course early and others who started theirs a bit closer to the leaving date.
ARRIVING IN VIETNAM
What will happen when I arrive in Vietnam?
For the Vietnam internship you'll be part of a group of between 60 to 70 teachers. You all head out at the same time and spend a week of orientation together.
You'll fly into Hanoi, which is the capital of Vietnam, up in the north. At the airport, look out for the in-country team who will be waiting in Arrivals for you – ours were wearing bright red t-shirts so we could see them. You'll then get a transfer from the airport to the hotel with other people on your intake. Depending on what time you get in, you'll probably want a nap.
From there, the first day is all about recovery, recuperation and getting over the jet lag. The next morning, you'll gather in a communal space in the hotel for some icebreakers, so you can get to know everyone and meet the in-country partners.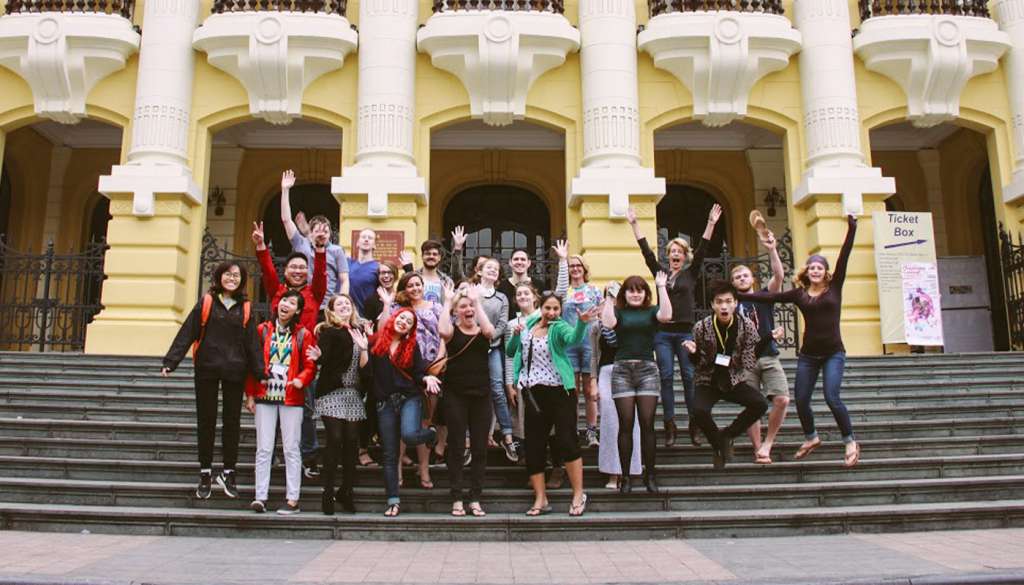 What training will I get during the orientation?
During the orientation week, you'll be split into groups and have a one to two-hour teaching workshop every day. You'll get teaching activities and tips, which is great. Also, during your orientation week, there's an opportunity to observe a lesson, which is really useful. It dispels a lot of nervousness and makes you feel more confident about your own lessons.
You'll also have Vietnamese lessons as part of your orientation, which will enrich your experience so much. Culture shock mainly stems from a fear of the unknown. Learning the basics of a language, even if it's just saying, 'Hello,' 'Goodbye,' and, 'Thank you' will really help you to settle in.
What else happens during the orientation week?
During your orientation week, you'll have a chance to go out and explore Hanoi and get your bearings. You can go around the old quarter, which is beautiful, and to the Temple of Literature. We also had a trip to a pottery village outside of Hanoi.
For the orientation, you'll all be in the same hotel. There are lots of communal areas where you can go and hang out in the evenings. At the end of the week, we had a karaoke night organised for us. We all went out for dinner and had a big night out, which was really fun.
TEACHING IN VIETNAM
Where will I teach in Vietnam?
When you apply to the internship you'll be asked whether you want to be in a city or a smaller town. You'll probably find that you're teaching at multiple schools during the week – I was teaching at four or five.
One of the most useful things about the internship is that you don't have to worry about how you get to your school because a taxi will pick you up. They call out your name, so it's really clear what taxi you're getting into, and then you and whoever else is in the school head off
What happens when I arrive at the school?
When you arrive at your school, you'll be greeted by your teaching assistant – you'll get a teaching assistant for every single one of your lessons, which is not only great to overcome the language barrier but also gives you a chance to make a Vietnamese friend who can speak English.
Your teaching assistant will show you around the school and where your classrooms are. Every school has a teachers' room. This is a communal area, where teachers congregate during break times and lunch times and you can chill out before going to your lessons.
How many hours a day will I teach?
You'll generally teach from 8am until 12 midday and then have a really long lunch break. You'll start teaching again from 2.30pm to 3pm until about 5.30pm to 6pm.
The day is split up into really nice chunks. You'll be teaching for about four hours in the morning, have a long lunchbreak and then about two and a half hours in the afternoon.
How many students will I teach?
You'll have big classes of around 40 to 60 children, especially in public schools. Kindergartens are smaller – between 10 to 12 students. You will have a teaching assistant at all times and, in Vietnam, they split the class into teams, which really helps. The kids love being in teams and competing against each other.
At first it seems daunting but it's very manageable – and it's the best feeling in the world when your students come up to you and say, 'Teacher Molly, how are you today?'
How much will I get paid on the internship?
You'll be paid around £570 / $800 per month. It's more than enough to live a comfortable life in Hanoi or Ho Chi Minh City and maybe even have a little bit left to save.
Accommodation is included in the internship. You will need to pay for your food after the orientation but it's really cheap. You'll also get a completion bonus at the end of the internship, which will be the sum of one month's salary.
LIVING IN VIETNAM
What is the dress code in Vietnam?
As a teacher, you'll be highly respected throughout Vietnam and you need to dress accordingly. I wore a long skirt and our partners in Vietnam gave us some blue button-up shirts, which were nice for the hot weather. You can also wear trousers for teaching, as long as they're smart casual. I chose to wear a skirt because it's a bit cooler.
When you're travelling around Vietnam, you can pretty much wear whatever you want. The exception is when you're going into temples, where you need to cover your shoulders and knees.
What is the phone / WiFi service like in Vietnam?
Vietnam has some amazing SIM cards and data packages and you'll still be able to access Facebook, Instagram and all those kinds of things. I used WhatsApp to contact my friends and family back at home, as it was easier to call family over WiFi than by phone. I found the data coverage was excellent at all times, even in a really rural school.
How do you get around in Vietnam?
Vietnam has a Grap App, which you download on your phone. It allows you to get moped or taxis to your location in the city easily and it's so cheap.
What's the food like in Vietnam?
Vietnamese food is amazing. I would normally start the day by heading to a bakery across the road that I loved. You could get these big baguettes that had a purple sweet potato filling. A lot of people had pho for breakfast or bánh mì with egg.
For lunch, I normally had pho or maybe some banh goi, which is a deep-fried pork with a sweet and sour broth on the side and those really thin white noodles in a big bowl. You mix everything together and it's delicious. When you're teaching, you can either opt for a school lunch, which is actually pretty nice or there are places you can pop out to.
Street food is massive in Vietnam. You can find whatever you want at such a cheap price. We would all go after lessons and eat our fill of amazing noodles or fried rice for about 50p.
What is Tet?
Tet is the Chinese New Year. It's the biggest festival of the year for the Vietnamese. It's around early February and the whole country comes alive in big bursts of colour – red and pink. There's so much blossom. Everyone gets dressed up. Lanterns are strewn everywhere. It's like one big party for 10 days. It's amazing.
Tet a wonderful time to travel in Vietnam. You'll get time off from teaching and you can travel for about a week. Some of us went down to Hoi An, some went up north to Sapa, which is where they have the beautiful rice paddies.
Where should I visit while I'm teaching English in Vietnam?
If you're in Ho Chi Minh City, you can go to Phu Quoc to learn how to dive and experience their beautiful beaches. The island of Con Dao is a short flight from Ho Chi Minh and you can see turtles and sea rays and lots of marine ecologies. You'll also be near the beautiful red sand dunes of Mui Ne.
There are some beautiful National Parks close to Hanoi, such as Ninh Binh, which is where the last King Kong was filmed. It has a limestone mountainscape, which is absolutely stunning. You can go on boat trips, you can go mountain climbing or just chill with the beautiful views. As Hanoi has a major airport, you can get down to the south really easily or go to Cambodia or Laos. There are tons of things to do. 
Why should I do the Paid TEFL Vietnam Internship?
Internships are so good for getting teaching experience, meeting new people and travelling. Everything is arranged for you so it's as stress-free as possible. Applications are open for January 2022 and, if there are any Covid restrictions, you'll have guidance every step of the way.
If you're thinking of joining, go for it. It's the most amazing thing I've ever done. It's allowed me to get jobs in Thailand and South Korea. It really does open up so many doors. Check it out now.
FIND OUT MORE
Book your place on the Paid Vietnam TEFL Internship