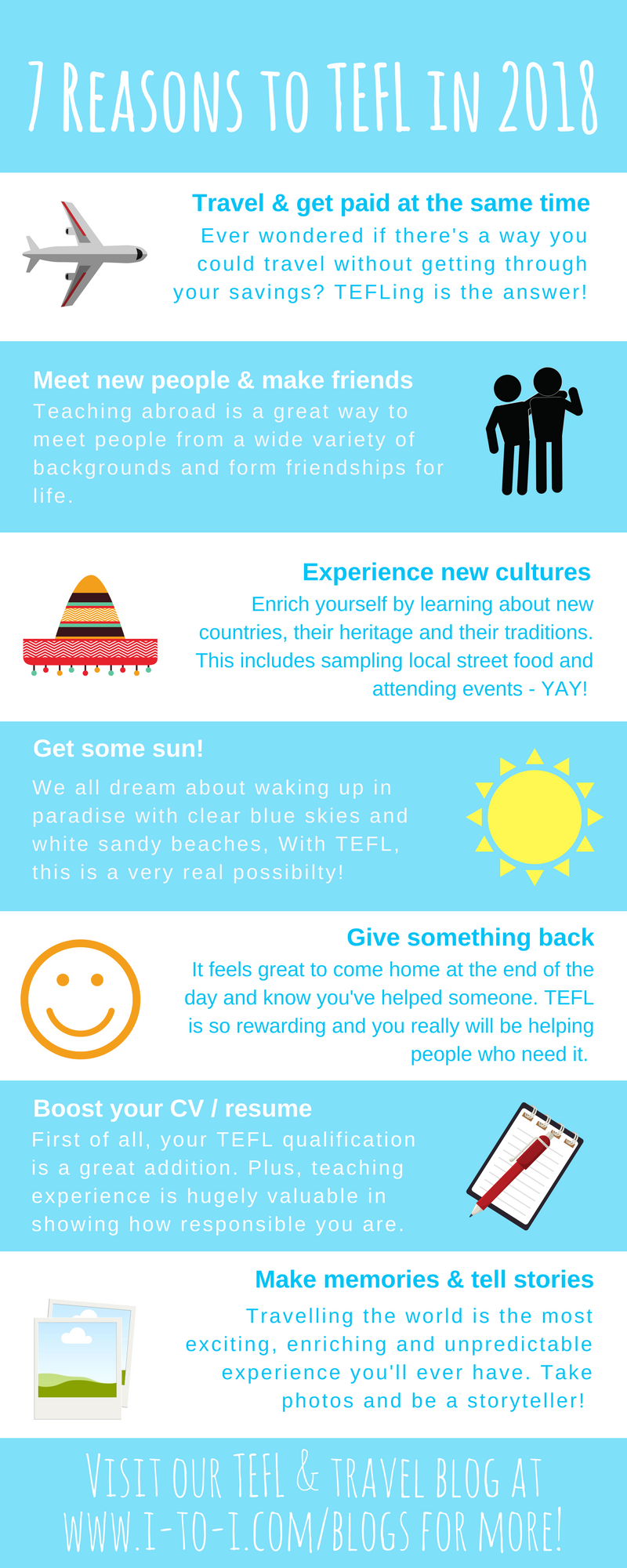 Here are our 7 reasons to Teach English as a Foreign Language (TEFL) in 2018 (or anytime, really) to get you inspired and set you on the right track for your new exciting career…
1. You can travel AND get paid at the same time!
No, there isn't a catch. It really is as good as it sounds. By taking a TEFL course, you are effectively buying yourself a ticket to a new career where you can travel exotic climates with amazing scenery and do a rewarding job simultaneously. Hurray!
2. Meet new people and make lifelong friends
Travelling and teaching is a great (if not the best) way to meet new people from all walks of life. You'll be mingling with the locals as well as other teachers from all over the globe. Plus, these people have all chosen to travel too so they're like minded and all in the same boat – this makes it 10 times easier to find common interests and get on like a house on fire!
3. Experience new cultures and traditions
Whether you're a culture-vulture or just an adventure-hungry traveller, experiencing exciting new cultures is always a bonus. You can sample local delicacies, take part in events and festivals and even celebrate traditional holidays – local style.
4. Live in the sun
Who doesn't daydream about living in warmer climates, moseying down to the beach after work and practically living in flip-flops?! Well, we do. And we can vouch for it that this type of lifestyle is a winner – particularly when you're from a rainy / cold / miserable climate at home!
5. Help people who need it
Teaching English abroad is a great way to do a rewarding job that is rewarding for those you work with too. Imagine the sense of satisfaction getting home at the end of the day, putting your feet up and thinking about how many kids you helped that day. Speaking English is a really valuable asset for most so you really are playing an important role in their lives.
6. Boost your CV and employment potential
Not only will your TEFL qualification be a great addition to your CV, teaching experience and even travelling is valuable too. Employers like to see experience in roles where you showed responsibility, initiative and independence. Teaching abroad represents all three. What's more, if you're looking to pursue a career in teaching, you've already started it!
7. Make memories and be a storyteller
At the end of the day, travelling is extremely enriching and more exciting than you could ever anticipate. You're going to have some hilarious anecdotes, inspiring stories and plenty of incredible photos to share so make sure you make the most of it and ultimately, enjoy yourself!