What do I need to teach English online?
Imagine travelling all over the world and having a job that you take with you. Or picture a career that lets you work flexibly around your children or study. Or perhaps your dream is a fulfilling side-hustle that you can do from home.
If you're shouting, "yes!" to any of these options, then teaching English online could be exactly what you're looking for. It's flexible, portable and, in our humble opinion, one of the best jobs around.
Now we've hooked your interest, read on to find out what you need to teach English online.
Qualifications you need to teach English online<
There's a bit more to teaching English online than simply switching on your laptop and having a chat (although that's certainly a part of it!). Before you plunge into online TEFL job applications, take a moment to check that you have the qualifications you need to teach English online.
Strong English language skills
Okay, so you probably sussed this one out for yourself – if you want to teach English online, you need to have good English language skills. In practice, this means that you will need to be a native English speaker or have native-level English skills in all areas of English language, including grammar.
Some online language schools only accept applications from specific countries – and a small number even check out whether you've got the right regional accent. However, if you don't meet the specific criteria for one company, simply move on to the next. There's a lot out there and requirements vary between employers, so you should be able to find one that matches your profile.
Having said that, make sure your English skills are up to scratch before you apply or you'll be wasting everyone's time. If you need to brush up, you could always book onto an online English course for yourself!
TEFL certification
If you've not already got TEFL certification signing up to a recognised TEFL certification course is probably the single most important step you can take to help you teach English online. It will give you the all-important knowledge and skills you need to become an effective TEFL teacher – plus a shiny certificate to prove to employers that you're up to the job.
If you need to qualify fast, a 120-hour Level 3 TEFL course is sufficient to find working teaching English, although this will probably be at the lower end of the pay scale. If you are able to invest a little more time and money, it's definitely worth considering a Level 5 TEFL course. This higher-level qualification will open the door to more opportunities to teach English in the classroom and online – and the extra training will help you develop a broader and deeper knowledge of TEFL.
Either way, it's worth looking for a course that includes (or can add on) a module in teaching English online so that you understand the specific teaching techniques that work well when you're teaching in this format.
Bachelor's degree
It's not absolutely essential to have a Bachelor's degree in order to bag a job teaching English online, but it definitely helps. Most online TEFL employers like their English teachers to have a degree and many explicitly specify this as an essential requirement.
A degree in education or English can be particularly valuable. Apart from that, it doesn't generally matter what your degree topic was. It's simply the fact that you have a degree that makes you a more desirable proposition.
If you don't have a degree, there are still opportunities out there to teach English online, particularly if you're a native English speaker, although you'll need to dig a bit deeper and harder to find them. Your best bet is to look out for companies that offer conversational sessions, where a native English accent, coupled with TEFL certification, can help you get your foot in the door.
Teaching experience
Similar to a degree, previous teaching experience is highly desirable but it's not essential – particularly if you're willing to be flexible about who and when you teach. If you're a newly qualified TEFL teacher, be ready to start at the lowest pay rung and work your way up through the ranks. It's all about gaining the experience!
It's worth being aware that your experience does not need to have come from teaching English online. As online TEFL teaching is still relatively new, most employers are perfectly happy to accept English teachers whose previous teaching experience has been in the classroom rather than online.
Equipment you need to teach English online
If you've got the skills and qualifications you need to teach English online, congratulations! However, you're not quite ready to go yet. You also need a few pieces of practical equipment to enable you to deliver online lessons.
Technical equipment
You don't need a super hi-tec platform in order to teach English online. However, there are a few basic items that you will need in order to successfully apply for online TEFL jobs and deliver your English lessons. As a minimum, you should have:
A decent computer / laptop (or tablet / phone, if you're going to be teaching via an app)
A webcam, either integrated into your computer or as stand-alone
A good set of headphones
A microphone, ideally as part of your headphone set or stand-alone, although your in-built computer microphone can work at a push.
Chances are you'll have all or most of these already. If not, you will need to invest a little if you're serious about teaching English online but none of these need to be high-budget costs.
Reliable, fast internet connection
Just in case you've overlooked this rather essential fact, if you're teaching English online, you need to be able to get online – and this means having a reliable and speedy internet connection. A dodgy phone signal (or even a slightly dodgy wifi) won't cut it.
Don't think you can bluff your way through this part either. A stable, fast internet connection is key to good quality online teaching, so online TEFL employers frequently want proof that you've got this sorted before they'll take you on. If fact, it's not uncommon to be asked to do a speed test on your connection as part of the recruitment process.
Most major online English teaching companies currently expect a minimum speed of between 10 to 20 Mbps but this can vary depending on the platform and delivery methods that they use. If you want to check your connection is up to speed (sorry – we couldn't resist the pun!), you can find numerous free speed tests online and you'll get the results within seconds.
Virtual classroom
Established online language schools normally have their own virtual classrooms and often have created the lesson plans and materials to go with them. This makes your life super-easy. Once you've completed the recruitment process, you'll be issued with log-in details and you're set to go. All you need to do is make sure that the operating system you are using is compatible with their platform and spend time preparing the lesson before you're due to deliver it.
If you're teaching English independently, you'll need to create your own virtual classroom but again, this doesn't need to be complicated. When you're starting out, it's perfectly acceptable to deliver your online lessons via Zoom or Skype – and both have versions that are free to download and use. Do make sure you have this in place before your first lesson is due to start though!
Quiet space to teach
A crucial point that can get overlooked is that you need a quiet space to teach online without interruptions. After all, it's pretty important that your students can hear what you're teaching and that you can hear what your students are saying. This doesn't mean you need to rent a professional office space. The corner of your office, kitchen, living room or even bedroom will do, as long as there's not much background noise and nobody is likely to come in while you're teaching.
Don't forget to check what your students will be able to see of your space before you start your lesson. If possible, have a neutral wall or curtain behind you to avoid your students becoming distracting by images or objects in the background. It's also important to remove any pictures or statements that could upset your students. Bear in mind that what seems harmless to you could be extremely offensive to someone from a different cultural background.
And finally…
Last, but by no means least, you need bags of enthusiasm topped off with a good dose of self-motivation in order to successfully teach online. You're likely to be working alone for much of your day, so it's up to you and you alone to ensure you keep your availability up to date, prepare your lesson materials, turn up to teach on time and deliver online English lessons that engage each and every one of your students.
In fact, after strong English skills and TEFL certification, a positive, can-do attitude is probably the most important aspect of becoming an in-demand online TEFL teacher. So, practise that cheery smile now – and then head over to Love TEFL's job board to check out the latest online English job vacancies to start turning your dreams into reality!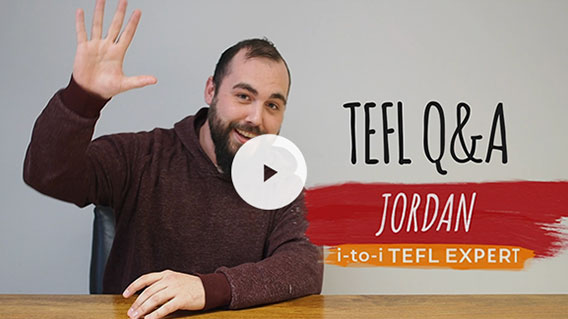 Take our 2-minute teaching online quiz to find out if you're eligible to start earning from home as an online English tutor!