So, you want to teach English? Great choice! TEFL is the best way to teach, travel and explore as well as change lives. But, which course should you choose – CELTA or TEFL?
What is a TEFL course?
A TEFL course is a generic term for any course in Teaching English as a Foreign Language. There's heaps of TEFL courses out there ranging from basic introductions to advanced diplomas. So, you've got plenty of options to choose from – amazing!
The minimum requirement to teach English online or abroad is a 120-hour TEFL certification. You can get this through various providers but you might want to do some research before you buy!

What is CELTA?
A CELTA (Certificate in Teaching English to Speakers of Other Languages or Certificate in English Language Teaching to Adults as it was formerly known) is a specific brand of the 120 -hour TEFL certificate course. It's the most widely recognised teaching certificate out there which is probably why you've heard of it!
CELTAs are part of the Cambridge Assessment in English, a highly respected TEFL provider.
Should I do a CELTA?
CELTA courses are both rigorous and well- known which is why they're appealing to teachers and employers. If you're looking to teach in a native English speaking country, schools might ask for you to have a CELTA qualification. But, the CELTA name comes with a big price tag attached. On average, CELTA courses cost around £1,000 – £2,000. Whereas other TEFL providers cost around £250 – £500 for similar content.
CELTA courses often have fixed start and end dates which doesn't leave much room for flexibility. So, if you're looking to become qualified whilst studying or working this can be pretty tricky! Plus, you need to be over the age of 18 and have a formal educational qualification (like a degree) before you can apply.
Will other types of TEFL courses get me a job?
Of course! The minimum requirement to teach English online or overseas is a 120-hour teaching certification. Employers tend to look for candidates who have studied with an accredited and regulated provider – like us! This means that they're looking for good quality certifications rather than specific brands.
You don't need to have studied a CELTA to land a top TEFL job so, don't be afraid to look at other avenues! Not only do they cost a fraction of the price but they also offer more flexibility – amazing!
To help you stand out from the crowd, pick a course that:
Takes longer than 120-hours – Studying a longer TEFL course like our Level 5 180-hour TEFL certification or our Level 5 300-hour TEFL diploma will give your CV a well-deserved boost. This means that you'll gain access to some of the biggest and best TEFL jobs around. Plus, you'll earn some of the highest teaching wages!
Is accredited and regulated – Companies tend to employ candidates who have studied with an accredited and regulated provider. This means that their certificate is of the highest quality possible as it's been approved by recognised bodies such as Ofqual.
Teaches you practical TEFL skills – Ideally, you want to look for a provider that offers online and in-person training. This can be pretty tricky with ongoing lockdown restrictions, but it's not completely impossible. The best TEFL providers are ones that offer Practical Classroom Courses so you can put your TEFL skills to the test.
Has good reviews – You know a TEFL provider is good if it has outstanding reviews. So, make sure you do your research. If previous students are happy with the course content and delivery, you know you're in safe hands!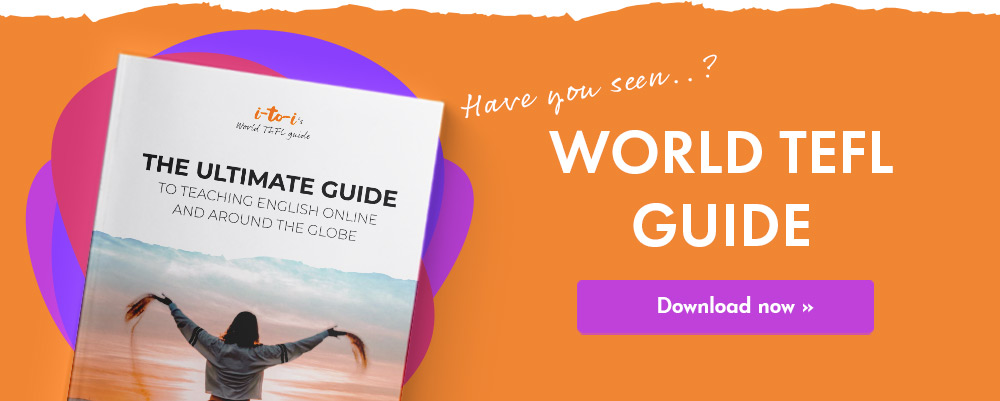 Should I choose CELTA or TEFL?
It's completely up to you!
CELTA is great if you want to teach English long-term or in a native-English speaking country but it's by no means necessary! You can still gain access to some of the hottest teaching jobs around with just a TEFL certification- yay!
Need help?
If you're struggling to decide and need some extra info, feel free to get in touch with our team! Our friendly experts are on hand to give you the support, guidance, and advice you need.
Good luck and happy TEFLing!