Right, so you've got your heart set on teaching abroad in 2015 – it will happen! But how? Essentially once you've done your TEFL course there are two options available to you – find your own TEFL job, or take part in a supported programme like one of the teaching internships to China, Thailand or Vietnam.
Both options have their benefits and drawbacks. To help you decide which option is right for you, we've put them head to head in this infographic!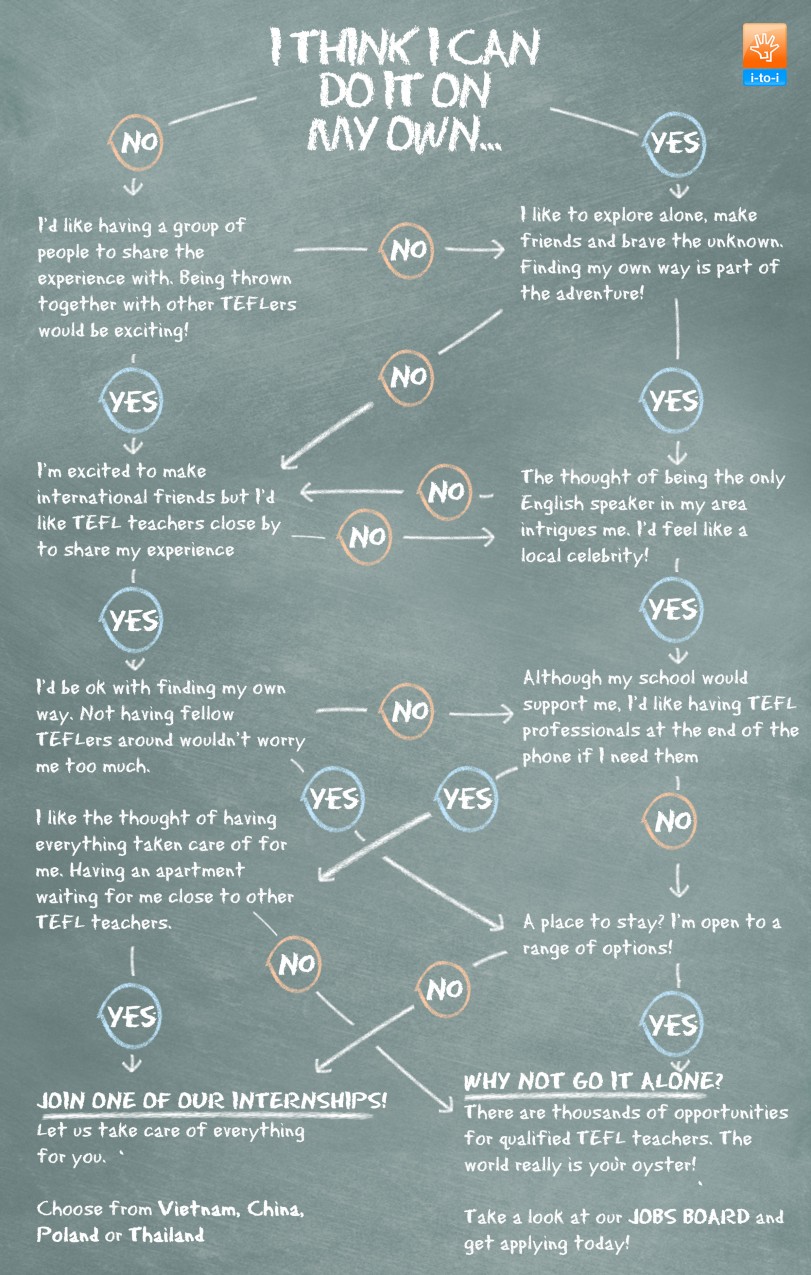 1.  Support
So, you're jetting off half-way around the world to a place you've never been to before, to do a job you've probably never done before. It'd make even the most fearless of adventurers slightly nervous, and this is where an internship comes in handy – throughout your five month placement you can rely on the help of a reputable in-country organisation, who are always at the end of the phone in case you need any help at all. That could be anything from feeling like your school's taking advantage of you, to leaky plumbing – they've seen it all.
2.  Companionship
When you're hit with a culture shock, it's always nice to have a partner in crime to compare notes with. And as you're guaranteed to be placed with at least one other intern on Thailand, Vietnam and China internships, that's exactly what you'll get. Plus, you have the perfect chance to get to know loads of other interns during the orientation, there will always be lots of people you can go visit at the weekend. When you find a job independently, you're likely to have other foreigners about (especially if you're in a big city), but it's nothing like the ready made group of friends you get on an internship.
3.  Wages
As the internships are training programs first and foremost, you're not paid a wage as such – you're given free accommodation (and food if you're in China), plus a generous living allowance for you to spend as you please. However, this in total is less than what you would get as a proper TEFL teacher, especially if you choose to work in a country like South Korea, where wages are really high compared to the cost of living.
4.  Schools
When you find a job online, then fly out there to take up your position, how much do you know about your school, especially if you're working for a smaller, independent chain? Probably not that much. Things can and do go wrong, especially in China where schools sometimes hire two teachers for each position to guarantee that someone turns up to teach at the start of the term. Due to the high demand for TEFL teachers it's straightforward to find another position, but you'll be out of pocket whilst you look. If this happens on an internship you'll have the support of i-to-i's expert partners, who will find you another placement. And if you have any issues with your school while you're working there, they'll be on your side to help resolve them.
5.  Orientation
Once you arrive in-country on a teaching internship you won't be thrown in at the deep end. In China you have a 14 day orientation period to get used to the way things are done in China, learn a bit of the local lingo and see some of the wonderful sights, while in Thailand you get a five-day orientation period. So you'll have plenty of time to enjoy yourself and get used to things before knuckling down to the teaching ahead.
6.  Choice of destination
When you find your own TEFL job, you're master of your own destiny – it's up to you where in a particular country you want to job hunt. However, with an internship you simply pick your country and you can be placed pretty much anywhere in the country. While this can be nice for discovering places you wouldn't have otherwise considered, it means you lose the flexibility which you have if you do things independently.
7.  Visa support
The process of getting the correct paperwork and visa for your first TEFL experience can be baffling, frustrating and stressful in equal measure.  With an internship we can help you with the paperwork, telling you which forms to send off and when.
8.  Cost
The support you get on an internship is fantastic, but it is undeniably a more expensive option – the fee for internships is currently £895/$1,495/€1,045 if you're already TEFL qualified. If you find a job independently you'll have less support, but it will be free.
Photo Sourced – www.flickr.com/photos/jaaronfarr/