In 2014, I left everything behind and jumped on a plane headed for Thailand. As a recent university graduate, I wanted to experience everything that this world had to offer. For me, sitting in a cubicle didn't seem like a logical way to spend my time.
Instead, I wanted to travel. So, I got my TEFL certificate and secured an English teaching job at a private elementary school in Bangkok. This job allowed me to travel throughout Thailand and fully experience Thai culture.
During my time in Thailand, my school paid my rent, medical care, and holiday pay, which was greatly appreciated. And while the pay was very good for Thai standards, I still struggled to pay my student loans each month.
Since I didn't want to miss out on any travel experiences due to financial strain, I decided to find a few side jobs that could supplement my teacher salary.
Throughout my teaching contract, I was able to earn money through 3 separate side jobs. If you're wary of teaching English in Thailand because you're afraid that you won't be able to make ends meet, check out these potential sources of additional income:
Freelance Tutoring
If you're an English teacher in Thailand and you haven't thought about freelance tutoring, you need to!
Tutoring is very lucrative and an excellent way to put money in the bank. Many Thai families are willing to pay ฿500-1000 ($15-$30 USD) per hour for quality tutoring.
How to market yourself as a freelance tutor
I was able to find students to tutor through my school. To start, I talked to my coworkers in the English department. They were so helpful. They willingly talked to the parents about hiring me as a tutor.
My coworkers were aware of the families that would be willing to spend the extra money on an English tutor for their son or daughter. Not to mention, they were able to speak to them about it in fluent Thai. My mediocre Thai skills just didn't cut it.
If you're looking for students to tutor on a weekly basis, reach out to your coworkers and school administration to see if they would be willing to help. I even had friends that put up flyers in the school for parents to read.
Once you have successfully taught a few students, your tutoring services will spread by word of mouth. In fact, toward the end of my time in Thailand, I had to turn a few students away because I was swamped with kids.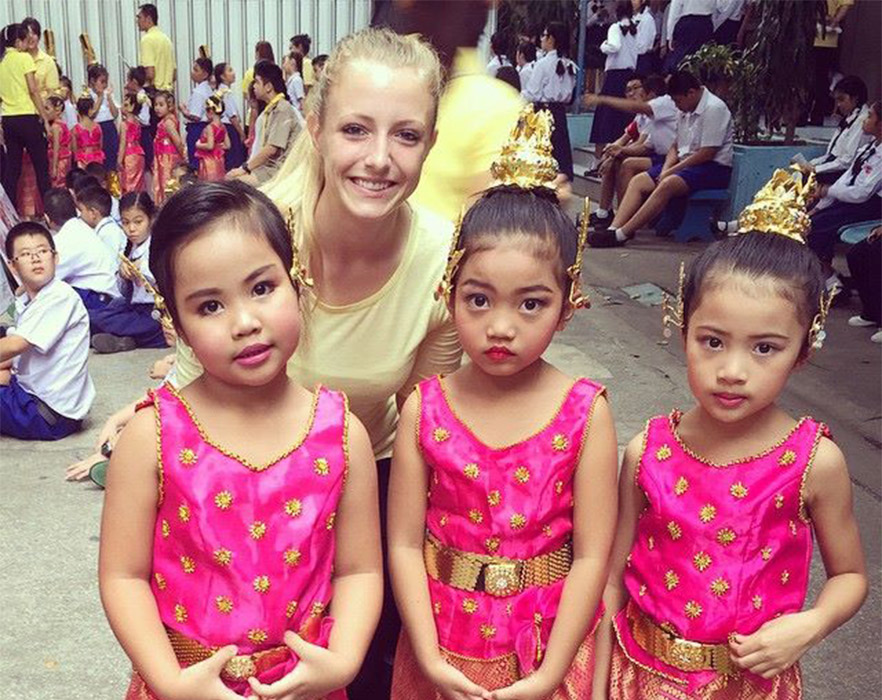 How much can I make as a freelance tutor?
I decided to keep my tutoring hours to minimum; 6 hours each week was plenty. For me, it was important to have a good work-life balance. Not to mention, I traveled to a new destination every weekend.
Those 6 additional hours of work each week brought in approximately $550-600 USD extra each month. This was more than enough to cover my student loans and even put some money into savings!
Where can I tutor students?
I found that the easiest place to tutor my students was at school. There were always open classrooms available after school, so I took full advantage of this space.
I also tried tutoring a few students at a local restaurant, but it was a bit more difficult to keep the child's attention due to noise and constant commotion.
You might also consider going to a student's house for an English lesson. Although I never did this, many of my friends did and said it worked out really well. They were also able to receive support from the parents if the student was distracted.
What do I need to be an English tutor in Thailand?
In addition to my Bachelor's degree, I had a TEFL certificate and extensive experience working with children. Ultimately, my educational background and experience helped me win over a lot of parents and grow my student base.
As a freelance tutor in Thailand, you'll also want to construct some loose lesson plans. I thought this was a pretty easy task because I simply extended on the coursework the students were learning in our English class.
Teach English Classes Online
Another way I supplemented my income while teaching in Thailand was by teaching English online.
I decided to try teaching English online toward the end of my Thailand journey and it helped me put even more money into my savings account. Since I was planning on traveling throughout Southeast Asia after my contract was over, this extra money came in handy.
What are the best companies to teach English online?
As the demand for online teaching increases, more English teaching platforms emerge.
The most well-known and reputable platforms I have personally found are VIPKID, Qkids, and GoGoKid, but there are many more to choose from, check out i-to-i's online English teaching jobs page for more companies and information. Each company offers different benefits and hours, so I recommend finding one that best suits you and your goals.
How to juggle teaching at a Thai school and teaching online
Jumping back and forth between a Thai school and an online classroom was a challenge at first, but ultimately, I was able to perfect my teaching skills in both classrooms.
I used my teaching tricks from one classroom and applied them to my other classroom and vice versa. It helped me become a dynamic teacher both in person and virtually.
To keep myself sane, I limited my online classroom hours to 5 hours per week and I only taught lessons on weekdays. As I mentioned before, my goal was to really experience Thailand; working non-stop would defeat the purpose of living abroad.

How much can I make teaching English online?
Teaching English online is a lucrative side job. Most companies start their teachers at $18-22 per hour.
Since I taught 5 hours per week online, I brought in an additional $450 per month on top of my teaching salary.
To find out how much you could make by teaching English online, take the i-to-i quiz here.
What do I need to teach English online?
The best part about teaching English online is that you don't have to plan any lessons. You simply show up and teach.
However, there are a few things that these companies require including stable WiFi and a TEFL certificate.
Start A Travel Blog
Did you know that you can earn money from a blog? Yes, seriously!
When I found out about this side hustle possibility, I was all in. How cool would it be to write about my experiences in Thailand and get paid for it?
It took me a while to learn the ins and outs of blogging, but once I did, I was able to earn additional income to supplement my teacher salary.
How do I start a travel blog?
To start a profitable blog, I highly recommend following our step-by-step guide at Travel Blogging Success.
We walk you through the steps of setting up your travel blog, constructing quality and SEO friendly posts, and monetizing your site!
What should I write about?
The truth is, you're in a perfect position to set up a profitable blog. There are so many people seeking information about teaching abroad and traveling. You have valuable information to share with the world.
Write about your experiences as an English teacher in Thailand, the challenges you have faced, and how you've overcome them. If you've experienced these problems, there's a high chance that others are also facing these issues and seeking advice on how to tackle them and accomplish their goals.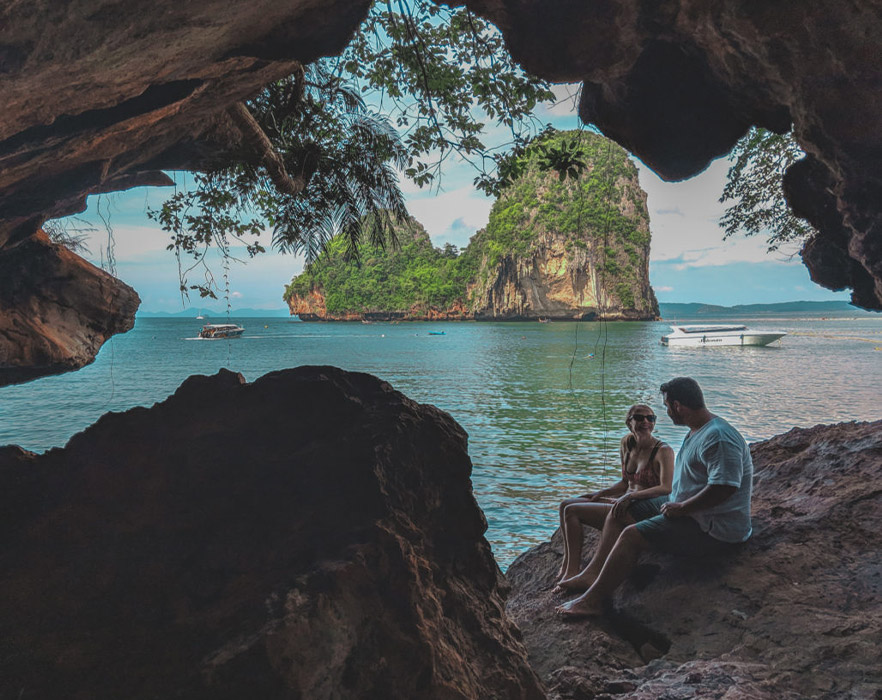 How do I make money with a travel blog?
There are several ways to earn money from a travel blog. The most common ways are through advertisements and affiliate marketing.
Affiliate marketing is when bloggers place links to products or services within their content. If a reader clicks on that link and purchases something, the blogger will earn a commission from the company at no extra cost to the reader.
Through these blog monetizing strategies, it's possible to earn several thousands of dollars each month from a travel blog.
This is a great opportunity to earn some extra cash while teaching English in Thailand.
The Conclusion
When I first moved to Thailand to teach English, I was worried about making ends meet and covering my student loans. These 3 side jobs helped me cover my extra bills, put money into savings, and enjoy my time in Thailand without worrying about financial strain.
About Laura Peters
Laura is the owner and author of Mike and Laura Travel, a blog focused on helping readers travel more by finding remote work opportunities. She taught English in Thailand from 2014 – 2015 and has been working as an online English teacher for many years.