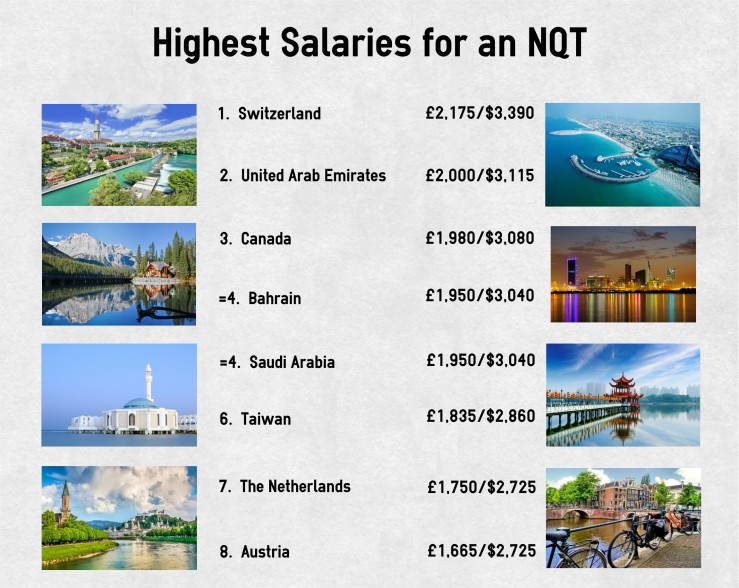 With the average NQT in the UK earning £1,617 a month, yes the salary is pretty decent, but did you know you can get MORE money as a TEFL teacher whilst working FEWER hours?  Research has shown that teachers in the UK spend 56.7 hours a week on average working (teaching, lesson planning, marking work…); so we thought at i-to-i we'd do our own research and compare this with the life of a TEFL teacher, and our results make for some rather interesting reading.
Here are 8 countries where you can get higher TEFL salaries whilst working approximately half of the hours you would in the UK!  Read on to find out more…
1.  Switzerland: £2,175/$3,390
The land of clocks and chocolate is famed for its high quality of life (and cost of living), which partly contributes to the high salary – but you'll be happy to hear that free accommodation is often included in a contract, saving you a huge chunk of money already.
Many positions are found in 'Hotel Schools', where students study to work in hospitality and tourism, with all classes taught in English.  A lot of TEFL teachers teach private lessons in addition to this – you'll need to sign up to the English Teachers' Association Switzerland (ETAS) if you want to go down this route.
 2.  United Arab Emirates: £2,175/$3,390
Competition for jobs in the UAE are extremely high, and having relevant qualifications goes a long way here, so you'll be in a very good position as an NQT.  Start off by teaching in language and private schools; and once you've gained a year or two's experience you can apply for a position in a public school.  In addition to a high tax-free salary, you'll also enjoy extremely reduced (or free) accommodation and free airfare… you'll certainly be living the life of luxury as a TEFL teacher here!
3.  Canada: £1,980/$3,080
Imagine being able to spend your days off from teaching visiting astounding natural beauties like Niagara Falls and the Rockies.  That's what your life could be like if you teach in Canada.  Admittedly, demand isn't huge, as the number of French-speaking Canadians are in the minority; but there are opportunities in international language schools – just be aware that you'll need accreditation from the Ministry of Education.
The best way to find a job is by moving to Canada on a working holiday visa and visiting schools for interviews – the larger cities of Montreal, Quebec and Toronto have by far the most number of language schools.
4.  Bahrain:  £1,950/$3,040
Considered to be more relaxed than its neighbours, Bahrain offers a great introduction into life in the Middle East, complete with a high, tax-free salary.  It's much easier finding a TEFL job whilst in-country, where you can physically attend an interview.  Jobs are usually found in both international and private language schools; and many TEFL tutors teach one-to-one on the side, charging around £28/$45 an hour.
In addition to a tax-free salary, accommodation is almost always paid for by employers – or at the very least, you'll receive a very generous allowance.  Couple that with low living rates (we're talking around £3.30/$5.30 for a meal out), and you'll be able to save a huge portion of your salary whilst working a fraction of the hours you would in a UK school!
5.  Saudi Arabia: £1,950/$3,040
The cultural differences in Saudi Arabia mean that teaching here isn't for everyone as you'll need to adjust to a very different way of life – especially if you're female.  However, if you're driven by a high salary, then Saudi Arabia is a very good place to TEFL (did you know that the average TEFL teacher can save an average of £25,000/$35,000 after teaching here for two years?)
You'll find the majority of positions in high schools and Universities – but remember that males can only teach male students, and females can only teach females.  You'll also receive free accommodation – usually in a compound with other expats, so you'll still be able to live a Western-style lifestyle for at least some of the time.
6.   Taiwan: £1,835/$2,860
As an NQT, you'll have lots of TEFL options open to you in Taiwan: most positions are found in private language or international schools (also referred to as 'Bushibans'); but as you're already a qualified teacher, positions in public schools will also be opened up to you – providing you with a much better chance of securing a teaching job here.
If you're looking to teach abroad pretty soon then you're in luck as the Taiwanese are extremely efficient – from application to teaching, the whole process takes on average a mere three weeks, so you'd be well on your way to earning a high salary.  The quality of life is something TEFL teachers really enjoy here too – the Taiwanese love to integrate, and as a teacher, you'll find yourself invited to many social events and will probably end up with more Taiwanese as friends than Western expats!
7.  The Netherlands: £1,750/$2,725
This nation is ranked second in the World's English Proficiency Test, with English compulsory in all Dutch schools.  Additionally, 1,500 University degrees in the Netherlands are taught in English, so there's certainly demand for English teachers – and whilst competition is fierce, you'll be head and shoulders above the rest as an NQT.
The larger international schools hold recruitment events in Amsterdam and London during summer, but if you can't make these you can still apply for jobs online, or catch a flight over to the Netherlands and visit schools personally, handing out your CV.
8.  Austria: £1,665/$2,725
The majority of TEFL jobs in Austria are for business English and as such, most of the positions are concentrated in the larger cities like Vienna and Graz.  The easiest way to find a teaching job is by moving to Austria beforehand, and contacting schools through the Herold (essentially the Austrian version of the Yellow Pages).  Austrian employers prefer interviewing employers face-to-face, so you've got a much higher chance of employment if you use this route.
So if you want to teach but are keen to explore your options outside the UK, then it's definitely worth considering TEFLing.  Teach in these countries and you'll enjoy a higher salary and fewer working hours – meaning more time to immerse yourself in a new culture and go travelling.  And the best part is, you'll get some great experience for your CV while you're at it – it's a win-win situation!