Meet Christina: she's currently teaching English in Vietnam as part of the Vietnam internship.  We caught up with her to find out what she thinks of Vietnam, and what her plans are for after the internship ends!
Hey Christina!  
What made you decide to TEFL, and why did you choose to do an internship?  
I recently graduated from University but wasn't ready to start 'real life'.  The idea of teaching English abroad just seemed very rewarding, and the internship was a great way to do it as there's a lot of support.
What was it like walking into the classroom on your first day?
Walking into the classroom for the first time was so daunting!  I had practiced my lesson plan at least 50 times before because I was so nervous, so I knew I could do it, but I was still worried something would go wrong!  However, as soon as I said hello to the students it wasn't scary anymore, and it hasn't been ever since.
What's a typical teaching day like for you?
A typical teaching day can be quite tiring, but it goes so fast.  We have a three hour lunch break, so if you're in the same school all day you can have a nap and a school dinner; or if you change schools in the afternoon, you get taken home and can have lunch with the other interns, and have a nap in your bed if you like.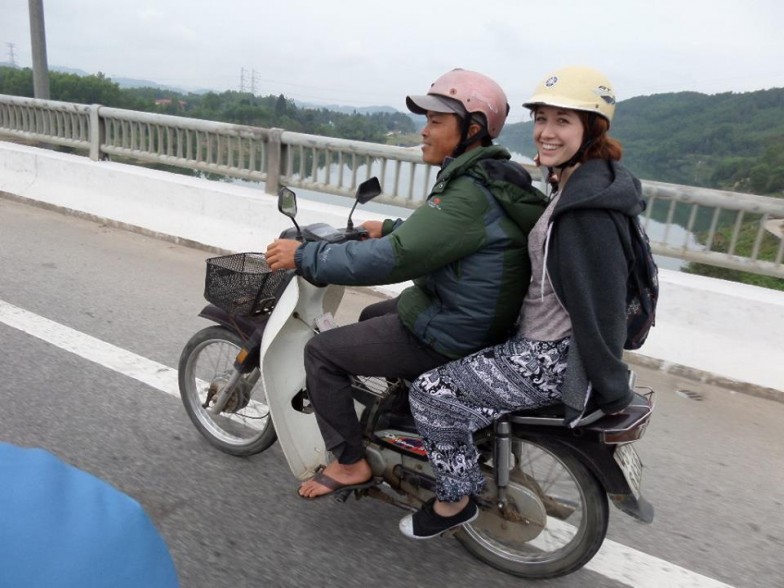 What do you think of Hanoi?
Hanoi is insane, but in such a good way!  You have to get used to the motorbikes though – they're very fast here.
What's your accommodation like?
The accommodation is pretty much like living in student halls.  The beds are actually comfy and there's air con, which is a very important thing!  We have Uncle who looks after us, which is always reassuring and he always invites you for a drink!
What do you get up to in your free time?
Bia Hoi is a place to go to every evening, but we do try and explore the area as much as we can.  West Lake is pretty cool and we enjoy visiting the Old Quarter. I've recently been to the War Museum which I really enjoyed, and am looking to visit Snake Village.
What's it like being alongside a group of interns?  Are there a lot of opportunities for socialising?
There's plenty of opportunities to socialise with the rest of the interns: because there's so many of us, you never find yourself alone, which is actually really nice.  There's always someone who's up for doing what you would like to do, whether that's drinking or just chilling.
How are you finding budgeting your allowance (interns on the Vietnam internship earn a monthly allowance of $800)? 
Budgeting is pretty easy if you stick to local stuff; but even then, you're able to splurge on a Western meal every now and then!
How would you rate the Vietnam internship experience out of 10?
So far I'd rate the experience as 10 out of 10!
What are your plans once the internship has ended?
I'm not 100% sure on my plans after the internship at the moment, but continuing teaching English is definitely one of the options.
If Christina's story has inspired you to start a TEFL adventure of your own, you can find out more about the Vietnam internship here, or take a look at the other TEFL internships in China and Thailand.