I boarded the train ready for my trip to Hangzhou (the slow train), and guess what, the beds had sold out (TIP: BOOK AT LEAST A MONTH EARLY FOR NATIONAL HOLIDAYS) so I had to sit up for 12 hours with very bright lights.  No sleep.  When I was waiting for the gate to open, I saw that a few people had bought their own stools with them: I panicked and thought that there weren't going to be seats but thankfully when I got on, there was.  Phew!  After around one hour, a group of students asked if I wanted to play a card game with them – they were really lovely!  We played for a couple of hours and I learnt some Chinese words – two of their names were Lava and Kathy.  I asked if she knew what Lava was and she said yes, and that by having such an interesting name, it adds so much to you.  I think I may have dozed off for no longer than 30 minutes.  When the sun began to rise, it was so beautiful.  I went to the "bathroom" (two blocked sinks), and washed my face before I arrived in Hangzhou.
The train arrived just before 7am and I met my friend Beth in the arrivals hall.  I met Beth through the internship; we got in contact back home and met each other at Heathrow and during the training in Beijing it was like we had known each other for years.  She had bought me some water and dried fruit – definitely needed. We saw a lady being violently sick and then on the subway there was a child being sick, and at that point I thought it might have been a good idea to get back on the train and go home hahaha.  When we were on the subway, Beth thought that we had missed our stop so we got off and went to find the line that was going the opposite way but it turned out we hadn't missed it, she was just looking at the wrong map… so we laughed and got back on the subway line that we had just gotten off.  I got overly excited about the fact that there was hand soap in the station toilets too… Hangzhou seemed so luxurious to me by this point, easily pleased hey.
After the subway journey, we had to take a "Rapid transit" bus, something else we don't have in Changsha, very posh!  Beth had used this bus many times before, but after about 20 minutes everyone got off the bus and when we asked what was going on we were directed to a bus station, where we asked someone again, and were put on a random bus that Beth had never been on before.  The driver was really helpful though and told us where to get off, then we realised that the bus we needed came to this stop.  Finally it made sense.  Buses really don't like following a route here in China!  After a dramatic journey and zero sleep, we arrived at Beth and Nathan's apartment.  She took me to her favourite "Boatze" shop for breakfast, it was reallly good!
After I had showered and made myself look slightly more presentable, we went for a walk around the complex – it was so relaxed, lots of places to just sit and chill out, and there were lots of trees!  It was so family orientated too, there were lots of places that held activities for families, very arty!  The weather was so niiiice; it was really hot but not uncomfortable and humid like Changsha so I wasn't dripping in sweat!  Although I needed some more "flowy" clothes, there was a stall outside of the complex and I saw a dress that I liked so I got my bargaining phrases out of the bag and ended up getting 20 kuai off (not the best but I did try).
Next, it was time to try some Hangzhou noodles, and I sure did try them – I tried so hard to finish them but it didn't happen, after eating them I felt like a waddling pregnant lady, not a good feeling!  They were so different to Changsha, not spicy at all and more of a creamy/sweet sauce.  In Changsha, it's all about the spice, and with each country I go to, my spice tolerance is always pushed further.  After the mammoth amount of food we had consumed, we sat down to digest and figure out our plans for the rest of the weekend.  We went through the guide/map and starred a few places we thought looked good and then narrowed them down and hit Google with our final choices.
In the afternoon, we took a bus ride to West Lake, a famous lake in China, and we worked out that it would take about 7hours to walk around it.  Beth showed me an app called Brainscape that she's been using to learn Chinese – it's really good, so if you're interested, take a look!  So we had a mini Chinese lesson, and on the next bus I tried out what I'd learnt on a lady who decided to take photos of me (not so subtly).  I didn't get everything right and she found it quite funny but practise makes perfect, right?!
When we arrived, there were sooo many people, I'd never seen anything like it, but I guess it was the holidays though.  We wanted to take a boat ride so we began our search.  This ended up with me shouting some average Chinese to a family that were having a chilled time on their boat, until someone heard my desperate plea and told us where we could rent a boat – it was worth all of the stares!  The place we were directed to was allllll the way around the other side, but the walk was beautiful so it was OK.  We finally found a boat, and it was exactly what you'd expect a boat to be like in China, and there was an old man "paddling" the boat at the back.  It was 150 kuai for an hour, so worth it!  A Chinese lady joined us and we got on, and she was really nice.  The "Shifu" started singing – it was all so cultural!  I started trying to speak to him in Chinese, asking him to keep singing, which he thought was hilarious and asked us to sing, so of course Beth and I belted out a tune to the best of our ability… we had a blast on the boat, really relaxing yet entertaining.  When we got off, we were about to pay and the Chinese lady wouldn't let us – she insisted on paying!  She would have lost face if we continued to insist so we thanked her and took some photos with her, and that seemed to be pleasing enough.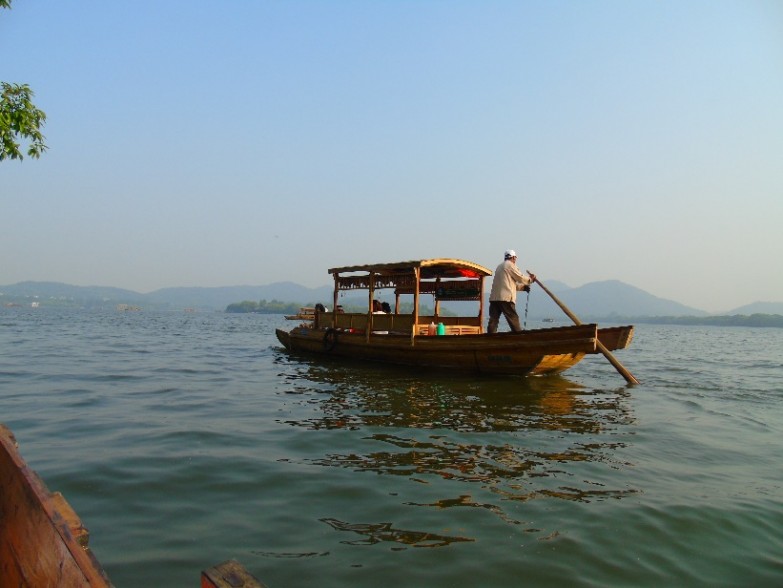 We then made our way to Hefang Street – a famous walking street that was very touristy, but a great experience all the same.  We started to walk there from West Lake; and on our way at West Lake, me and Beth decided to sit by the lake and dip our feet in whilst watching the sunset.  We got so many funny looks and one lady even shouted something at us… it was a bit of water, it wasn't going to kill us!  I turned around and instantly recognised a certain phone case that I spotted and then I saw the girls face – it was one of the girls from the train!!!  I didn't know what to say, I was so shocked.  She was as much as me too.  When I thought about how many people were at West Lake at that moment and we just happened to be in the same place, it's so mind blowing!  We took photos together and then said goodbye.  When we eventually put our shoes and socks back on, we carried on our walk to Hefang Street, which was quite a way away.  We saw a young boy singing in an underpass; he was with an older guy who was disabled.  They were begging.  It hit me quite hard: what had that young boy done to deserve the injustice?
Hefang Street was insanely busy, as I expected it to be, and I got some amazing souvenirs (although I won't tell you about some because they're for people at home – don't want to ruin the surprise and all that!).  I will tell you about the one I got for me and Beth though: Beth spotted a stall where a guy had painted beautiful pictures into the inside of beads (if that makes sense).  He was such a chilled person – it was so refreshing how he could sit there quietly and concentrate on something so delicate in the middle of all of these crazy tourists.  It just shows that whatever is going on around you, if there's something you want/need to do then you can put yourself into a state so that you are able to achieve your goal.  I was looking through all of the beads for so long – they were incredible – and then I spotted one with two footprints on.  I automatically thought about how Beth and I had been sitting by the lake with our feet in the water.  There was only one that I could find so I took a chance and asked the guy if he could do another one and two minutes later it was done, and we also got the date on them.  Keeping hold of memories!
Over the course of this weekend, I felt so much more confident using Chinese; clearly because of how much I was practising and also, the fact that Beth and I spoke to each other in Chinese helped too.  There was also a famous pharmacy on Hefang Street which we went in, and there was so much traditional Chinese medicine, which I think dated back to the 1600's, although don't quote me!  It was really interesting, and also great to see that the building is still being used for its original purpose.
Afterwards, we went to find the subway station but couldn't find it, so we asked someone and ended up with some escorts… everyone is so helpful.  As my family say, "as long as you have a tongue in your head, you'll be OK" – it's so true.  My Chinese isn't great, but it got us to where we wanted to go, and Chinese people really like it when they hear you speaking Chinese, you just have to try!
We then got the night bus from Wulin Square – it was so packed so we ended up standing, although this is not such a rare occurrence in China anyway.  We were supposed to be counting the stops, and I thought it was going pretty well until we got to the stop which should have been the one to get off at but it wasn't.  Beth didn't recognise it so I asked a lady and she told us it was the next one.  Must have messed up the counting somewhere, ooops!  We then went to "rice man" (a guy who makes rice outside of Beth's apartment), and we spoke to him and his friends for a while… they mostly laughed at us but it was OK, and then we ate our rice on the balcony on a blanket – what an ending to a great day.  It was definitely time to sleep after being awake for 41 hours!
The next day, we wanted to climb the mountain called "two peaks piercing the clouds"; with yet more escorts taking us to the bus stop we needed to get there.  We definitely got off at the correct stop and it stated on TravelChina that the mountain was only 50m from the bus stop.  Turns out it was only the sign – it took us so long to figure out where it was, because it was so far away, which just made no sense! It was at least an hour's walk, although it was definitely worth the trouble of actually getting there.  When we got there, we began to climb – it wasn't so hard, but it was fun.  You could also get up by 'rope way' which we realised meant cable car.  The views from the top were stunning, I don't think I've seen anything like it before.  The clouds were swirling around the peaks, hence the name.  On the way up we saw so many dead centipedes or millipedes, I'm not 100% which one.  Me and Beth stopped to look at them, which the Chinese people thought was really weird and then one guy picked one up and started chasing me with it, which was pretty strange.  We apparently climbed over 3,000m – it took us two hours, and when we got to the top we saw a big bell that you could ring with a bamboo barge pole… so Beth did, but then we heard   "er shi kuai" (20 yuan).  I bought a red ribbon, which we wrote some messages on along with our names and the date.  We tied it amongst some others, and then started going down the mountain.  I took my first ever real cable car ride – it was really cool, and we went through of the lush, green surroundings.  The girl from the train also told me that she saw us again asking for directions!  When we got back, Beth took me to street food heaven… I can't believe how much I ate.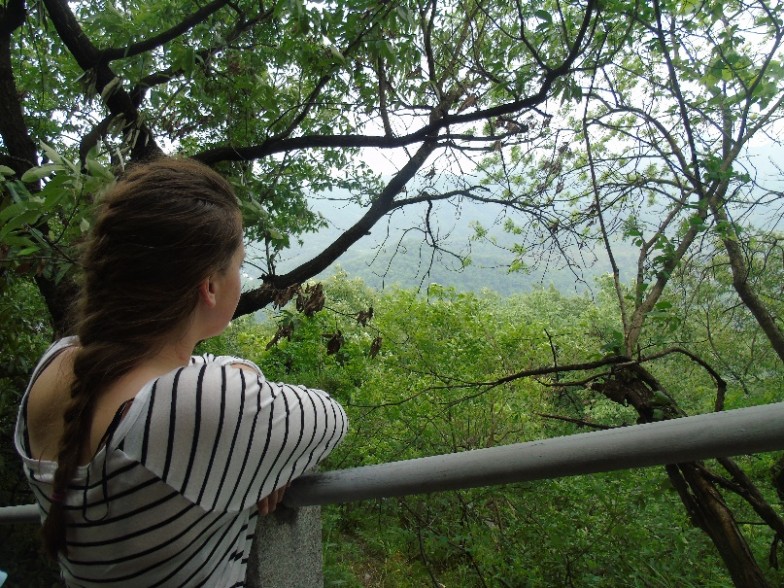 The morning after we went to the clothing market, which was huge, but we were limited for time as I had to get to the station to catch my train back to Changsha.  I was trying on some things and found myself with an audience but most of it was all too small – Chinese girls are tiny!  We left to try and find the subway station and again had to ask, but had no luck.  One of the motorbike taxis told us he would take us.  I persuaded Beth and off we went, clutching onto each other.  At one point he tried to go up a curb but couldn't do it with us, so all we could do was laugh… everyone was staring anyway, but now even more so.  It was a pretty hilarious ride, but he got us to the right place.  We got to Hangzhou Dong Station and before I entered departures, Beth and I sat and did some people watching.  We soon noticed that there was a member of the SWAT team and two police officers stopping young men and checking/scanning their identity cards. It was also like a scene out of 'Of Mice and Men' outside: men sat with their bundles of goods… must be migrant workers.  This was my first bullet train ride so I was pretty excited – it was like an aeroplane and had a western toilet… wow!  The "train hostesses" were dressed so smartly.  It was a chilled train ride and I wrote my journal, read my book, learnt some Chinese and enjoyed the views.  It didn't feel as long as it actually was.  I had an apple but it wasn't washed so I was glad to realise that I had my water spray bottle with me, a necessity for travelling in China.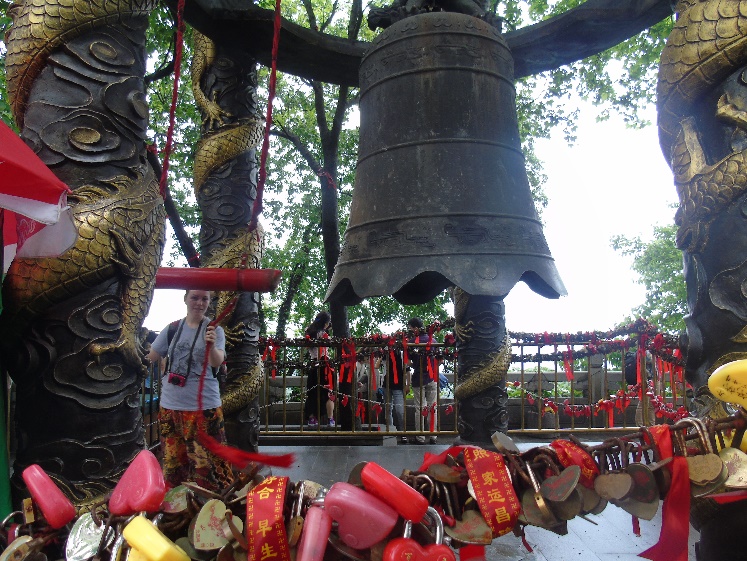 Inspired by Kelsey's amazing adventure in China?  You can find out more information about the China internship with our guide, or alternatively, book yourself a space on the next intake today!  Alternatively, you can keep up-to-date with what Kelsey's getting up to on her blog.