No degree? Want to TEFL abroad? No problem! Discover all the best places to TEFL with no degree in our new blog series, starting with….Cambodia!
Where is Cambodia?
Let's start off with the basics. After all, it would be a bit strange deciding you want to teach there if you have no idea where in the world it is!
Cambodia is a relatively small country in South-East Asia. It's sandwiched between Thailand, Laos, and Vietnam, and it has a stretch of coastline in the Gulf of Thailand – basically it's perfectly placed if you want to be able to explore South-East Asia during your time off!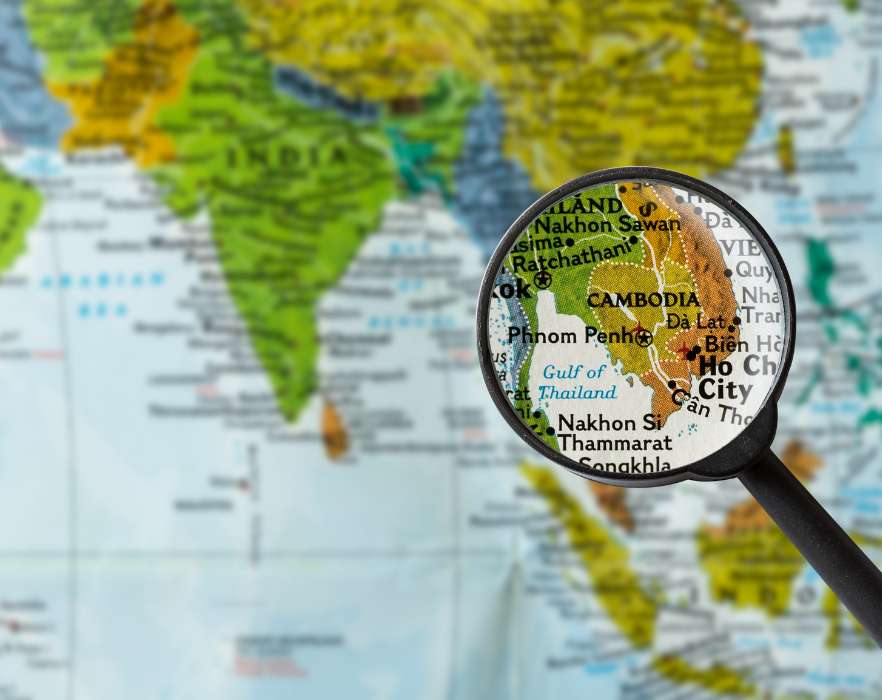 Why should I TEFL in Cambodia?
Although it often gets overlooked due to its popular neighbours, Cambodia is actually a great place to TEFL! It has something to suit everyone, from bustling cities with vibrant nightlife, to pristine beaches and well-preserved historical sites. You'll never be bored if you choose to teach there.
It also has one of the friendliest populations in the world! You'll always find someone willing to give you a helping hand or an encouraging smile. It makes day-to-day life so much nicer!
And, of course, if you want to be able to TEFL abroad with no degree, Cambodia is an excellent choice because you won't need a degree to be able to teach English there.
There are also lots of different teaching options in Cambodia. You'll be able to teach in any of these establishments:
Universities
State schools
Kindergartens
Private language schools
International schools
Businesses (teaching Business English to adults)
Another benefit (if that wasn't enough already!) is the fact that Cambodian students, especially adult learners, tend to be really motivated and invested in their learning experience. You'll often find that people have had to save up (or parents of children have had to save up) for their English lessons, so they are really keen to get something out of it. This makes for a really enjoyable teaching experience, and it will also be really rewarding as you'll know you're making a real difference to their lives – helping them to achieve their goals and access more opportunities.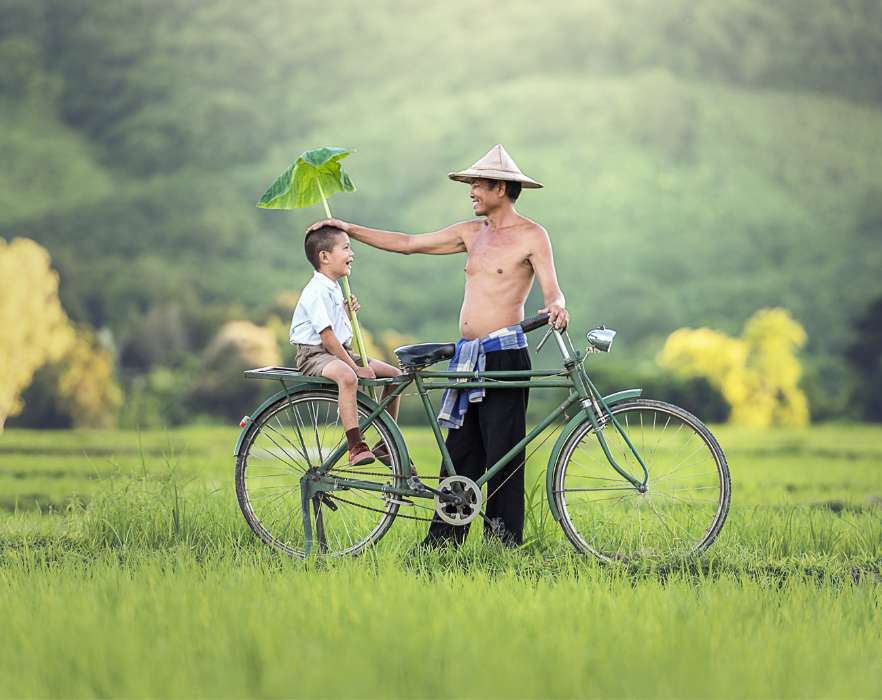 Where in Cambodia should I TEFL?
There are a variety of positions all over the country, but we've found that teachers tend to head for these top 3 locations (and we can understand why!):
1. Phnom Penh
The bustling capital! With the bright gold temples, lively street markets, and great location on the banks of the mighty Mekong, Phnom Penh is the Asia that many people dream of. The great news is that there are lots of TEFL jobs to be found in Phnom Penh, as many language schools are located here, as well as the popular Cambodia International University.
It's also a great place to live and work if you're looking to explore further afield. You'll find an abundance of transport links to the rest of Cambodia, as well as reliable bus options for getting to neighbouring countries, like Thailand, Laos, or Vietnam, and cheap flights to nearby locations, like Malaysia and the Philippines.
2. Sihanoukville
It isn't hard to see why teachers pick the beautiful seaside town of Sihanoukville to settle in. If you're looking for a place you can lounge in a hammock and admire white sandy beaches on your downtime, this is the place! Known by the locals as 'Cambodia's little paradise', you'd be hard pushed to find a more relaxed and beautiful part of South-East Asia.
If you love island hopping it's also a great place to base yourself from, as it's just a short boat journey from there to a number of gorgeous islands including Koh Rong and Koh Rong Sanloem.
3. Siem Reap
The home of Angkor Wat and the famous Floating Villages, Siem Reap is a well-known stop for TEFL teachers. From five-star luxury to street corner food stalls and beautifully preserved historical temples, Siem Reap has something to suit every taste. And, despite having so much going on, it also has a really relaxed atmosphere that makes you feel at home and comfortable right away. It also has one of the most developed TEFL jobs market in the country, so it's a great place to look for your dream TEFL role.
Top tip: once you're there, check the 'Cambodia Daily' (the local English language newspaper) for up-to-date job listings.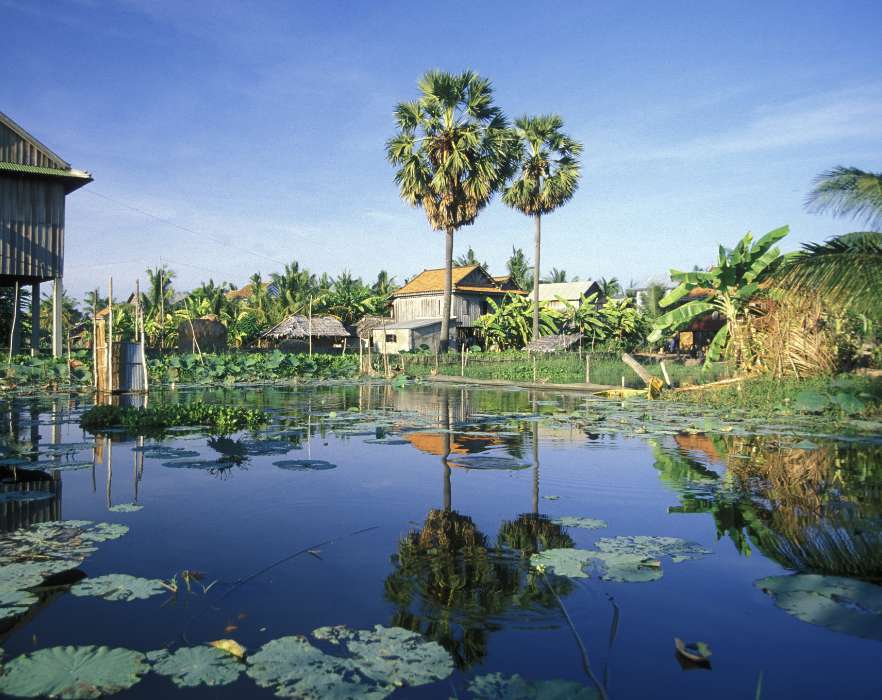 How much will I earn?
The average wage in Cambodia is anywhere from US$800 – $1,200 per month for full-time positions, if you have a TEFL qualification. The salary offered will depend on where you're teaching, what type of school you're teaching in, and how much experience/training you have. If you want to teach privately, rates are usually about US$10 per hour.
Thinking it doesn't sound like a lot? We get it, but you have to remember that the cost of living in Cambodia is low in comparison to Western countries, so your money will go a lot further than you think.
You'll usually find you can comfortably cover all your living costs (accommodation, utilities, transport, food, activities etc) and have a few hundred dollars left over at the end of each money to save/travel with.

So now you have a great option of a place to TEFL with no degree, are you ready to get started? You'll need to make sure you've got an accredited TEFL qualification first. We can help you there! All of our courses are accredited by Ofqual, and you can check out all the different options on offer in our free courses guide. You can also take a quick 2-minute quiz to find out which course is your perfect match!
If you've got questions, we have a friendly TEFL team standing by. You just need to arrange for a free call back and someone will be in touch ASAP to make sure you have everything you need to be able to live your TEFL dreams.
Enjoy your next adventure!