You might have seen the phrase 'Trinity CertTESOL' on a job advert under the 'Qualifications required' section but what does this mean? Is it the same as a TEFL certificate? Don't worry! We're here to answer all your questions, so you'll be a Trinity CertTESOL expert by the end of the blog!
What does Trinity CertTESOL mean?
We love a good acronym in TEFL so, first things first, what does the title of this qualification actually mean? Trinity CertTESOL means: "The Trinity Certificate in Teaching English to Speakers of Other Languages" (Source: trinitycollege.com). So, it's a course designed by Trinity College London, a very prestigious organisation in the world of education, to train someone to teach English to non-native speakers.
Is a Trinity CertTESOL certificate different to a Level 5 TEFL Diploma?
In one word? Yes! Although both will train you to teach English as a foreign language or teach English to speakers of other languages, and both are considered a Level 5 qualification by Ofqual, the Trinity CertTESOL is essentially an online classroom course. You'll attend pre-planned, live, online sessions with an experienced TESOL tutor who will go through the material with you and be able to answer your questions in real-time. With a TEFL course, you have access to all the material online and there is no set learning schedule, you'll be expected to plan and study independently.
Where can I teach with a Trinity CertTESOL?
Literally anywhere in the world! With a Trinity CertTESOL qualification you'll be able to teach in English-speaking countries, like the USA, UK or South Africa, as well as in non-English-speaking countries, like South Korea or Japan. This will give you the edge over other applicants when you're applying for job roles and give you the freedom to teach anywhere you want!
As this course is accredited by Trinity College London AND Ofqual (rated at Level 5 on their Regulated Qualifications Framework), it's highly revered and respected by TEFL/TESOL employers all over the world, so you'll be more likely to land high-paying jobs and/or roles in more competitive locations like the Middle East.
It's also perfect if you want to be able to teach English in a variety of different settings. The Trinity CertTESOL will qualify you to teach in universities, language centres, international schools, state schools, and private schools around the world, so you can really experience every teaching setting and expand your teaching skills!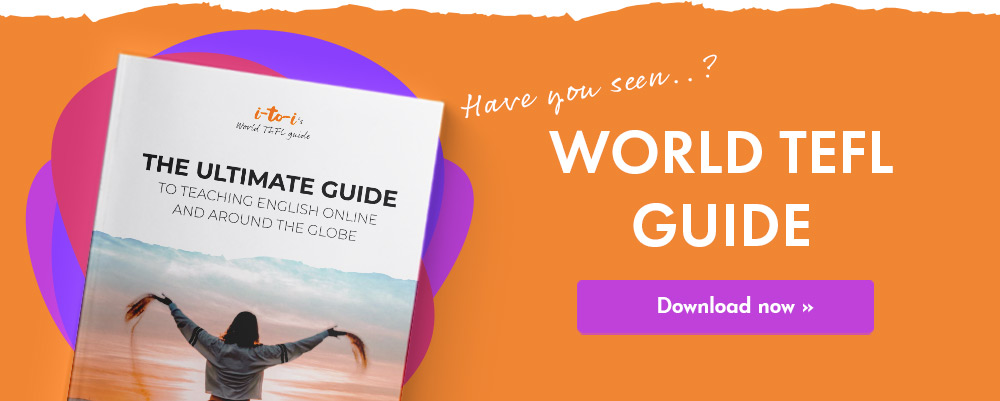 What are the additional benefits of a Trinity CertTESOL course?
In addition to the ones we've already mentioned, because of the live lessons you'll get to meet other Trinity CertTESOL students and be able to start building your TESOL teacher support network before you even start your first TESOL role! Support really is key in TESOL teaching, as you'll be able to share learnings and resources with your network and have people to chat to that really understand what you're going through.
Do you need experience to enrol on a Trinity CertTESOL course?
Not at all! This course is equally open and accessible to complete beginners to teaching as well as those that have some teaching experience but want to make the move to TESOL (Teaching English to Speakers of Other Languages). You don't need to have any specific experience to enrol and the course will actually provide you with over 6 hours of practical TESOL teaching experience to add to your CV/resume – win win!
How do you enrol on a Trinity CertTESOL course?
Easy peasy! There's a simple 4 step process you need to follow, and we've outlined this below:
In order to apply for your place on our Trinity CertTESOL qualification, you'll need to go through our application process and interview stage.
You'll need to complete an online application form, setting out your educational and work background and your motivation for doing the course. At this point, you'll also need to submit your ID, proof of your qualifications (in line with the entry requirements*) and pay your deposit.
You'll then be contacted by our Trinity CertTESOL Course Director to set up a Zoom interview. This will take around 90-minutes and includes a writing task which you'll have to do 'live' and return to the Course Director. The interview also assesses your spoken English, ability to work under pressure, and attitudes towards teaching and learning.
If you pass the interview stage, the Course Director will get in touch to confirm your place on the course. You'll then be sent the Pre-course Task (a short workbook) and given access to selected parts of the Trinity CertTESOL course (welcome page, course handbook, timetables, and policies).
You'll be told your start date, and it's time to get learning!
Ready to be Trinity CertTESOL qualified and access those higher TESOL wages? We don't blame you! Go to our Trinity CertTESOL webpage to start the enrolment process now! Want to get more information first? No worries! Get your FREE Trinity CertTESOL guide here to learn more about this amazing course.
Have you got more questions? Want to speak to a TESOL expert? Then arrange for a free call back and one of our friendly team members will be in touch ASAP to help you out!
Already qualified and ready to find your dream TESOL role? Head to the LoveTEFL jobs board for all the latest vacancies!