You received your TEFL certificate, want to travel the world, and don't want to have any restrictions imposed on you… It sounds like you want to be a freelance teacher my friend! Let me help you!
Hi everyone, my name is Audrey but you probably know me as @travelrichmoneypoor. Last month I gave you some insight on everything you needed to know before starting your TEFL journey. Well today I am going to give you some information about how to become a FREELANCE TEFL TEACHER! Usually you hear about people receiving their certificate and moving abroad to teach or working online for a company, but today we are going to focus on another aspect of TEFL teaching. 
So, what is Freelance TEFL Teaching?
Freelance TEFL teaching means that you DO NOT work for an established company, like Cambly or Palfish. Freelancing simply means that you work for yourself: you find your own clients, make your own rules, and decide your own schedule and rates. Sounds good, right?
Why should I become a Freelance Teacher?
I have helped over 130 people become online TEFL teachers working with platforms. I, myself, have worked on online platforms and made great money doing so. However, I always recommend freelancing to people. Why? 
1. You can make more money
Online platforms pay anywhere from US$10 to US$24 an hour. My current cost per hour is US$40 (which is usually what the platform charges the parents 😉 and then takes their cut off the top of your wage)!
2. You don't have to worry about fines
Some companies, not all, will fine you if you cancel last minute or have technology problems. If you're a freelancer you don't have to pay fines to anyone so, if you have a problem, you can always give a few extra minutes for free! For example, if I have a problem with WiFi (it happens no matter who you are) I can offer my students that amount of time they lost in their next class. If I have to cancel last minute, I could offer a free class. Either way, NO money is taken away from your wallet. And, trust me, your students will be happier when they get their full teaching time or a free session. 
3. You can be more flexible with your schedule
You do not have a minimum hour requirement as a freelance teacher, and some employers do. For example, I went to America for 3 months and I work with lots of students in China, which is 16 hours ahead! When I had to drop some students to once a week instead of twice a week OR I was in a place with no WiFi and had to take a week off, I never had to worry that I was going to lose my job for not meeting the minimum hour requirements. 
4. You can teach ANYTHING and ANYWHERE
That is right! You can teach group lessons, 1:1 lessons, adults, kids, teens, businesses, or any subject in English. The sky is the limit! And you get to decide the curriculum, so you can really tailor it to your students and make sure they find the lessons interesting. It's a great opportunity to be creative and really build on your existing skillset.  
You can also teach from anywhere! As a freelancer, you'll be setting your own schedule and deciding when and where you get to work, so you can travel while you teach and explore amazing new places in your time off.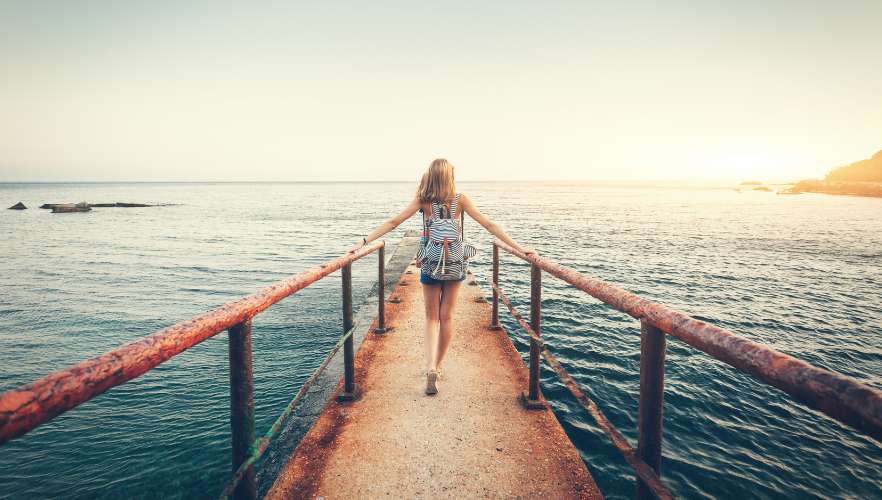 This all sounds amazing, how do I get started?
It's super simple, as everything you need to become a freelance TEFL teacher, you would need to become a regular (with an employer) online TEFL teacher anyway. To get started, you will need:   
A Laptop, Desktop, or Tablet

Strong Internet Connection 

A background with props, if you are teaching kids

A professional or "plain" background, if you are teaching adults

A quiet space to teach

Premade lesson plans to make your life easier!!! You DO NOT become a freelance teacher charging €40 an hour to work 3 hours outside of class prepping. That would drop your hourly wage right back down to €10 an hour. Do not do it, trust me. Buy the premade lesson plans. 
Okay, I have everything I need… except students, help!
Don't you worry! This is actually a lot easier than you think, if you are willing to put in the work. Here are my top tips for stress-free ways of finding students to teach:
Reach out to friends and family: Did you know that you can still tutor English while living in a native English country… how? 

Tutor Children and Teenagers that could be struggling in school

Put on a homework club, not all parents have the time to help their children

Teach foreigners! That's right in every single country there are people from abroad! Teach them
Know someone that lives in a foreign country? Send them your flyer and ask them if they wouldn't mind spreading the word! 
Create an Instagram, TikTok, or Facebook where you make short educational English videos. Make sure in these profiles you link your schedule.
Live in a town or city? Post on the cities Facebook group! I did this and in one week had 13 private students! 
Post flyers around the city you are living in! This is old fashioned but it works
Promote yourself with Instagram, TikTok or Facebook ads. I recommend that, before you do this, you have a legitimate website set up that looks professional. If not, people might think it's a scam
The last and most important… WORD OF MOUTH! Have a student? Ask them to spread the words to their friends! And make sure you have a referral program!

A referral what?!
Just what I said, a referral program. Now bear with me here… I know you aren't a coffee shop or your favorite sandwich shop… but what do you have in common with them!? YOU ARE BOTH SMALL BUSINESSES! Their referral program might look a bit different, usually these places will have punch cards and then eventually when you hit 10 purchases you get something for free, but the concept should be the same. Why? Because it works!
If my friend asks me to go for a coffee, I am more likely to recommend the place I have a punch card to. Why? Because eventually I will get something for free AND, if I decide to be nice and pay for my friend, I will get not one but TWO punches on my punch card. So I get a reward for doing something I want to do (get coffee) and I get to save money. I feel valued and I like the rewards, so I'm more likely to keep going there and recommend it to others.
Do you see where I am going with this? If not, keep reading… Give your students an incentive to bring their friends to you. Eric brought me a student, BOOM, Eric gets 25% off 1 package of classes. Wow, Eric saves money and he likes that. BOOM Eric brought in another student, because he likes me as a teacher, loves that I value his input, and still enjoys saving money! Then the students Eric brought in recommend me too, as they feel valued and like saving money. And this happens again and again. Eventually your schedule will be full and you won't need the referral program any longer. Remember that this incentive is off 1 package of classes, not every class from now until forever. This means you're still earning good money and it's a much cheaper way of advertising your services. People also tend to trust word of mouth a lot more than other sources, so they are more likely to take the recommendation in the first place! 
And that's everything you need to know about Freelancing as a TEFL Teacher!
That's it. 
It is that simple. 
Do NOT overcomplicate things for yourself and get ready to enjoy your job! 
I wish you the best on your journey to becoming a Freelance TEFL Teacher and make sure you keep me posted on your progress via my account @travelrichmoneypoor.

Want to find out more about freelancing? Check out our free guide to freelancing as a TEFL teacher. 
Need a course that includes some specialist freelance training? Check out our 500-hour Advanced TEFL Diploma!