Travelling the world whilst earning money from your laptop might sound like a dream come true, but is it as easy as it sounds? My name is Tab (@whereistab on socials) and I have been teaching English as a foreign language since 2019. At the start of this month, I put my possessions into storage, packed a backpack, and bought a one-way ticket to Malaysia. My plan? To teach English online whilst backpacking South-East Asia for the next four months. I'm now a couple of weeks into this journey, so read on to find out what I've learned so far and what a week might look like for you if you choose to do the same!
STOP ONE: Kuala Lumpur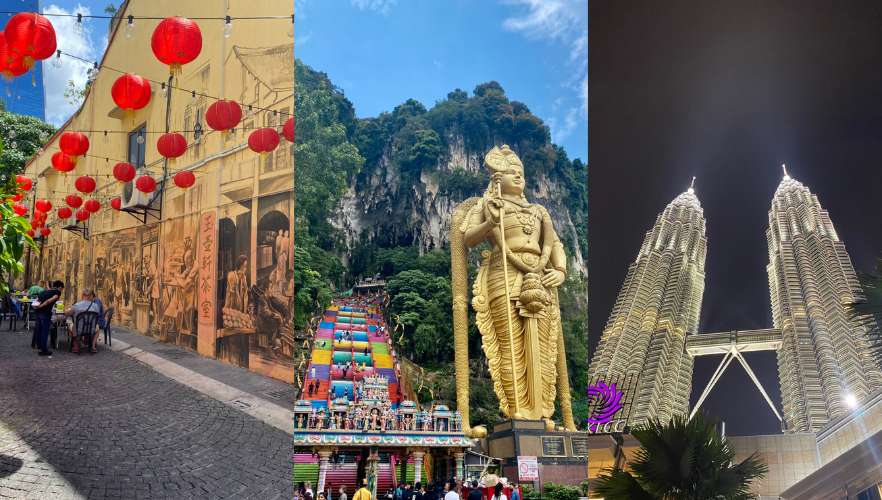 I arrived in KL bleary-eyed and excited to explore a new city. I decided to take a week off teaching whilst I adjusted to the time difference (+8 hours) and found my feet, and I'm glad I did. That's one of my top tips for anyone taking this type of trip – make sure to give yourself a buffer, especially if you experience anxiety when you travel. Having said that, I ended up teaching three classes one afternoon in KL as I missed my students so much…!
Teaching in KL
I spent the first three nights staying in a basic hotel called YWCA for £10 per night and then moved into an Airbnb in the Masjid Jamek area for £33 per night. To cut down on costs, I typically stay in shared accommodation (such as a hostel dorm) on days when I'm not teaching. I then move into an Airbnb or hotel to get some work done. Much of my time in KL was spent sightseeing and easing into my new surroundings, but the Airbnb was a great place to work from. To book in extra classes, I simply messaged my regular students with my new availability and thankfully, the slots were booked. I went to bed with a big smile that night, having just completed my first three lessons from the other side of the world!
Sightseeing in KL
My KL highlights were… exploring the neighbourhood around Petaling Street, visiting the iconic Petronas Twin Towers, seeing the water/light show in KLCC park (every evening at 8pm), and visiting the Batu Caves. My absolute favourite part of Kuala Lumpur was the Perdana Botanical Gardens – a huge green oasis in the middle of the city. Even better? The park is totally FREE!
STOP TWO: The Cameron Highlands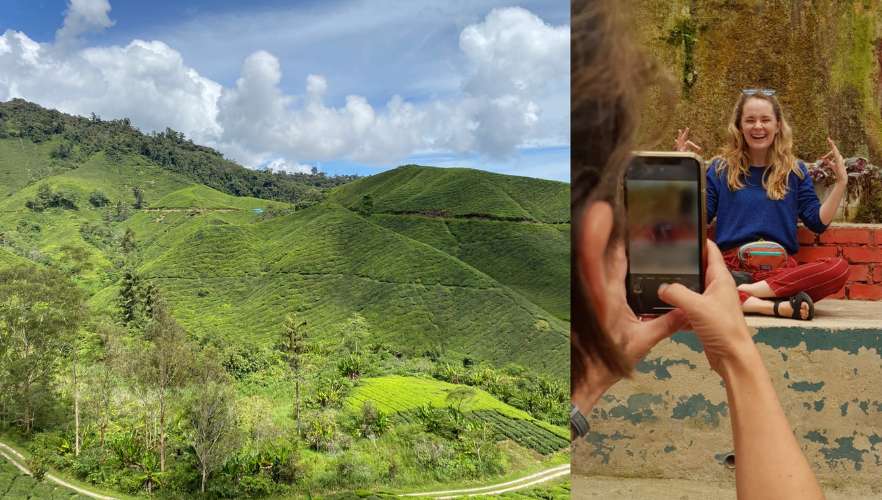 Time to say goodbye to the capital of Malaysia! After a week in KL, I took a 5-hour bus up to a mountainous area called The Cameron Highlands, famous for its tea and beautiful landscapes. The bus was booked through 12Go.asia and cost £8.20. It was a comfortable but winding trip up to the mountains, so I recommend taking a motion sickness pill! I decided not to teach in the Cameron Highlands, as I suspected the internet might not be strong enough, and I was right – I had practically no signal there. I only spent two days here and I think that's plenty of time to explore the local area. It means your students don't have to wait too long to see you again as well!
Highlights of the Cameron Highlands
Unfortunately, this place can be a tourist trap and a lot of the "attractions" aren't as interesting as they sound (e.g. the strawberry farm). One of the best things to do in the Cameron Highlands is to visit Boh Tea Plantation for its spectacular views – make sure you book a tasting in advance, as the factory tours are temporarily closed! Then head onto the Mossy Forest, famous for its creepy and fascinating flora and fauna. Leave plenty of time to get here and check what transport you will need, as some taxi drivers won't drive up that part of the mountain. It's also a good idea to hire a local guide to take you on a hike in the Cameron Highlands, as online hiking routes are often out-of-date due to development in the area.
Bear in mind…
There is limited data/WiFi in this area, so don't plan to work much here! I recommend staying in a guesthouse such as De Native Guest House to get the full countryside experience – basic amenities, simple living, and lots of campfires.
STOP THREE: Georgetown, Penang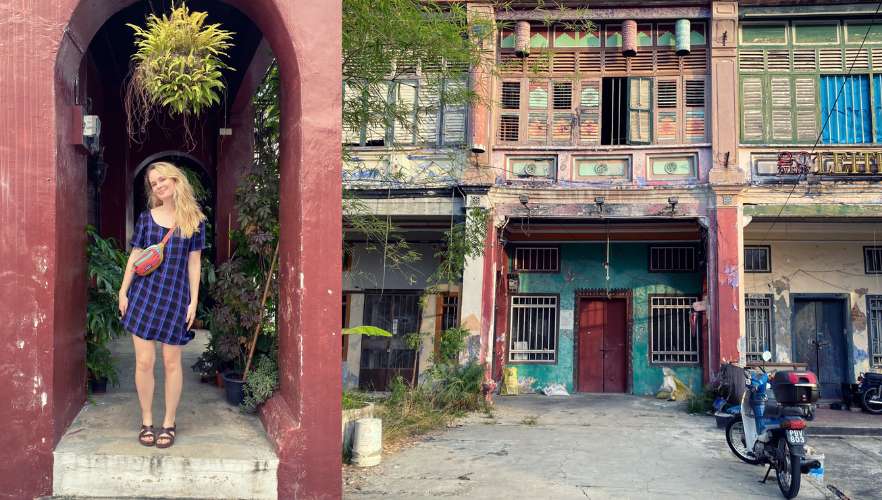 Georgetown might be my favourite stop so far! I spent a week here with my new friends before going to the tropical island of Langkawi and got a lot of work done – it's great for digital nomads. There are plenty of artisan cafes and funky Airbnbs (and hotels) to choose from, although it's pricier than KL – I spent £40 per night on this Airbnb.
Teaching in Penang
I spent a few hours catching up on freelance projects and booked in two full afternoons of teaching whilst in Penang. Working from 4pm until 11pm allows me to catch more students from Europe and Asia, so I have adjusted my availability accordingly. But the truth is – taking a trip like this requires a lot of communication and flexibility from both teacher and student. Make sure you keep chatting to your students and letting them know when and where they can expect their next class to take place.
Sightseeing in Georgetown
The centre of Georgetown has been a UNESCO World Heritage Site since 2008. My favourite thing to do here is walk through the historic streets – every corner has a new surprise and you often feel like you're walking through a movie set! There is a thriving arts scene in Georgetown and you will find murals and street art all over the town. Be sure to check out the jetties along the waterfront. This maze of wooden homes on stilts was constructed over 100 years ago, and is still home to communities of Chinese migrants who live on the water today. Eat delicious (and super cheap) food on Chulia Street – I had a tasty mix of veggies and tofu skewers in sauce for just £1.30!

My Takeaways
The biggest challenge when teaching English online whilst backpacking is trying to plan when/where you will be able to teach. Backpackers are typically very spontaneous, but as a digital nomad, you'll need to have visibility of your schedule at least one week in advance to allow students enough time to book a class with you. You don't want to get stuck without WiFi or accommodation, so prior planning is essential!
Another possible pitfall is WiFi – this varies across South-East Asia. But it doesn't have to stop you in your tracks! Google and speedtest.net are your best friends! Take some time to research typical download/upload speeds in the countries or regions you plan to visit. A good internet speed is anywhere between 25 and 100 Mbps, but Zoom states that 2 Mbps (upload) and 4 Mbps (download) is sufficient for two video screens during a Zoom call – i.e. for 1-1 classes. Before booking a new apartment or hotel room, I always check the reviews for mentions of WiFi and if I'm unsure, I contact the host. When I arrive, I always run a speed test using speedtest.net and contact my students if needed.
Finally, let's answer that question I asked back at the start. Is teaching while backpacking as easy as it sounds? Well… yes and no! I'm at the start of this 4-month journey and I anticipate that plenty of things will, inevitably, go wrong. WiFi drops out, student availability doesn't match up with your new time zone, and you can't change locations on a whim like the friends you'll meet. However, teaching while travelling is an amazing way to earn money and connect with people back home (and around the world!). Unlike many backpackers, you won't be spending all your savings to travel and you'll be able to stay in some lovely apartments rather than a series of cramped bunk beds! The most important thing is to stay organised, communicate effectively with your students, and to be as flexible as possible. The world is your oyster! Let's go!

Want to find out more about Tab's teaching and travel experiences? You can follow her on Instagram and YouTube, and check out her blog here!