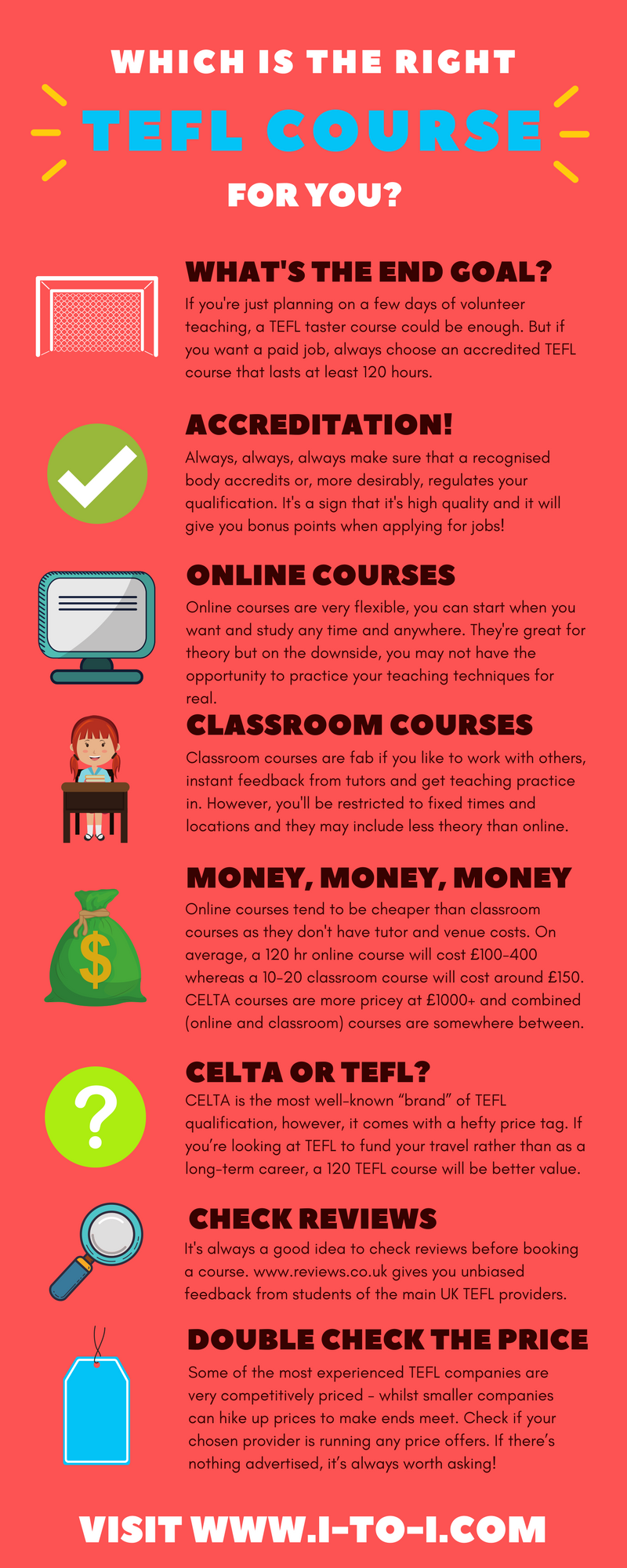 When you're new to TEFL, it can be pretty confusing to know which course is going to be best for you.  There are a few factors that you'll need to look out for but ultimately, it depends on what you want to do with your TEFL qualification once you have it!
Here's our quick guide on choosing the right TEFL course for you, we're just going to leave this here…
What's the end goal?
If you're only looking to do bits and bobs of volunteer work, a TEFL taster course might be enough. Otherwise, if you're looking to get into TEFL as a full-time career move, you could do either a 120+ hour TEFL course or a CELTA course (depending on how much time / money you have on your hands). If you want to use TEFL to fund your travel dreams, a 120+ hour TEFL course is ideal!
Make sure it's legal
It's really important to make sure that any course you book is either accredited or, more desirably, regulated. The difference is that regulation is more in-depth than accreditation so a regulated course will be higher-spec than an accredited one. The course provider will usually advertise their accreditation / regulation on their website courses page and you can also check on the accrediting body's website too, just to make sure.
Online courses: pros and cons
Online courses are great if you're working / studying elsewhere at the same time because they're flexible, you can study any time and anywhere and you don't have to commit to any classroom course dates and locations. You'll still get support from remote tutors (check for this) but the downside is that you won't get to put any of your theory into practice in a classroom.
Classroom courses: pros and cons
With classroom courses, you'll get loads of interaction with both tutors and other students like yourself. They're great for getting teaching practice in and benefitting from instant feedback about your techniques but you'll be restricted to specific times and locations which you will have to stick to.
How much?
Online course are generally cheaper than classroom courses because the course provider won't have to pay for any venue or tutor costs. On average, an 120 hour online course will cost £100-£400 whereas a 10-20 hour classroom course will cost around £150. CELTA courses are much more pricey at £1000-£2000 because you'll get around 6 weeks of full-time classroom training in a specific location. Combined courses (a blend of online and classroom) usually come somewhere in between and are a happy medium!
CELTA course or TEFL course?
A CELTA may be the most well-known type of TEFL course but it is much more expensive and involves a more demanding commitment with full-time classroom learning. If you want to TEFL to see the world and travel around for a few years, a standard TEFL course is much better value.
Check out reviews
Whenever you buy anything online, it's always a good idea to check the reviews first. A TEFL course is no different. Reviews are a great way to make sure a TEFL course provider do what they say they will without buying one first! Try www.reviews.co.uk for unbiased feedback from students of the main UK TEFL course providers.
Bag yourself a bargain!
You might think you're getting the best course if it's the most expensive but don't be fooled! Some of the most experienced TEFL companies are competitively priced (because they can afford to be) whereas some smaller companies might hike up their prices to make ends meet. Do your research and it's always worth calling them to see if they have any over-the-phone deals!
Happy shopping!