Teach English in Malta

Why teach English in Malta…
A tiny island with beautiful beaches and an abundance of culture draws in many people to teach English in Malta, who don't want to follow the TEFL crowd..
Malta is a wonderful Mediterranean melting pot with culture and architecture influenced by both its Mediterranean neighbours as well as the Middle East. As an ex-British colony it's also got a very familiar feel to it for many UK and Irish expats looking at teaching in Malta. Vacancies are advertised on major employers' websites, such as the NSTS Language Institute, which some teachers apply for by sending over their CV, copies of certificates and ID. However in reality, it's much easier living in Malta and finding work, as you can visit schools personally; and many applications require candidates to visit schools and teach a sample lesson.
It's great for TEFL teachers because…
As English is one of the official languages, demand for English teachers is much lower than other European countries, but the warm summers and relaxing way of life is a draw for many! The majority of opportunities are during June – August at summer school camps, held in the larger cities of Valletta and Sliema. Some English teachers are lucky enough to even secure full-time jobs in language schools, although you'll need some teaching experience to be given a look-in. Although the demand isn't huge for private lessons, there is still the opportunity, with teachers advertising in the Maltese local directory once they're already working.
All you need to teach in Malta is…
There's no requirement for a degree to teach English in Malta; you only need a minimum of an i-to-i 120 Hour Online TEFL Course; although our 140 Hour Combined TEFL Course is preferred if you have no experience of teaching.
Average Monthly Teaching Salary
945 EUR / £750 / $1,200
Free TEFL Brochure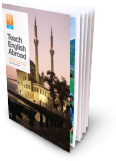 Get your free TEFL brochure and find out everything you need to know about teaching English as a foreign language.
Get the Brochure
Basic Info
Language: Maltese/English
Currency: Euro (EUR)
Population: 423,000
Capital City: Valletta
Cost of Living

If you decide to rent a place of your own when teaching English in Malta, you'll be spending around 55% of your salary a month, with a one bed city-centre flat costing around £420/$665 – although you can get equivalent accommodation in smaller towns such as Il Furjana for approximately £100/$160 less.
Leisure activities are generally quite expensive in Malta due to the tourist economy; although you can get some things cheap, with a day of snorkelling costing around £10/$15.
For nightlife, naturally as the capital, Valletta is more expensive, but for cheap drinks head to the party city of St Julian's: popular with locals and tourists alike. Here, you can sample a beer or two for £1.60/$2.55; or go a little more upmarket with a classy cocktail for £4.40/$7.10.
Food and Drink

The Maltese describe their food as 'rustic': full of flavour with rich colours and flavours, a fusion of Mediterranean and North African cuisine. Traditional Maltese dishes consist of fresh ingredients, with vegetables, cheese and milk used in almost everything. A much-loved dish of Malta (and one you need to try!) is Timpana, a pasta pie, which is baked macaroni in a bolognaise sauce, served golden-brown.
In fact, the Maltese love their cheese so much, that they even incorporate it into dessert, with kannoli – a tube of fried pastry filled to the brim with ricotta (basically a sweet cannelloni). For a more traditional sweet treat, be sure to order a semi-freddo: a mixture of sponge, nuts, cream and ice cream.
Whilst Malta may not exactly be known for its booming wine industry, the production has definitely improved over the years, with wine festivals held several times a year to celebrate not only their own wine, but the ones of their Mediterranean friends like Italy and France too. You can also try the local beer of Cisk, costing 80p/$1.30 for a pint in supermarkets.
Weather

Situated in the Mediterranean, Malta enjoys beautiful summers comparable to Greece and Southern Italy, with average temperatures of almost 30 degrees. Winters are quite mild, with it rarely falling under 10 degrees Celsius, although it rains a LOT during this period… but you can't have it all, can you?!
Accommodation

Language schools and other employers don't typically provide accommodation free of charge to employees, but they will help you to find a place. The housing in Malta is of a good standard; with a lot of Mediterranean touches (think tiled floors and tons of terracotta!). Flats in the city centre in particular are very modern; whereas if you're living in a smaller town such as Fontana, the décor may a little old-fashioned, but still suitable!
Where could I teach English in Malta?

With English one of two official languages in Malta, the majority of the population speak very good English, and so there isn't much of a demand for English teachers from overseas. The peak hiring time is in April/May so that employers have teachers in place for starting their summer jobs; so it's best to start applying for jobs around this time to give yourself the best chance of getting a job! The majority of teaching jobs in Malta for teachers from overseas are at summer camps in the larger cities of Valletta, Sliema and St Julian's, like at the European School of English or the English Language Academy. If you're an EU resident and only want to work during the summer, you can stay on a temporary visa; and Australian nationals under 30 can work in Malta for a year on the Working Holiday Visa programme!
Valletta is the closest place to a big city, and seeped in history and culture, it's the perfect place if you like to see and experience different things! Visit the Saluting Battery, held every day at 12pm and 4pm, with a re-enactment of Victorian soldiers firing a cannon, before visiting the Mdina Dungeons (otherwise known as the Museum of Torture and not for the faint-hearted!). Finally, end the day with a stroll through the Upper Barracca Gardens, boasting the best view in the city, with views of the Grand Harbour and The Three Cities (Vittoriso, Cospicua and Senglea).
Very much a sophisticated city, if you teach English in Sliema, your students will typically be wealthier, and you'll have a much higher percentage of foreign students, as Sliema is particularly popular with tourists. Renowned for having the best shopping in the country, it's home to Malta's largest mall The Point, sprawled over three floors: boasting a range of European and British brands, the latter are heavily taxed so if you come from the UK, you're better off doing your shopping at home!
If you love to party, then St Julian's is most definitely the perfect place, with an abundance of bars and clubs situated in the Paceville district, otherwise known as 'Bar Street'. One place to visit is Bedouin Bar, where you can sip sophisticated cocktails whilst enjoying a sea breeze, or dance at the weekend when the Maltese DJs hit the decks.
Transportation

In the city
Malta is such a small country, it's actually comparable to a big city, with the public transport reflecting this. One company – the Malta Public Transport – runs buses that cover the whole island; and with a one-way ticket costing £1.20/$1.90, you can travel anywhere you want to: the bus from capital Valletta to Sliema takes only 20 minutes!
There are two types of taxis in Malta: white taxis (more expensive but can be hailed in the streets), and black taxis, which you have to call to book. Taxi fares are quite reasonable, with a trip from Valletta to Sliema costing £14/$22, and the drivers are usually honest and speak good English. Just for ease, download the Find a Drive app, which is essentially a free guide to Malta, where you can book a taxi for whenever you want.
When you're thinking about how to get to work and back, many people just use their car or scooter depending on the distance.
Further afield
The hours can be long in Malta: if you're lucky enough to secure a full-time teaching job in a language school, you could be working up to 40 hours a week; whereas if you teach during the summer, expect to work around 25 hours. It is therefore probably a good thing that Malta is so small, with everything easily reachable – there aren't even any trains, as you can catch a bus to anywhere on the island! Travel between the two larger cities of Valletta in Sliema in just 20 minutes; or get away to the sandy shores of Mellieha Bay at the top of the island in 40 minutes!
One must-do trip whilst teaching in Malta is catching the ferry to the island of Gozo – the trip takes half an hour, and costs just £3.70/$5.90 return; leaving every 45 minutes from Cirkewwa. Known by the locals as having the most picturesque coastline in the country, it's the perfect relaxing weekend getaway!
Situated in Southern Europe, both Italy and North Africa are extremely easy to travel to – especially with the abundance of European low-cost airlines. Catch a return flight to Rome for instance, for just £145/$230 (taking 1.5 hours), or travel to Tunisia for £200/$318 return… it's worth it just for the chance to say that you've been to Africa!
Insider Tips
Take a trip to the Temples of Ggantija: dating back to between 3600 – 3200 BC, they predate the Egyptian pyramids, with the remains of animal bones found here suggesting some religious rituals and sacrifices!
St Julian's and Sliema are particularly popular places to live for the under 40s, with the range of nightlife on offer: and with the bus between these two places to the capital taking around 20 minutes, you can afford to live in a different town to where you're teaching if you so choose!
It's trickier for American, Canadian and South African citizens to obtain a work visa, with the application process drawn out to around 9 months. Don't let this deter you though: apply for jobs plenty of time in advance, and contact your nearest Maltese embassy for more information.
Get the Brochure
If you're keen to find out more about teaching English then you'll want to check out the i-to-i free TEFL brochure. You'll find out all about choosing the right TEFL course, finding TEFL jobs abroad and the opportunities available to you.
Get your free brochure now