Teach English in Ecuador

Why teach English in Ecuador…
Beautiful beaches, amazing scenery and friendly locals, it's easy to see why teaching English in Ecuador is an increasingly popular choice.
Some people find jobs online and move just before they start, but it's much easier to move over and then start looking for a job teaching English in Ecuador, as the majority of vacancies aren't advertised online, and Ecuadorian employers prefer to interview teaching candidates face-to-face.
It's great for TEFL teachers because…
The demand for English teachers is high in Ecuador as the government have recently invested over $12 million annually in their English education program. This makes it a highly desirable place for newly-qualified TEFL teachers looking to get a foot on the South American TEFL ladder. If you are lucky enough to have a degree and some TEFL experience then you may be able to land yourself one of the much lauded 'International School' positions. Most English language teachers in Ecuador do some form of private tuition to supplement their income and you can charge an average of £7.50/$12 an hour.
All you need to teach in Ecuador is…
To teach English in Ecuador, unless you want to work in a University you won't need a degree; although you will need a minimum of 120 hours 120 Hour Online TEFL Course; although if you have no experience, the i-to-i 140 Hour Combined TEFL Course is ideal, providing you with practical classroom changing.
Average Monthly Teaching Salary
$600 / £375
Free Teaching English in Ecuador Guide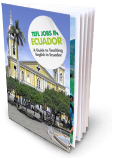 Get your free guide to teaching English in Ecuador and find out more.
Get the Guide
Basic Info
Language: Spanish
Currency: United States Dollar (USD)
Population: 15.75 million
Capital City: Quito
Cost of Living

Ecuador is actually surprisingly expensive. So, as English teachers have to pay for their own accommodation, they don't have much money left over once their contract has ended.
Accommodation costs are disproportionately high in Ecuador, and if you rent a one bed flat in the city centre, expect to spend 85% of your monthly teaching salary, at around £315/$510 in rent (bills included). You can save significant amounts of money if you find accommodation out in the suburbs and share with another teacher..
Ecuador loves a good 'meal deal' and 'almuerzos' is a lunchtime set menu that you'll find across the large cities – expect to spend about £2/$3. If you'd prefer to eat at home, a whole chicken will cost around £2/$3 and a 1kg bag of rice £1/$2.50
Food and Drink

Ecuadorian cuisine is a twist on South American dishes, with seafood and soup a favourite amongst the locals. A perfect example is Ceviche, which is raw shellfish marinated in either lemon or lime, and you can buy them from carts by the beach.
If you're feeling adventurous, then why not give the national dish a go? It's called Cuy, which is guinea pig, and can be roasted, baked, fried or stewed. Season it with spices and serve with potatoes and salad… as you can imagine, there isn't a lot of meat on a guinea pig, so why not be inventive like the Ecuadorians and try the brain as well?!
Drinks-wise, anything with sugar cane in it is very popular in Ecuador! Try a glass of Aguardiente – otherwise known as sugar cane spirit – or Canelazo, which is a mixture of blackberry juice, water, cinnamon and sugar cane alcohol served warm.
Weather

All of Ecuador enjoys a subtropical climate, with year-round temperatures of 20 degrees Celsius, so you can leave the winter clothes at home if you teach English in Ecuador! Although not as badly affected as other countries in South and Central America, Ecuador does experience earthquakes, and it has the most number of active volcanoes in the world – although that's nothing to worry about! Around the Andes, it floods a lot too – something to remember if you move to the cities of Quito or Cuenca.
Accommodation

Employers don't provide accommodation for those teaching English in Ecuador; although higher-end schools (mainly language and international schools) will often help you find a place. The standard of accommodation in city centres such as Quito or Cuenca are similar to what you'll be used to at home; and although housing in smaller towns are more old-fashioned, they are still adequate, and at lower prices, you get what you pay for.
Where could I teach English in Ecuador?

The largest cities of Quito, Cuenca and Guayaquil offer the most opportunities to teach English in Ecuador as the populations are larger, and there are more schools located there. However, you will need to be very wary of contracts: formal contracts are often only offered at Universities or international schools; whereas other schools offer verbal contracts of 6 months to a year. You should avoid these at all costs, as you'll have no proof of a job, and it means that your employers can fire you at any time. Make sure you conduct plenty of research into an institution before you agree to start teaching for them: reputable schools to contact include English First, Wall Street Institute and Key Languages.
To give yourself the best opportunity of landing a teaching position in Ecuador, apply for jobs around February and March as this is the peak hiring time, so new employees are in place for the start of term in September.
If you enjoy the bright lights of a big city, then the bustling city of Guayaquil is the best place to be. It's also the richest city in Ecuador with a huge port, and students here are more likely to be Ecuadorian elite; and schools will have more money and teaching resources available.
If you consider yourself a night-owl and enjoy spending your evenings in style, then the capital of Quito is the perfect city for you. The nightlife is best described as varied: amongst the many clubs (which play a mixture of salsa and strangely, electro), are sophisticated cocktail bars. If you want to soak up the culture, then Quito has an abundance of it, with a range of theatre performances, ballets and operas showing nearly every night of the week.
With a relaxed pace of life, Cuenca is the ideal option for those who are more laid back. Situated high up in the Andes, the scenery is beautiful, and the El Cajas National Park is a must-see on your days off from teaching English with over 275 lakes to discover.
Transportation

In the city
There are bus services in the cities in Ecuador, stretching from the centre to the outskirts, and with a one-way ticket costing a mere 15p/$0.25, you'll be able to get to your place of work easily and cheaply no matter where you live! The capital of Quito has also recently built a metro – whilst there are only 8 trains, it's ideal if you want to travel from the North to the South of the city; and it's the favoured route by the locals, of which 400,000 use it every day.
Like much of South America, taxis can be quite dangerous and are best avoided if possible – unfortunately, many drivers try to charge extra, will drive you to a different location, and can even hold a gun to your head. If you're travelling back late at night, avoid getting a taxi and ask one of your Ecuadorian TEFL colleagues to pick you up instead.
Further afield
An average working week teaching English in Ecuador is 25 hours of teaching a week, so you'll have plenty of time off to explore your new home, and with contracts ending in June, you'll be able to explore further afield with the money you've saved over the year!
If you're eager to see more of Ecuador, be sure to ride the most 'difficult train route' in the world from Quito to Guayaquil through the Andes and past volcanoes, with tickets starting from £6.20/$10. You can either get a one-way ticket, or take a guided tour, stopping off at various towns on the way, with prices starting at £114/$185 for a two day trip.
Ecuador is in the perfect location for exploring the rest of South America, and lots of English teachers spend their summers travelling to nearby countries. Although more expensive, going by plane is the best option as travelling times are much quicker: for instance, you can get a return flight from Quito to Bogota, Colombia for £330/$522, taking 1 hour 30 minutes, or a return trip from Quito to Lima, Peru for £360/$580, taking just 2 hours.
Insider Tips
Relationships between a teacher and student can be very close in Ecuador, and students are eager to work, so be prepared to make friends! If you offer private lessons, expect to be treated as part of the family, as Ecuadorians are so friendly.
If you're visiting Guayaquil, you have to visit Iguana Park – much like feeding the ducks at home, you can feed the Iguanas, who roam around freely, with fruit, vegetables and even bread! Averaging at 5 feet in length, the Iguanas can be little beasts, and are known to bite your fingers if they look tasty while you're feeding them!
If you're moving to Quito and want to live amongst expats, find accommodation in the North of the city around Gonzalez Suarez and Quito Tennis, where there are high-rise, modern buildings, and quirky café's lining the streets.
Get the Guide
If you're keen to find out more about teaching in Ecuador then you'll want to check out the i-to-i TEFL free guide. You'll find out loads more useful information on finding your first job, where you can teach and how to negotiate the best salary package.
Get your free guide to teaching English in Ecuador now