Our jobs
Here at i-to-i TEFL we pride ourselves on a few different things… our knowledge of TEFL, our passion for the best service possible and our enthusiasm for a slice of decent cake… If you're looking for a company who are hard working and professional, as well as being fun and enthusiastic about all things TEFL, we might just be the perfect match for you.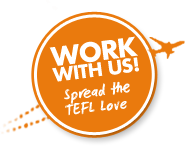 UK Office
TEFL Sales Advisors wanted!
Teach and Travel Group is the fastest Growing and largest TEFL Travel Company in the country. We are currently adding to our existing telesales team to help us continue to grow.
If you have a passion for Travelling and Sales this is the place for you!
We are looking for people with some telesales experience, ideally within the Travel and or Student Travel industry. We are looking for at least 2 years of selling travel or selling on the phone.
What you will get:
Full sales training
£18-20k Base wage (depending on Experience)
A monthly commission structure that will be set up to hit your OTE (£25k)
A realistic OTE, not like most sales jobs where this is a dream not an achievable goal!
Breakfast provided for you!
A fantastic working environment
Up to 50% off our travel products
25 days holiday per year
FAM Trips at appropriate times.
What you need:
A positive attitude and the will to succeed
Must want to earn commission and be confident you can perform
Have a passion for travel and experiencing different cultures
Experience with TEFL is a plus but not essential.
If you are interested please email: james.langton@teachandtravelgroup.com
TEFL Tutors Wanted!
If you're a talented TEFL teacher trainer with 3 years' teaching experience and availability at weekends, then we want to hear from you! We're seeking enthusiastic, inspirational tutors to deliver our 20-hour 'weekend' TEFL course. i-to-i, established in 1996, are the world's leading provider of online and short-course TEFL certification, with 15,000 graduates per year. We are looking for dynamic, experienced tutors to work with us and teach our 20 hour practical classroom based weekend TEFL courses. As well as developing tutees' practical skills, the tutor needs to inspire and motivate participants, giving them the confidence to teach in a real classroom. If you're looking for a company who are hardworking and professional, as well as being fun and enthusiastic about all things TEFL, we might just be the perfect match for you!
Details:
The course is designed to be practical, focussing on lesson planning, classroom management, and skills for teaching new language. Tutees also deliver two short practice lessons to their peers. Tutor duties to include:
Deliver weekend courses which includes:

Teaching TEFL methodology and language analysis
Running interactive activities
Facilitating discussion
Giving teaching demonstrations
Organising peer teaching practice
Giving oral feedback

Provide TEFL career advice
Promote i-to-i products and services to customers
Complete course administration in a timely manner (approximately one hour per course)
The successful applicant will be required to attend a minimum of one weekend TEFL course for observation and training purposes. Please note this is unpaid. Due to increased demand for our courses, we are looking for a tutor based within a 1 hour travelling distance of the listed locations. Offers of employment may be subject to a satisfactory Police Check. Tutors are employed as freelancers and are required to make their own tax arrangements.
Qualifications:
A DELTA qualification or equivalent qualification strongly preferred
Three years' teaching experience (ideally overseas)
The ability to motivate and inspire!
A strong commitment to customer service
A passion for teaching overseas and inspiring our students to achieve their dreams!
Knowledge:
Expert user of English
Strong language awareness
Familiarity with communicative methodology and PPP
A broad knowledge of the current TEFL job market
Compensation:
Excellent payment for each weekend worked
Full training from i-to-i on how to teach the course
All the resources you'll need for your students
The opportunity for additional earnings when extra courses are in demand
Successful applicants will also have the full support of our fantastic Operations team. Please note travel expenses to and from course locations are not made as an additional payment. This would be part of the weekend payment received.
Locations:
We're looking for tutors to deliver courses in:
USA: San Francisco, Los Angeles and New York
Australia: Brisbane
To apply, please send a CV and covering letter to recruitment@i-to-i.com.