Teach English in Japan

Why teach English in Japan…
The Land of the Rising Sun is such a beautiful country! With cosmopolitan cities, imposing mountains and respectful students, you can see why people are so keen to teach English in Japan.
There's a high demand for TEFL teachers all over Japan, and as over 70% of the country's expats are English teachers you'll be in good company. In fact, teaching English in Japan is such a valued and popular profession that some Japanese language schools even fly to England, America and Australia to conduct interviews with prospective TEFL candidates face-to-face.
It's great for TEFL teachers because…
Many people are attracted to teach English in Japan due to the high salaries, interesting culture and the ability to easily (and cheaply) travel throughout the rest of Asia. Most first time TEFL teachers in Japan secure a job as an ALT (Assistant Language Teacher) through the government sponsored Jet program although this is not the only option. The rest secure English teaching jobs in private language schools or 'cram schools' set up to help Japanese students pass their exams. It's very common for TEFL teachers in Japan to offer private lessons in addition to their regular job and these pay well, at around $40 per student per hour. If you're looking to teach private lessons you'll need to check with both your employer and immigration to ensure that your visa will allow you to do so. Classes for adults are particularly in demand as the standard of English amongst the Japanese isn't as high as in other Asian countries.
All you need to teach in Japan is…
To teach English in Japan, you will need a University or College degree, and at a minimum, the 120 Hour Online TEFL Course; although the practical element of the 140 Hour Combined TEFL Course is preferred if you have no experience of teaching.
Average Monthly Teaching Salary
326,750 JPY / £1,835 / $3,000
Free Teaching English in Japan Guide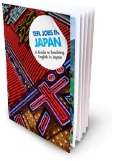 Get your free guide to teaching English in Japan and find out more.
Get the Guide
Basic Info
Language: Japanese
Currency: Japanese Yen (JPY)
Population: 127.3 million
Capital City: Tokyo
Cost of Living

Accommodation costs are moderate in Japan, with a one bed apartment in the popular Roppongi district of Tokyo costing around £500/$850 per month. Even better, you may not need to worry about paying for accommodation at all as around half of all Japanese TEFL employers will organise a free apartment for you, or an apartment allowance, for the duration of your TEFL contract.
The cost of food will also be in line with your wage, with a 1kg bag of rice costing around £2/$4. Fresh food is cheap and easy to come by in Japan, as most Japanese shop on a daily (rather than weekly basis). To adopt this healthy way of life just head to the 'Shotengai' markets located in every major city.
Nights out are reasonable too – even in the capital of Tokyo! A meal in an Izakaya (Japanese bar-come-restaurant) will only cost around £4.50/$7.50. A lot of people assume that Japan is expensive which is true as a tourist, but actually to live in, it's surprisingly reasonable!
Food and Drink

Japan is probably best known for sushi and there is a huge variety to choose from. Some of the most popular ingredients include squid, prawns and tuna, all of which are rolled in a ball of vinegared rice – great if you like seafood, not so good if you don't!
Teppanyaki is also a popular option and it's very common for Japanese TEFL employers to take their foreign teachers out for a slap up meal with beers on a monthly basis. This can be a real perk for those teaching English in Japan, and often goes on for a few hours, but do make sure to avoid the cultural faux pas of leaving before your boss!
Weather

Japan suffers from extreme weather, with temperatures regularly soaring above 35 degrees Celsius in the summer, and dropping significantly in the winter – sub-zero temperatures are a regular occurrence in Tokyo on a winter's night. Japan also suffers from typhoons (tropical storms) in September, which means that the streets are generally flooded. At least you'll get the opportunity to wear both your summer and winter clothes while you're teaching English in Japan!
Accommodation

Due to overpopulation in the major cities – especially Tokyo – apartments tend to be very small, with floors wooden and sometimes covered in tatami mats instead of carpets. There are two categories of flats: small ones are referred to as 'apaato' and larger ones are 'manshon', the latter being more expensive. In smaller Japanese cities, you can get much more for your money. On the lower end of a public school teachers wage you'll be able to comfortably afford a large 1 bedroom apartment in a nice area.
Where could I teach English in Japan?

The larger cities of Tokyo, Osaka and Yokohama have the best opportunities for TEFL teachers, as there are a larger number of schools, and a higher concentration of international businesses. Having said that, as the TEFL industry in Japan is so huge there are opportunities across much of the archipelago. AEON, ECC and Gaba are three of Japan's biggest language schools and have recruited thousands of TEFL teachers for all over Japan.
Japanese Public school TEFL jobs tend to be located in the smaller provinces and you won't find out exactly where you're placed on the Jet program until you're accepted. If you take a more laid-back approach to life, then you should consider teaching English in the Musashi's province, perhaps in Yokohama. A seaside resort with a beautiful waterfront park (Yamashita) – it's less than an hour from Tokyo, so you can easily reach the capital.
If you thrive on energy and chaos, then Tokyo is the perfect city for you, with a buzz 24/7 – similar to New York. Anything goes in Tokyo, dress up like a Harajuku Girl if you so choose (visit Harajuku on a Sunday to see young Japanese people dress in elaborate costumes), or relax in a café where you can sip your coffee with a cat! The nightlife goes on into the early hours of the morning, with places staying open until 5am.
Transportation

In the city
Public transport in Japan is (not surprisingly!) extremely efficient, with the metro the favoured route amongst the locals in Tokyo. With 26 lines spanning the city and outskirts, and a ticket only 90p/$1.50 it is the quickest and cheapest way of getting round Tokyo and getting to your school. The metros in Osaka and Yokohama are also of a good standard.
Taxi drivers in Japan are very trustworthy and are not the type to drive the long way to increase the fare – but if you do decide to catch a taxi, be sure to write down where you need to go in Japanese as not all drivers speak much English. Your new Japanese TEFL colleagues will usually be happy to do this for you.
Further afield
During your time teaching English in Japan, you'll have plenty of time to get out and explore. If you teach in a Japanese public school, teaching is usually limited to Monday to Friday, so your weekends will be free. Japan also has an astounding 21 national holidays and there will be vacation time built into all reputable TEFL contracts. This can range from 2 to 6 weeks depending on if you teach in a public school or private school. If you're looking to travel a lot during your time in Japan and vacation is more important than a high salary, you could try and look for a teaching job in a Japanese university where you'll get over 14 weeks' vacation time!
If you are keen to travel during your time teaching in Japan you must take a ride on the 'Shinkansen' (bullet train). The Tokyo – Osaka line departs every few minutes and is well known for its preciseness, often leaving on time to the absolute second. You can reach the two cities, which are over 500km away in just over 2 hours.
Japan's location makes it easy to travel to nearby countries (perfect for that lengthy summer school vacation) Fly with either Eastar Jet or Asiana Airlines and you can get a return ticket to Seoul or Beijing for under £200/$300.
Insider Tips
When you're teaching English in Japan, make sure never to touch your students on the top of their head. Although a pat on the head may be seen as affectionate in the West; in Japan (a predominantly Buddhist culture) it is seen as quite rude!
Although private language schools in Japan hire all year round, the main recruitment months for the JET programme are September and March. Make sure that you're TEFL qualified (and have received your certificate) at least 4 weeks before the initial recruitment dates. i-to-i accredited TEFL courses take around 6-8 weeks to complete so allow ample time!
There are 26 areas in total in Tokyo, but if you'd prefer to live amongst the other TEFL expats, find a flat in either Minato, Shibuya or Meguro, the last one being the most affordable. The Nakameguro area of Meguro is particularly nice, with artsy cafés and vintage shops lining the Meguro river, and is just a short metro ride to the centre of Tokyo.
Get the Guide
If you're keen to find out more about teaching in Japan then you'll want to check out the i-to-i TEFL free guide. You'll find out loads more useful information on finding your first job, where you can teach and how to negotiate the best salary package.
Get your free guide to teaching English in Japan now