Can I freelance as an online English teacher?
Teaching English online is an incredibly versatile and (in our opinion!) all-round brilliant way to earn your living. And it's not all about working for the big online language schools either. Whether you're looking for a full-time career or a side-hustle while you study, travel or work, it's perfectly possible to freelance as an online English teacher.
What is freelance English teaching?
If you're a freelance English teacher, you work for yourself rather than an employer. What this means in practice is that, rather than a language school paying you to deliver their lessons to their students, you are responsible for finding your own students, agreeing directly with them what you will teach and how much they will pay you for doing so. Oh yes, and actually delivering the online English lessons.
Before you decide this all sounds like too much hard work, there are definite benefits to freelance English teaching: you can choose who and when you teach, what types of lessons you want to deliver and how much you'll charge. Plus, all the money that students pay goes directly to you, rather than being top-sliced by a language school. Does that sound a bit better?
Can I work for a language school AND freelance?
If you're not ready to plunge into freelance teaching full time, a midway option is to teach a small number of freelance students alongside a salaried job with an online language school. This will enable you to dip your toe into the water of going it alone, while having the safety net of a regular pay check. If you find that your freelance teaching is building up, you can reduce the hours you work for the language school – or keep doing both if enjoy the variety.
One word of warning before you send a sales pitch to everyone you've ever taught or worked with – we'd advise against poaching students from where you work, however tempting it might be. Even if it's not officially against the T&Cs in your contract, it's not a good idea to get on the wrong side of your employer if you want your contract renewed or might need references in the future!
What qualifications do I need to be an online English teacher?
Technically, you don't need any formal qualifications to be an online English teacher – although if you don't have strong English language skills, it's probably not the best career path for you! In practice, online language schools generally expect their English teachers to have native-level English skills and TEFL certification. A degree and previous teaching experience are also desirable.
As a freelancer, the requirements are less rigid, although the more you can offer the better chance you have of finding students. As a minimum, we strongly recommend that you take a recognised TEFL course so that you have a good grounding in how to develop and deliver well-structured English lessons that can be adapted to a range of different students. These skills are particularly important when you're working as a freelance teacher as you'll be responsible for creating your own curriculum, course structure and lesson plans. If possible, opt for a TEFL course that includes a specific module in teaching English online, so you can learn about the specific techniques that work via this teaching format.
How do I create an online classroom?
You don't need a huge amount of technical equipment to teach English online. If you've got a reasonable computer / laptop, reliable internet connection and a decent pair of headphones, ideally with a built-in microphone you've got the basic infrastructure sorted.
If you're freelancing, you'll also need to sort out a means for you and your students to see and talk to each other. Don't be overawed by the hi-tech virtual classrooms that the major online schools use. It's perfectly acceptable for new freelance teachers to use either Skype or Zoom to deliver online English lessons – and versions of both can be downloaded for free.
Regardless of the software you use, one important factor to bear in mind is what your students will see on their screens. Make sure you dress as smartly as you would for face-to-face TEFL lessons and take time to check what the camera is picking up from your background before your first lesson starts. Ideally aim for an uncluttered, neutral backdrop, such as a plain wall or curtain. If this isn't possible, make sure that there's nothing that could offend a student, such as a provocative picture on your wall, bearing in mind that the cultural norms for your students may be vastly different from your own.
How can I find students?
If you work for an online language school, they'll do the legwork of finding students, enabling you to simply turn up to teach. When you're freelancing, it's up to you to bring in your own student, which means you need to market your online English lessons.
It's useful to have a website setting out what you offer, ideally including a short video clip from one of your lessons, to give potential students an idea of your teaching style and accent. If you're not technically minded (and can't afford to pay a web designer to build your site) take advantage of one of the good website builder sites out there which enable you to create good-looking, customised sites using their templates and tools.
A website alone won't get you students however. To build interest in your online English teaching, you'll need to do a range of marketing activities, such as telling everyone you know in both the real and online world that you're now delivering online English lessons and are ready to take on new students. If you're on social media, you could link up with relevant groups and forums – try to offer useful tips and information, as this can be more powerful than attempting to directly sell your services. It's also worth considering targeted offers, such as free taster sessions, discounts for booking multiple lessons and rewards for referring a friend.
How do I know what to teach my students?
What you teach your online English students will depend on their individual aims. For example, one student may want general conversational classes in order to improve their accent and vocabulary before a holiday abroad, while another may need to cover specific learning objectives to help pass an English language exam.
Take time to confirm your students' requirements before you start teaching them so that you can plan appropriate lessons to meet their specific objectives. However, it's always worth remembering that, as a freelance teacher, it's up to you which students you take on. If you don't feel comfortable teaching business English right now, then don't!
How much can I earn if I freelance as an online English teacher?
If you're freelancing, it's up to you how much you charge. However, it's sensible to do some research rather than plucking a figure out of the air – after all, you don't want to be slaving away for peanuts or pricing yourself out of the market.
The appropriate price to charge will depend on a number of factors, including what level you are teaching, where your students are based and your level of qualifications and experience. If you're unsure where to pitch your rates, check out both what language schools are charging for similar types of lessons / students and how much they are paying to their TEFL tutors. Ideally, you want your rates to be somewhere in the middle (ie a little less than the companies charge their students but more than you would get as a tutor, as you'll be carrying out additional activities such as marketing).
As an aside, it's worth issuing all your students with a standard contract that clearly sets out what you will deliver (and what you won't!) as well as a cancellation policy for those inevitable times when students don't turn up to lessons. It will give your freelance services a professional feel – and provides you with a clear agreement to refer to if things don't go quite to plan at any point.
Can I keep all the money I earn?
Sorry, but not all the money you're paid by your students is yours to keep. When you work for an employer, they normally deduct tax before paying you your wages. However, if you're working as a freelance teacher, you'll be responsible for paying your own tax – which means some of that cash belongs to the taxman.
Systems and requirements vary between countries. However, if you're in the UK, you'll need to inform HMRC that you're self-employed via a relatively straightforward process on the government's website. You'll also need to keep records of all your income and expenditure, to ensure you pay the correct tax at the end of the year – although whether that's throwing all your receipts into a box or investing in an all-singing, all-dancing finance system is up to you (somewhere in between is probably the happy balance!).
To avoid being faced with an unexpected tax bill, a good tip is to put a third of any payments you receive into a separate bank account, which you don't touch. You can then use this to pay your tax bill at the end of the year – and if there's any extra in your account, you can feel super happy at the unexpected bonus.
Can I teach English online at the same time as travelling?
One of the most fantastic aspects of teaching English online is that you can build up your freelance business as you travel the globe.
As you're delivering your classes virtually, your students won't care where you're teaching from, as long as you've got a quiet space to set up and a good internet connection to make the lesson work effectively. As a freelance teacher, this means you can teach English online from pretty much anywhere – and take your students with you! It's a great way to build up funds before you travel and to top up your wages when you're in country.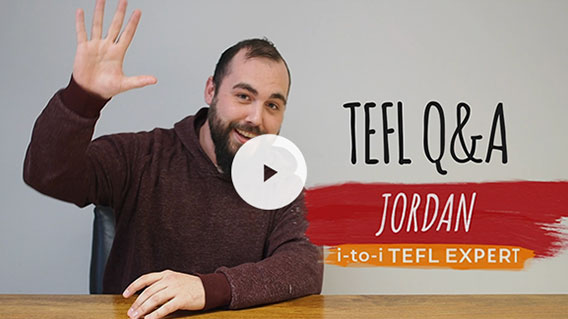 Take our 2-minute teaching online quiz to find out if you're eligible to start earning from home as an online English tutor!