Super-experienced TEFL professional and trainer, Lisa, went live on i-to-i's Facebook page to talk about the value of taking a practical TEFL course and answer all your burning questions. Watch the full webinar or read on for edited extracts.
Why is the Practical TEFL Course important for new teachers?
The Practical TEFL Course makes all the learning from your Level 5 TEFL Course real. It is a dynamic, experiential way of getting to grips with all of those skills and techniques you have been learning about, such as lesson planning, one-to-one learning and online teaching.
Aside from your TEFL qualification, experience is the holy grail of TEFL teaching. Teaching is like going to the gym. You don't get better by just reading the book. You do the exercises. This is what the Practical TEFL Course offers you: that space to test and build your muscles – putting your learning into practice and trying those skills out.
What does the Practical TEFL Course cover?
The Practical TEFL Course gives you a toolbox for TEFL teaching.
The course covers the communicative principles of teaching: how to be student centred, how to get students talking, how to get students talking with each other, how to choose topics that are relevant to them. We explore speaking slowly, making your instructions clear, checking your instructions, checking new vocabulary, error correction, pronunciation – all these kinds of things.
Grammar, your favourite! We look at how to approach grammar using the TEFL principles – how to design a warmer, have a presentation phase and a space where learners practise and produce grammar, how to help your students hone their skills, activate what they already know and then grow in that area.
We cover how to plan lessons for particular learners and what activities to use for different age groups or levels. For example, if you are designing a lesson for three to five-year-olds, you can't choose a writing task because your learners might not be able to read or write. We also look at a receptive skills (reading and listening) lesson. We think about how to structure it in a way that really brings the content to life, through a podcast or an article or a recipe or a song, for example.
We also look at how to work with course books and how to choose resources, including visuals, online resources and real objects, which we call realia.
How is the Practical TEFL Course delivered?
The Practical TEFL Course  is a two-day interactive workshop plus a couple of hours for a reflective task which you do on your own. It's super student-centred and includes loads of practice of the TEFL principles and skills. A lot of lesson planning is in groups or pairs, so you don't have to stress if you are shy.
Your first teaching practice session is your starting point and then you build on that. No matter how wonderful or how nervous you are, no matter how many things you forget to put in – it does not matter. What is important is that you are stretching those muscles, you are learning how to put it all into practice and you are growing. We are not looking for perfection. We want to plant the seeds and see you putting the tools and skills and techniques into action over the course of the two days – correcting and drilling and presenting in a way that elicits from your students rather than gives them all of the language.
The course also has space for you to ask questions and to plan for the next steps of your TEFL journey – what people look for in an interview, where you can look for jobs, etc. It is a highly valuable experience. You get to be a learner and get a sense of how your learners feel and, at the same time, be a teacher and get to feel what that looks like.
Why should I do the Practical TEFL Course?
In your Level 3 or Level 5 TEFL Course, you learn about lesson design and what activities you should choose and why. In the practical course, you practise using these skills, so they're not just a concept but help with your actual teaching. You also learn how to use TEFL techniques, such as checking instructions and eliciting, to make your classes very interactive and dynamic.
You have fun, interactive, stimulating, interesting input sessions from your trainer, where you explore some of the TEFL skills. You also plan and deliver very short examples of lessons and receive feedback from your trainer. I know it may make you nervous but it is a luxury to be observed and receive feedback. It will not be critical or negative. It is supportive and encouraging.
You also work in pairs and groups on the course and learn from one another. That is absolute gold – sharing ideas, giving inspiration. You get to be creative. You get to play with the concepts. You get to test out the skills. You get to build your muscles collectively in a group, in a very supportive, engaging, exciting environment. It is a very creative space. We get lots of different ideas for warmers, lots of different ideas for how to present and elicit, lots of ideas for controlled and free practice. On your first day of work, you will be much better prepared. You will be loaded up full of that creativity and ideas, which is fantastic.
How will the Practical TEFL Course add to my TEFL readiness?
Your TEFL qualification is a great and necessary starting point for your career. But imagine the difference if you have also spent two days planning lessons, delivering lessons, getting feedback, thinking about how to do it better. You will be so much more equipped for the practical experience of the first day of your job.
The Practical TEFL Course gives you a feel for the teaching space. It gives you that little bit extra when you're responding to job applications. It means that, when you have an interview, you will have a lot to draw on and your ideas on why you would choose particular activities as opposed to others will be much clearer. You will come across as really prepared and professional.
The course also prepares you for any number of situations in the classroom and online. It gets you generating ideas. It gets you comfortable with what is out there in terms of resources. You will know how to pick up a coursebook or click on an online lesson and pick the activities that will really work and add other ones to follow a logical flow.

Is it essential to do the Practical TEFL Course?
The Practical TEFL Course is not compulsory but it is a very valuable part of your training as a teacher. It puts all of the TEFL principles into practice and equips you to deliver an interactive, dynamic, engaging, effective TEFL lesson. Personally, I would recommend it as it gives you practical experience and time being observed with input from others.
When should I do the Practical TEFL Course?
Wherever you are in your TEFL journey – whether you are a new TEFL teacher, whether you have already finished the course or whether you have just started the course – you can participate. It is better if you have begun your Level 5 or Level 3 TEFL Course so that the concepts make sense and you have a little bit of context and familiarity with the skills but you definitely do not have to have completed the course before you do the practical and it is not compulsory to be signed up to one of the other courses to do the Practical TEFL Course.
There are pros and cons to doing the Practical TEFL Course at different times in your journey. If you do it early on, it can help you to make sense of the concepts and you may then find it easier to work through all the online content. If you do the practical course at the end, then you consolidate all that online learning and it is your last step before you launch your career. What a wonderful way to really hone your skills.
Can I do the practical course during Covid?
In South Africa and the UK, the in-person courses are opening back up. There are protocols in place to make sure they are safe for everybody. For instance, we ensure that classes are socially distant and all the materials get sprayed.
For the rest of the world, we are offering virtual practical courses, which are incredible and cover the same skills, techniques and teaching practice. We have adjusted it a little bit but not so far that it is a completely parallel experience. It is engaging, interesting and enjoyable. I have been doing the courses and have had teachers from all over the world.
What's the difference between the classroom and online versions of the Practical TEFL Course?
The classroom course and the online course have the same content. It is the same process. It is the same skills. It is the same amount of teaching practice. However, we have made a couple of adjustments to make sure we can run the course in the most engaging and reflective and informative and exciting way in both the formats.
For example, in the online course, we use the interactive whiteboard as opposed to the physical whiteboard and the experience of how we manage group interactions and break out rooms and planning together is slightly different online – but we still have wonderful, dynamic, interactive engaging, informative experiences with the online courses.
When do the Practical TEFL Courses take place?
Most in-person courses run for 20 hours over a weekend but there are some online mid-week options available. You can check when courses are running on our TEFL Course Locations page .
If you are not sure if you can attend the course in person, i-to-i has a flexi-book option that's valid for 12 months, so you don't have to sign up to a particular date immediately. You can book it, and then you can decide when, where and how to do the course – whether it is online or in-person, depending on your needs.
Is the Practical TEFL Course for online or classroom teaching?
The Practical TEFL Course equips you for TEFL teaching in general, both in the classroom and online – no matter where you do it, when you do it or how you do it.
If you do the course in person, you will reflect on teaching online and if you do the course online, you'll look at classroom teaching. You will be equipped for both.
If you are interested specifically in teaching English online i-to-i also offers online teaching practice sessions twice a month.
Does the course include teaching adults?
The course prepares you for teaching both adults and young learners and you will see a wide range of age-appropriate activities and lesson designs. It is quite a comprehensive experience to go into your toolbox.
When you do lesson practice, you have the freedom to choose if you want to design a lesson for kids, adults or teenagers. Your trainer may give you a general topic, such as animals or colours for an elementary level. It is then up to the people in your group to decide how old the learners are going to be and what sorts of activities you should use.
You will also get to know the levels. At the moment, you might wonder what it means for somebody to be elementary or advanced or at intermediate level. In the practical course, we do a lot of practice around ensuring the activities are appropriate for the level.
How big are the classes for the Practical TEFL Course?
In-person class sizes vary, depending on the location and also on Covid restrictions. There is a maximum number of 12 or 14 for the online sessions, to make sure everybody gets the time that they need.
For all the courses, numbers have been capped to make sure that you get your full learning experience but also to ensure we have diversity and vibrance in the group, so you can work with people from different backgrounds and with different ideas.
Should I do the course if I already have diploma / teaching experience?
I recommend you do this course even if you already have a teaching qualification because TEFL methodology is different from traditional teaching. It is more of a facilitation approach.
In this course, you learn all of your wonderful TEFL principles, things like minimising the amount you are talking and maximising the amount the students are talking, eliciting rather than telling your students, checking your instructions rather than asking a student if they understand, learning how to engage students to speak with other students, checking for meaning, using concept checking questions – these skills are specific to the TEFL methodology. There is also a part of the practical course where you get to experience the methodology in action, as a learner. That is something that is not necessarily present in traditional teaching.
Of course, if you are a super-experienced teacher, you will have an advantage but I still recommend that you practise the specific TEFL techniques. That is what is wonderful about the course.
Do you need a degree to get a TEFL job?
No, you don't need a degree to find a TEFL job. Although you will need a degree to work in some countries, such as Japan, there are a range of jobs available to people who do not have a degree.
The i-to-i website has loads of information and articles, including details of where you can TEFL with or without a degree.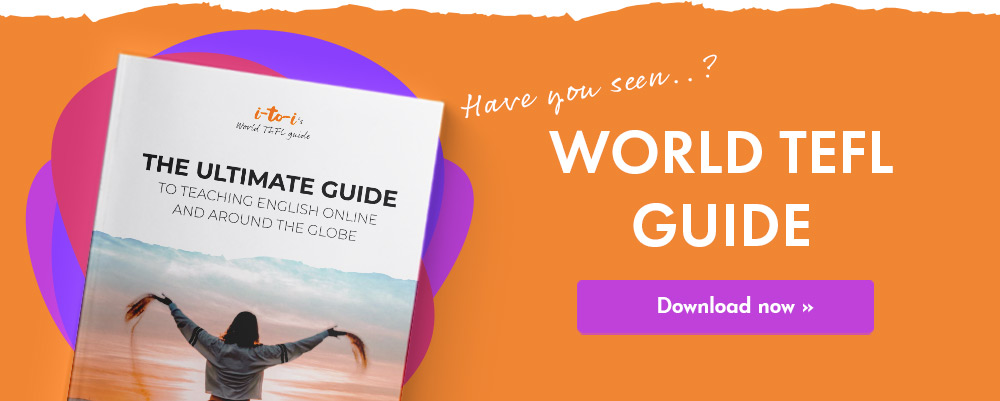 Is there an upper age limit for TEFL?
You can participate in this course no matter what your age or background. You don't have to have a degree. You don't have to have teaching experience. The course is available to whoever wants to learn these skills.
Your age might be relevant for specific TEFL jobs. For example, if a very active summer school needs people who can run around a lot and do very long hour days, it might not be a good match for someone in their seventies. For other forms of teaching, particularly online, there is not an upper age limit. If you have life experience, then you have that to add to your TEFL teaching toolbox and it can actually be a positive thing.
Should I look at platforms where I simply pay for a TEFL certificate?
No! I would not waste my time and money on anything apart from a proper, accredited course, such as i-to-i's Level 5 qualification . I certainly would not advise you to go out into the world with a certificate where you have not done any learning. Apart from the fact that you won't know what to do when you get in the classroom, you want to have a respected and recognised qualification to go forward into the world.
i-to-i certificates are accepted all around the world and are one of the most widely recognised qualifications.
Do the Practical TEFL Course!
The Practical TEFL Course is so much fun. At the beginning, you might be bit nervous but, by the end you will not want to leave. This course gives you that boost to think, 'I can do it!' It gives you confidence that you know how to put your learning into practice.
Just do it. Jump on there. Join us in this adventure. TEFL is so much fun. You get to speak to people all over the world and add value to their lives and add value to your life. The TEFL classroom should be a dynamic place. It should be an engaging place. It should be a place where you leave feeling richer in yourself, that you can do something that you could not do before – and the same goes for this course. Come and do the practical course for two days of your life and leave feeling your skills can grow and grow.
I hope to see you on a course and I wish you all luck on your learning journey. Teaching is the most wonderful way to work in this world.
FIND OUT MORE
Listen to the full webinar
Book your Practical TEFL Course 
Read our latest TEFL Jobs Market Report