Can anybody teach English online?
Teaching English online is an incredibly versatile way to TEFL (Teach English as a Foreign Language). You can teach English online as a full-time job or as a lucrative side hustle while you're studying or working in another job. Even better, as long as you have a reliable internet connection, you can teach English online from pretty much anywhere in the world.
However, while it's pretty simple to set up as an online English teacher, this doesn't mean that just anybody can teach English online. Check out our seven questions below to decide if online English teaching is for you.
1. Are you fluent in English?
This may sound obvious but you must have good English language skills in order to teach English online.
Employers frequently specify that you must be a native English speaker in order to teach English online for their company (which, in TEFL terms, means someone whose first language is English and who's a citizen of the US, UK, Canada, Ireland, Australia, New Zealand or South Africa). However, while it's true that native-English speakers may find it easier to bag an online teaching job, it's not essential in order to teach English online. What's important is that you're extremely proficient in all forms of English – from speaking and writing to vocabulary and grammar.
2. Have you completed a recognised TEFL course?
Knowing how to speak English well is a great start but it's quite different from understanding how to teach it effectively. Pretty much all decent online English teaching jobs expect you to have completed a TEFL certification course before they let you loose on their students. Plus, we reckon it's pretty important to know how to teach English before you're faced with your first set of eager students waiting to learn.
These days TEFL courses are incredibly flexible, so you should be able to find one running at a time and place that suits you. You can even opt for a fully online training course, getting you into the online teaching zone from day one.
Good TEFL courses include a blend of theory and practical skills, including how to create a well-structured lesson plan, teach different types of lessons and get the best out of students. As well as the basics, it's worth looking out for a course that includes a specialist module in online teaching so you can understand the specific teaching techniques that work best for this format of teaching.
3. Do you have the right equipment to teach English online?
You don't need to invest thousands of pounds on a hi-tec virtual teaching environment in order to teach English online. However, you will need a few essential items in order to get up and running. Before you panic that you'll need to shell out money before you've bagged a teaching job, you may well have all of these already. The basics you need are:
A reasonable-spec laptop / computer
A good set of headphones, ideally with a microphone
A reliable internet connection
A quiet space where you can teach – students don't appreciate noisy lorries and hissing coffee machines breaking up their lesson time!
That doesn't sound too bad, does it? And if you're planning to teach English online via an established online TEFL company, that's pretty much it. Your employer should give you access to their virtual classroom set-up, so you'll simply need to log-in and get going.
If you're planning to work as a freelance English teacher, you will also need some way of connecting with your students, to deliver the lessons. However, Skype or Zoom is fine to get you started – and both have versions that you can download and use for free.
4. Do you have a degree?
If you have a degree in any subject, it's a definite plus when you're looking for a TEFL job – whether the position is online or classroom based. Students and employers from Asian countries in particular prefer their English teachers to have a degree, even if it's not in a subject that's relevant to teaching English online. So, if you do have a degree, make sure you mention it in your application / marketing information – it will help your application move up the pile.
Having said that, if you don't already have a degree, we don't suggest you spend the next three years' swotting for one, just to get a TEFL job. There are opportunities out there to find online teaching work without a degree, particularly if you're TEFL certified and have previous experience. Just be prepare that you might need to work a little harder to bag one though – and definitely be ready to showcase all your other relevant skills when you apply.
5. Do you have previous TEFL experience?
Similar to having a degree, previous TEFL experience is a bonus rather than essential. You will see it specified in online English teacher adverts, particularly for the more prestigious (higher paying) companies. However, if you're a TEFL newbie, there are opportunities out there as long as you're trained in teaching English and willing to be flexible.
Be prepared to work your way up – you're unlikely to bag your dream job with a top salary from day one. However, if you're ready and willing to take on students of all ages and levels, teach during the peak hours and, most importantly, turn up on time when you're scheduled to work, you'll soon build up the experience to move up the ranks and have those bonus payments heading your way.
If you're struggling to find your first online TEFL position, take a look at conversational language apps or online marketplaces, where experience is far less essential. Alternatively, if your circumstances allow, why not teach in a classroom initially and then move onto online teaching once you've got that crucial experience under your belt? There are numerous TEFL employers in Eastern Europe and Asia that are happy to take on newbie TEFL teachers.
6. Can you find students to teach?
Having students to teach is pretty important for an online teaching career, we reckon! If you're new to online English teaching, the simplest way to find students is to apply for a job with an established language school. They will do all the legwork of recruiting students and so you simply need to turn up and teach. This is also a good way to feel your way into online teaching and build up your experience while you're being paid.
TEFL jobs boards such as LoveTEFL advertise online teaching positions with language schools and they're becoming increasingly common. The recruitment process for online teaching jobs tends to be pretty speedy too. You might even find yourself teaching your first student within the same week as you applied!
If you're intending to work as a freelance online English teacher, you will need to recruit your own students. Word of mouth is often the most effective tool, so tell everyone you know that you're offering online English lessons and consider offering free or low-cost taster sessions to help build up your student base.
7. Are you self-motivated and organised?
When you're teaching English online, there's no-one ringing a bell to indicate the start of lessons and there's unlikely to be anyone checking that you've done your admin or laid out your teaching resources before the lesson is due to start. It's down to you.
If you're the type of person who needs to be dragged out of bed and can only work effectively if you're being micro-managed, you might be better looking for a more structured work environment.
However, if you're organised, self-motivated and good at timekeeping, online English teaching could be your perfect fit. Before your lesson starts, make sure you know exactly what your students are expecting you to teach and invest time in preparing or reviewing suitable lesson materials. Now all you need to do is make sure you turn up to the lesson on time, with your equipment working, and you'll be ready to teach a fabulous online English lesson.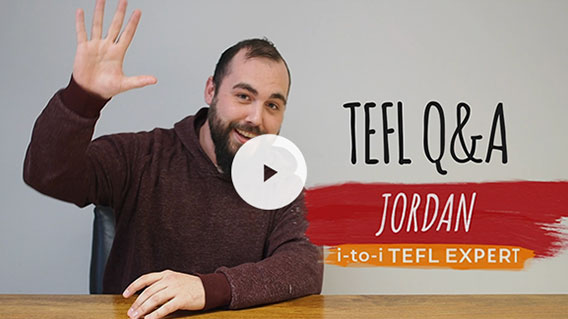 Take our 2-minute teaching online quiz to find out if you're eligible to start earning from home as an online English tutor!