Landed yourself an online English teaching job or some freelance students and ready to dive into your first lesson? Go you! But now comes the nerve-wracking part – delivering your first ever online lesson! Whether you're new to teaching altogether, or just new to online teaching, you'll need to do a bit of preparation ahead of your lesson. Carry on reading for our top tips and tricks to help you on your way…
Tip 1: Set up your workspace
Firstly, before you teach any online English lessons, you need to make sure your workspace is set up to work for you. That means setting up in a quiet area of your home, away from any distractions. Once you've set up your laptop, iPad or PC with any external hardware, it's a great idea to give it all a test to make sure it works as it should. You could try doing a small recording of yourself talking and playing it back to check the video and audio is clear, the last thing you need during your first lesson are tech issues! Wondering what equipment you'll need? Check out our teaching online equipment page for a full list of everything you might need and where you can buy.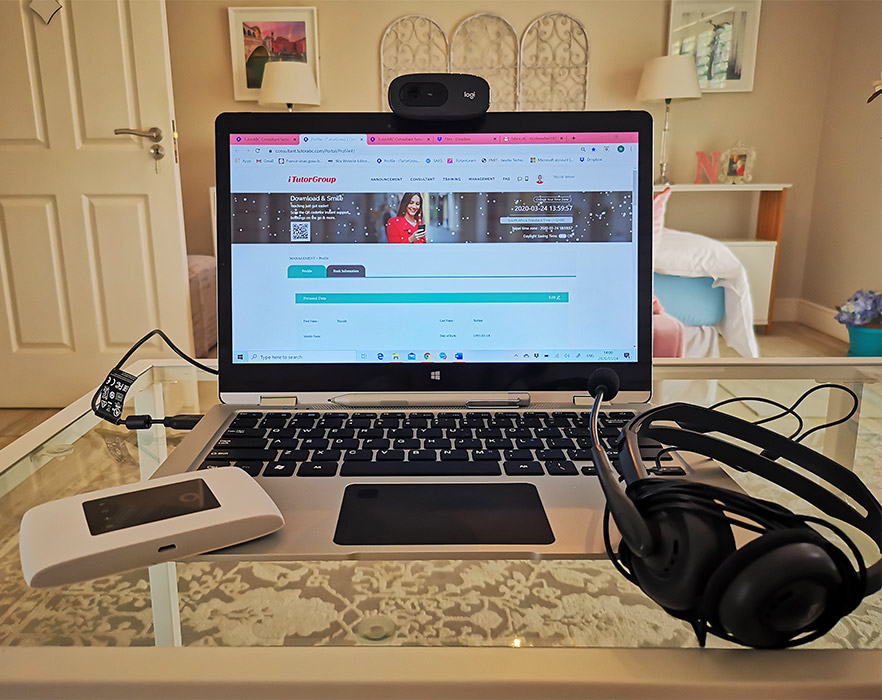 Tip 2: Choose your software
If you're working for an online company, they'll often have their own teaching platforms or will want you to use certain software. If this is the case, you can pretty much ignore this tip, but it's still a good idea to familiarise yourself with it, have a play around with the tools and get to grips with how it all works before your first lesson. If you've decided to go it alone and are freelancing, you'll need to choose a software that works for you. There are plenty of different options out there but some of the most popular video conferencing software amongst online teachers are Skype, Zoom and Google Hangouts. Check out our 'Using Zoom/Skype/Google Hangouts for Online English Classes' blog for more information on the pros, cons and features each software offers.
Tip 3: Plan your lesson effectively
Even if you work for a company that provides a curriculum and lessons plans, you'll still need to make sure they work with your teaching style and that you're familiar with them. Don't work for a company that provides lesson plans? Pick up a copy of our Online Teaching Starter Pack which includes 20 Online Lesson Plans eBook or scour the internet for online lesson plans and use them! Making sure you're prepared is the key to absolutely smashing your first online lesson. If you're still feeling a little nervous or under prepared, you can practice your online lesson with friends or family to give you a boost in confidence.

Tip 4: Be prepared to do lots of talking
As most online lessons are one-to-one, there's a lot of emphasis on speaking. Unlike classroom lessons that usually include group work, listening exercises, reading, and writing, online lessons focus more of the speaking side of things and will include lots of conversations with your students. Although you can still get your students to complete activities during your lessons, the majority of their learning will be done through the conversations you have.
Tip 5: Have some props handy
Whether you're teaching adults or children, props can really help your students visualise and learn. Plus, when you're teaching children, they're great for keeping them engaged and entertained throughout your lesson. Props don't have to cost much, in fact, they don't have to cost anything at all – you can use items from around your house and print of colourful pictures to incorporate in your lessons.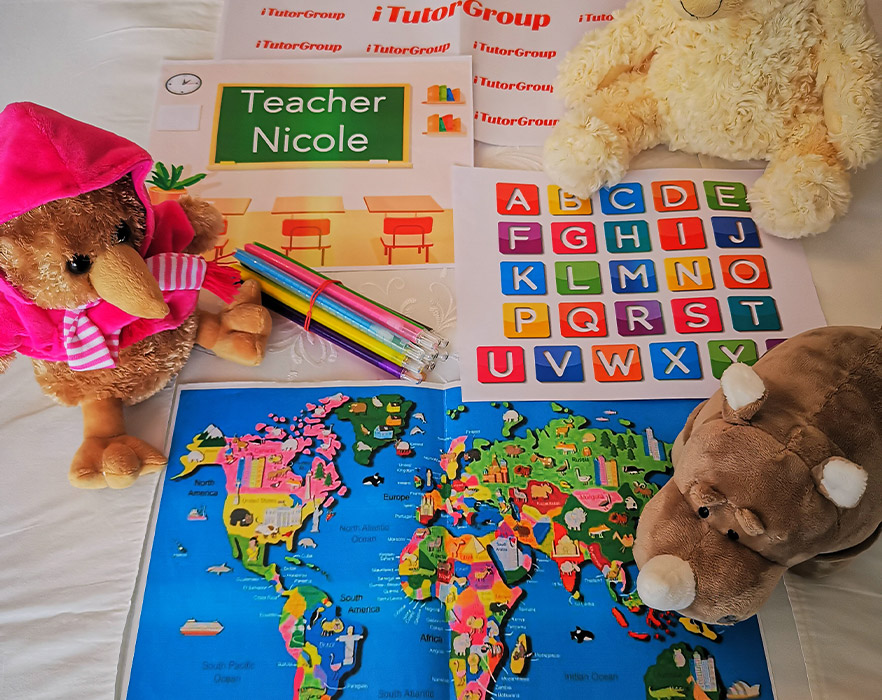 Tip 6: Enjoy yourself!
We know you're nervous but remember to smile and enjoy yourself! When you're having fun, your students will too and they're more likely to come back to you if they enjoy their lesson. Introduce yourself, find out a little bit about them and then ease into your lesson plan.
Good luck and happy TEFLing!