Ciao, amici! Hello, friends!
My name is Shelby Elkins, and I am an i-to-i TEFL graduate. I have been teaching in Italy for around two years working in education, and I can honestly say that I don't regret a moment of my experience as an English teacher abroad. Whether it is the slow pace of life, the low cost of living, or the community I have developed, I know that teaching in Italy was the right move for me. No big change in life is always easy, and it is always made smoother by conducting research and planning. So, are you considering moving to Italy and teaching English? I hope these tips and pieces of advice are helpful for you as you decide if TEFLing in Italy is right for you.
Top tips
Get TEFL qualified
i-to-i is the perfect place for you to start by getting TEFL qualified. With your accredited certificate, you have one of the most important tools to find a job teaching English. I found i-to-i when I was researching companies to start my teaching journey. I chose i-to-i because I wanted a company that would be able to support me and help me along with my course completion and job search. They have academic support as you work on assignments and help as you navigate your job search. I started by completing my 120-hour TEFL certificate, but I am now working on my TEFL diploma because I know how much their coursework contributes to my growth and potential in the classroom. My i-to-i certificate was asked for and accepted by all the companies I have worked with online and in Italy. Get qualified today!
Find a job
Of course, you wouldn't be reading this if you weren't considering working in Italy, so you must focus on finding a job first! For most people, you cannot move to Italy unless you have secured a job and worked out your immigration situation. Some citizens of the European Union have privileges of being able to move and then find a job in Italy, but for most other people you must have one to even qualify for a work visa.
Finding a job can seem daunting and difficult at first, but there are so many opportunities available. English is not widely spoken throughout Italy, so language centres are everywhere and always looking for new teachers to join their teams. When looking for a job, you can find many postings on linkedin.com, indeed.com, and subito.it. These websites are commonly used by recruiters to post teaching jobs.
My personal tip to you is to find the school or franchise that you want to work for, and then personally reach out to them. Share your credentials, CV, and an intro video so that they will be sure to remember you. Many recruiters in Italy will not post jobs but seek candidates through current employees or former candidates they have interviewed. By contacting them first, you ensure they know you exist and that your candidacy will not be lost in the pile of applications from a posting online.
When you are offered a job, be sure to discuss what the process might look like for your visa, compensation, and professional development. Some language centres will sponsor your travel visa, or some may not be interested in this option at all. Some might be able to negotiate your salary, and some might even sponsor your professional development to raise your i-to-i TEFL Certificate into a diploma! It never hurts to ask how you can grow with a company; it shows that you are invested in the opportunity.
Make a plan
You have secured your job, but what comes next? Here are some of my recommendations for planning before you move to Italy to start your TEFL job.
Find a place to live. Consider all costs included in living and how close you will be to your new job. It is common to not have a car when moving to a new country, so will you be close to public transit? Will your job sponsor your housing or will they cover your transit pass?
Plan and take care of any immigration documents well in advance. Immigration to Italy can take months to complete, so you need to be prepared. Starting as soon as you can is the best start to turn your paperwork into a "work visa" that grants you entry into the country.

Ensure you have everything in your new living/work environment to be successful from the beginning. Have you coordinated your new Wi-Fi to be working by the time you arrive? Did you print any props you might need before throwing out your old printer before the move? Your computer charger might not fit in the Italian electricity plugs, so research what adaptors you might need to allow you to have a seamless transition into your new "casa Italiana."
Coordinate your arrival to the city. How will you get from the airport to your new house? Will all your things fit in your suitcases? Your new job may offer to pick you up from the airport and help you get settled in. If this is available, take advantage of it so that you can arrive smoothly and meet some of your new colleagues soon. Maybe offer them a coffee so that you can start building connections the moment you arrive.
Immerse yourself in the culture
When you move to a new country, making friends and adapting can be one of the biggest challenges you face. As a teacher in Italy, it is very important to find ways to immerse yourself into the culture so that you can develop a community of support and growth. Here are some ways you can immerse yourself quickly:
Join local ex-pat and English Teacher groups on Facebook or other social media platforms. These groups often have group events where you can meet other people in the community while also communicating in English. Some groups will organize trips, meals, and professional development opportunities.
Introduce yourself to the people that live in your building. Italians love their families and communities. Once you know the people around you, they will often welcome you into their family and include you in celebrations, dinners, and outings in the town. When you need assistance, these are often the same people that will help you at a moment's notice.
Get to know the owners of the shops that you frequently visit. Many businesses in Italy are family-run and the owners love residents that frequent their establishments. When you know the businesses around you and their employees, you can quickly find yourself getting a higher level of service and particular attention as you adjust to markets and shops that are different from your home country.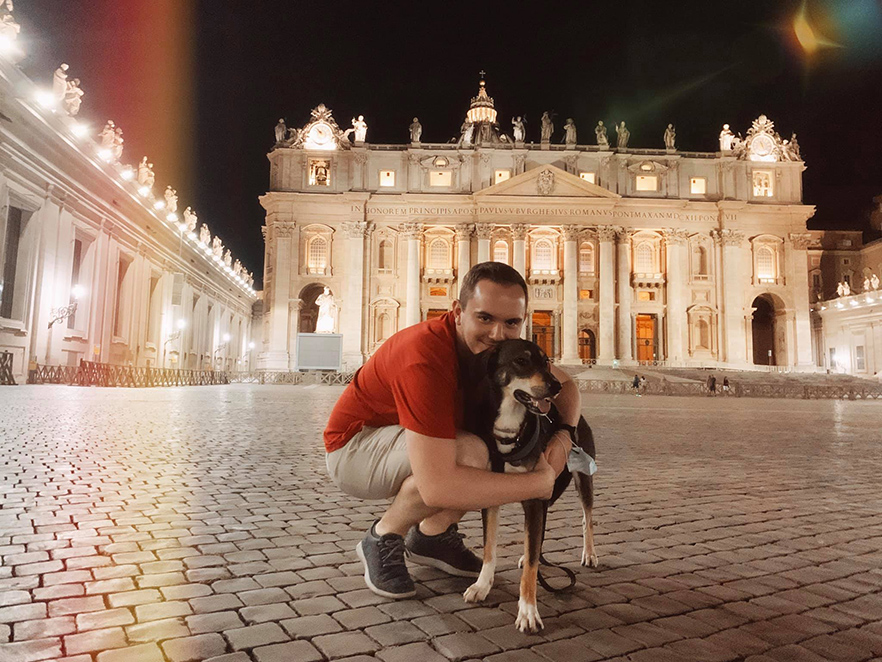 Learn some Italian
This tip applies to probably almost any country you will relocate to, but it has particular importance when moving to Italy as an English Teacher because Italian is incorporated into every aspect of daily life. Italians have a beautiful language, and they are proud of it! Embrace this opportunity for you to learn new grammar rules – it might even help you rediscover parts of English grammar that you hadn't reviewed recently. Speaking Italian will give you a large advantage when working with young students and when communicating with parents. Not many people speak English outside of large cities and tourism, so having basic communication skills will put you on the right track to advancing in your career and growing in the community. Andiamo!
"Dolce Far Niente"
This Italian phrase translates to "the sweetness of doing nothing." This is a major part of Italian life that can sometimes be a large adjustment for English teachers that relocate to Italy. Italians often love their holidays, and when they are not at work they do not want to talk about work. So, when you are not at work, try to focus on slowing down and enjoying the peace of living in Italy. Go for a nice meal, eat late, and drink another espresso shot as the Italians do. When you get a long summer holiday, go to the beach or travel throughout the country to enjoy the break. Many cities will close big attractions and all shops on certain holidays because life will slow down. This is your opportunity to explore or relax with no English classes. Examples of major holidays are Ferragosto, the Epiphany, Natale(Christmas).
Whether you are moving to Italy soon or considering a move in the future, put yourself out there and embrace the culture of Italians. They have lived this way for centuries and it always works out. You might find yourself teaching an English class at 10am and on the beach at 3pm or walking past the Colosseum on the same day, and that is the uniqueness of being an English teacher in Italy. Slow down and enjoy the pace of "dolce far niente," but don't be late for your classes! Let's go! Andiamo!