Dear Vietnam, Bless your public transport system
The city of Hanoi can grow tiresome. There I said it.
If I had to publicly announce this, half the internship would be outside my door with pitchforks, whilst the other half would be hiding in the shadows with me. The city is polarising.
Don't get me wrong, Hanoi has its charm, but for those who are accustomed to greenery and open spaces, you need to leave every once in a while to regain some sanity.
I have done so most weekends, hence why I am fairing so well.
Do I have dark circles around my eyes, suffer from occasional memory loss and have an unhealthy reliance on ice cream?
Yes. Especially the ice cream bit.
But in my opinion, things could be worse (think ice cream addiction opposed to reliance) and I have my weekend trips away to thank for that.
As I've got quite a few memorable weekend trips under my belt, I thought it would be fun to share my: Travel Tips Vietnam.
Vietnam Travel Tip #1 – Destination 
My first trip away has been my most memorable thus far, simply because it was long overdue.
I went to the lush mountains of Nihn Bihn.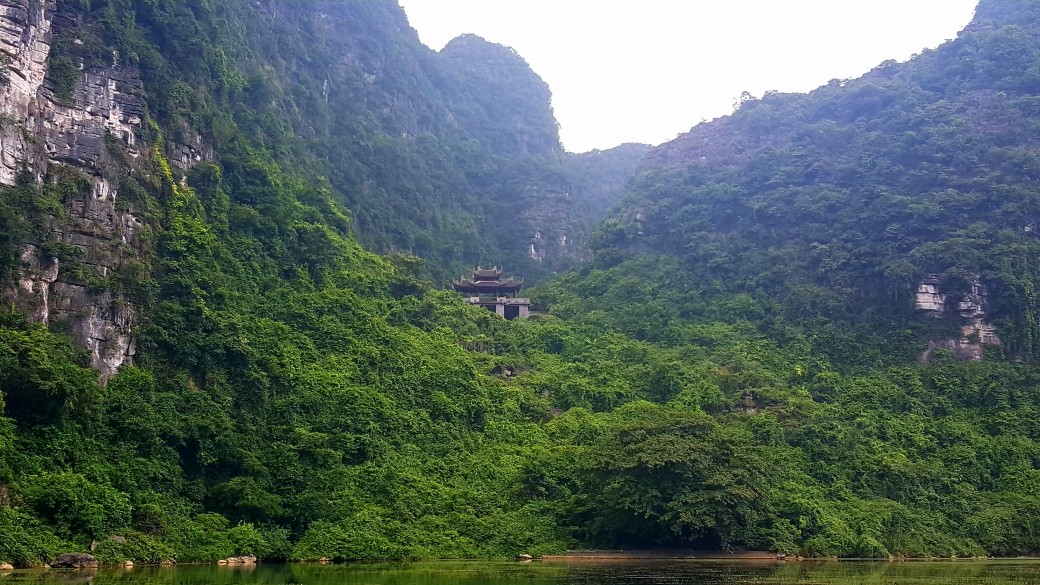 Although the destination was worth it, it became quite apparent that comfort is not a priority when travelling in Vietnam.
This was realised within the first 5 minutes of our bus journey.
Vietnam Travel Tip #2 – Public transport
Initially, there were 22 seats made for 22 derrières. Before leaving the bus terminal another 3 boarded.
This was all thanks to a man who stood at the parting doors, hollering words that obviously announced our destination and the fact that there was still space on the bus- a travelling salesman in the most literal form.
At first we were all shocked- where were these people going to sit?
But never fear when the travelling salesman is near!
Row by row, he pulled out padded planks which he then began to wedge in between seats, creating a make-shift bench.
When there was no more aisle left to utilize, a tiny stool was then provided and placed on the raised platform next to the driver.
We continued to get more passengers throughout our 3 hour journey and grew from a comfy bus of 22 to 35.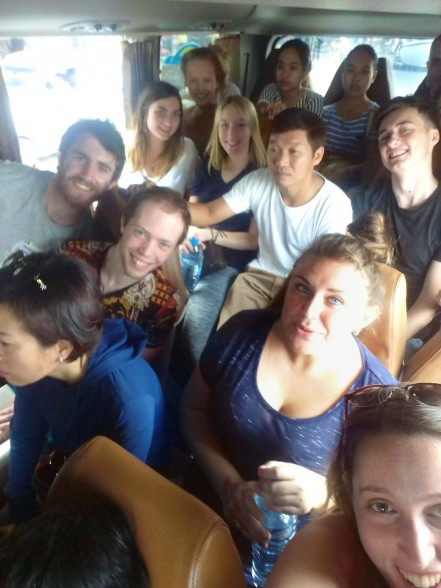 Leg room was non-existent and neither was privacy.
At one point, a Vietnamese woman seated on the 'aisle bench' next to me had a casual, little nap on my shoulder.
Thank goodness Nihn Bihn was worth it.
Vietnam Travel Tip #3 – Party with the locals
Our hostel was off the beaten track, nestled amongst the peaks of Nihn Bihn.
It was run by a vibrant and sassy Vietnamese man who had his own special blend of homemade rice wine.
Due to this 'home brew', he soon went from professional hospitality manager to frat boy, along with the best of us.
He was pouring shots, declaring his love for us and busting out some of his favourite lyrics.
It was lovely.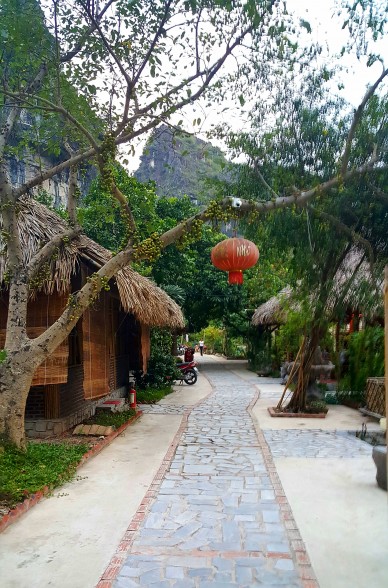 However, the free entertainment he provided wasn't the best thing about the trip.
That title goes to the unparalleled beauty and peaceful atmosphere. Nihn Bihn is as picturesque as they come.
Vietnam Travel Tip #4 – See as much as you can…even when exhausting  
One afternoon we took a rowing boat tour along the winding river of Trang An.
It's the kind of scenery that you only see in movies filmed in exotic locations.
Throughout the trip you pass by ancient temples and enter damp and musky caves.
One would think that the caves would be vast, allowing boats to easily pass through them.
This was not the case. We constantly had to 'duck duck duck!' as our friendly guide put it.
A more apt instruction would have been 'contort your body so as to not be pummeled into cave walls or bash your head on the ceiling'.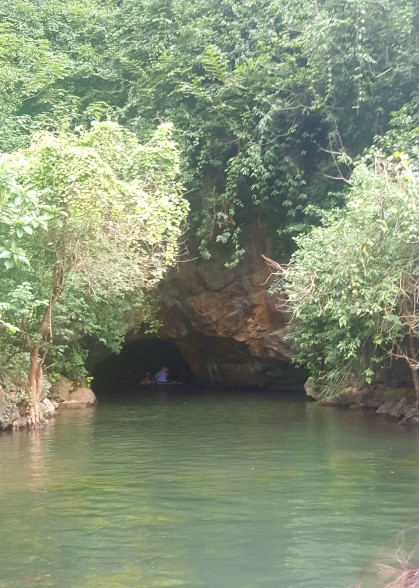 The reminder that I need to stretch more, was worth it though.
Another reminder that was harshly delivered the next day is that I do not do enough cardio.
Our wonderful group decided to rent bicycles and ride to 'Dragon Mountain'.
The cycling was wonderful, despite the fact that my handlebars kept on falling off- the price you pay for hiring cheap bicycles.
There's nothing quite like weaving though the shadows of mountains and the journey itself let me have my first real experience of a Vietnamese rural village.
In my opinion, it's far more appealing than the concrete jungle that is Hanoi.
Dragon mountain loomed ahead and as we neared, a feeling of dread slowly took over.
There were steps.
Hundreds of steps leading up to the peak where the dragon of 'Dragon Mountain' could be properly appreciated.
The mountain wasn't just to be viewed, it was to be climbed. The steps where made for giants, which is rather ironic taking Vietnamese stature into consideration.I lagged behind as my thighs burned and longed for release from this cruel endeavour.
What was I doing?!
However, the view made up for the jelly legs that accompanied me for the rest of the day.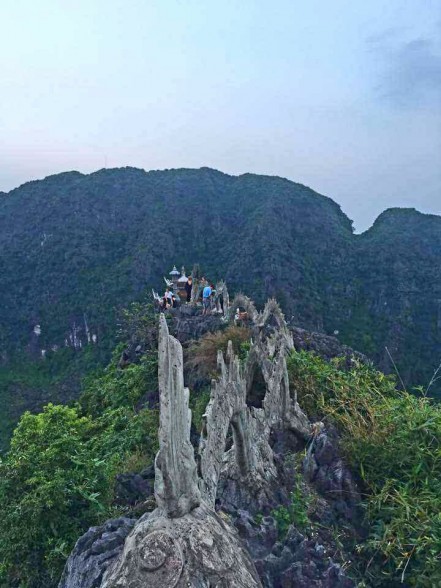 We were surrounded by rolling hills as far as the eye could see and sweet silence.
You forget how good silence sounds when revving scooters and loud hailers become your new norm.
So, that is the answer to keeping a sound mind in Hanoi- get out and explore the countryside.
I've been to numerous locations, all stunning and all with a unique appeal.
The one great thing about Hanoi is that these places are all within your grasp- you don't need to travel for days or make extensive plans.
You simply hop on a bus, train or ferry and become a pillow for a stranger… or two.
And if you're looking for your own Vietnam adventure, then don't forget to take a look at i-to-i's Paid Vietnam Internship
or download the Vietnam internship guide: https://www.i-to-i.com/teaching-internships/tefl-course-internship-vietnam-guide.html
Hope you enjoyed my travel tips Vietnam.