You touch down in Vietnam and are on the hunt for the weird and the wonderful!
Whether you've got a weekend free from teaching English, or are simply backpacking through this stunning country, here's our top pick of things that will guarantee you going home with stories to tell!
1. Hang Son Doong – Phong Nha-Kẻ Bàng National Park
Vietnam is known for its amazing caves, explored by thousands every year. But who doesn't want to see the biggest and the best?! Hang Son Doong, which roughly translates to "Mountain River Cave" holds the title as the world's largest cave. It's so huge that it could contain a skyscraper and even has its own jungle!
It's said that the locals were aware the cave existed but avoided exploring it as they were scared of the strange sounds caused by the underground river… definitely one for the bucket list we'd say!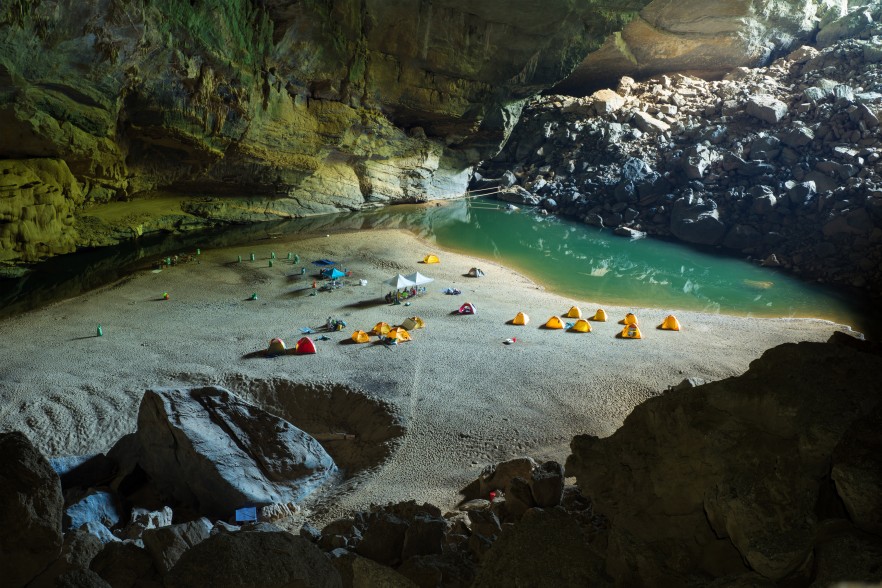 2. Ho Thuy Tien – Hương Thủy
Back in 2004, the Ho Thuy Tien water park cost over 3 million US dollars to create, but now this attraction isn't so shiny… If you want to know what a post-apocalyptic world feels like, this abandoned site is the nearest you're going to get.
Built 8 miles out of the Northern town of Hương Thủy, in its glory days, the jewel in this park's crown was its three-story dragon aquarium, complete with deadly sharks, manta rays and crocodiles, attracting flocks of fun-seekers, year after year.
Now, the park stands silent and empty with backpackers exchanging its co-ordinates so their fellow travellers can explore this strange sight. To make everything a little odder, sometimes there's even a refreshment cart selling drinks and snacks inside the park… This is what we call a proper day trip!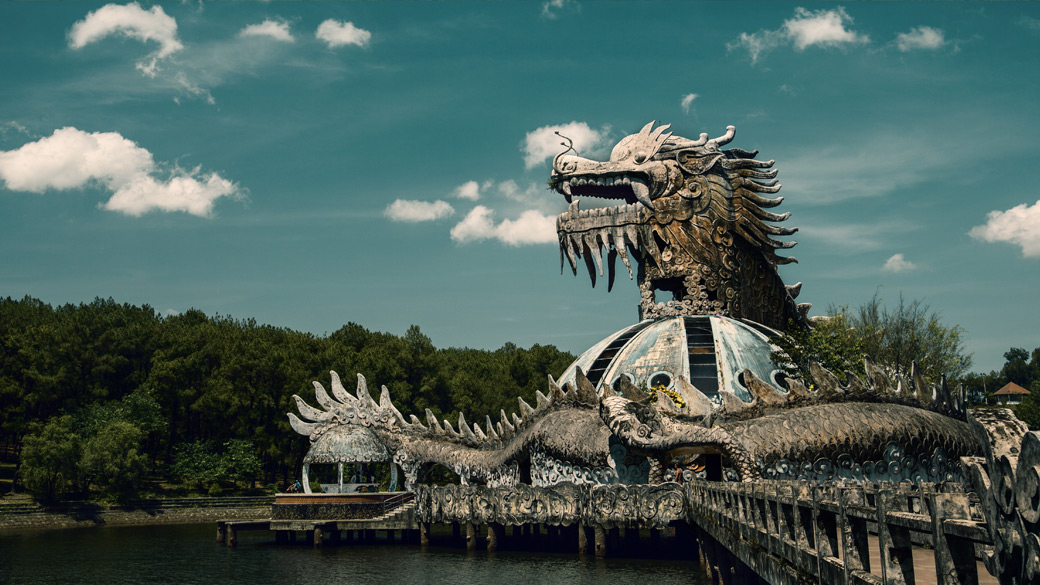 3. The Tomb of Nguyen Emperor Khai Dinh, near Hue
Emperor Khai Dinh was a rather unpopular ruler, with a rather large ego. Planning ahead, he taxed his people heavily to finance his elaborate resting place, complete with an effigy of himself, forged in shimmering gold.
When he died in 1925, he was laid to rest, up ornate steps decorated with dragons, stone elephants and warriors, surrounded by his personal gifts, ceramics and glass-embellished walls.
Most see this tomb as an excessive display of wealth and greed as oppose to celebrating the Emperor's life. All we know is that it makes for super cool snaps and stories to take home!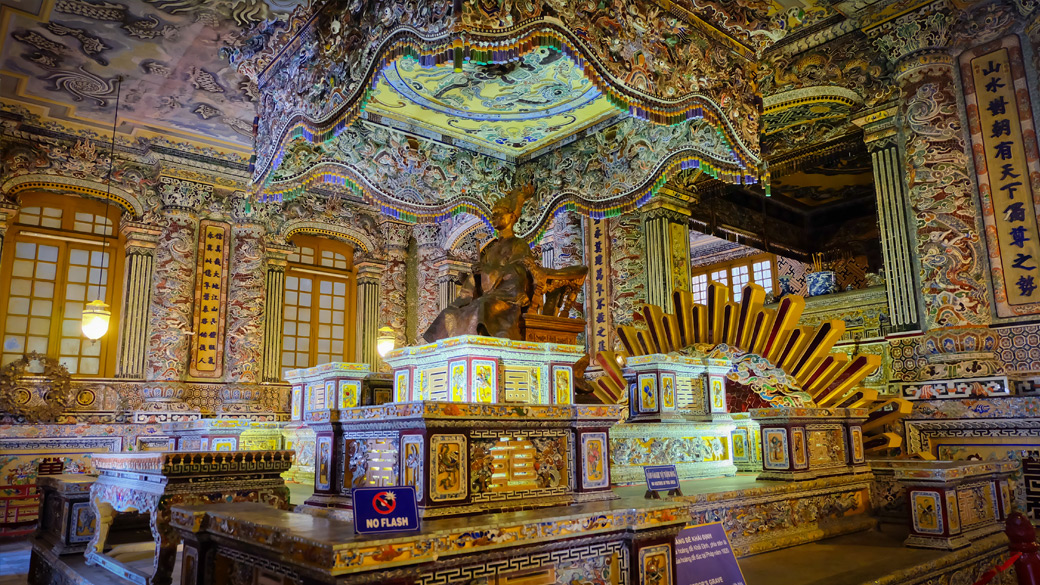 4. Crazy House Guesthouse, Da Lat
This surreal guesthouse is a spectacular landmark just outside of the city of Da Lat. Popular with holiday-makers and honeymooners, you'll feel like you've stumbled into a dream with this trippy Gaudi-style structure.
Perched high in the mountains, the twisting tree-trunk complex was created by avant-garde architect Hang Nga, who is based onsite and even meets the guests who stay there.
Prepare yourself for winding staircases, caverns, bizarre little windows and even an over-sized giraffe! What more could you ask for?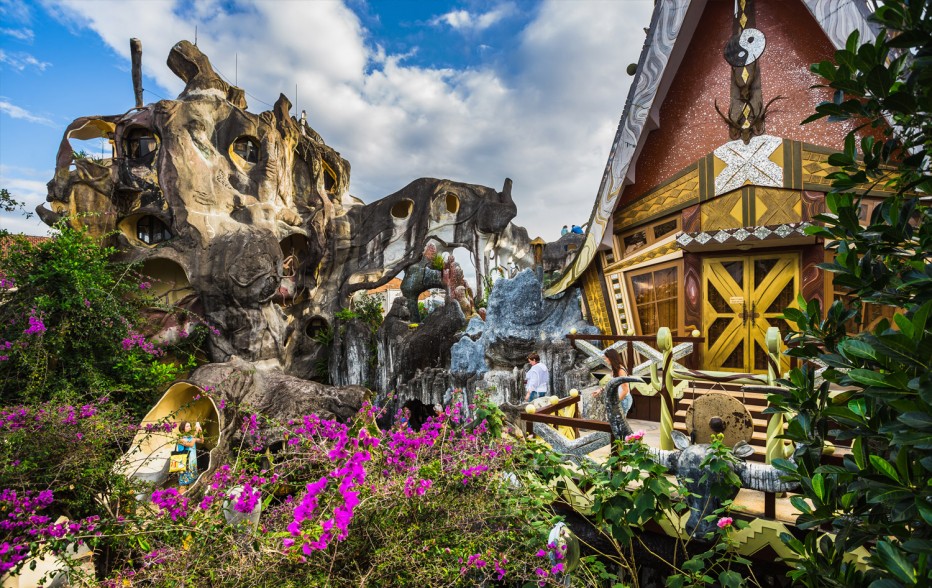 5. Apartment Cafés, Ho Chi Minh
They once were functional apartments for military personnel, now transformed into a bustling collection of beautiful boutiques and quirky cafés.
Stacked 9 floors high, you can explore "42 Nguyen Hue Street" on each level and discover Instagram-worthy Vietnamese coffees being brewed and hip stores selling clothes and accessories.
Popular with the youth of Ho Chi Minh, we suggest you check this hotspot out before it's too late – there's talk the authorities are trying to close it down, which just makes it that little bit cooler..!