Imagine the scene: you've just arrived in beautiful Thailand, and are wandering leisurely around Bangkok's packed-out Khao San Road taking in the exciting new sights and smells. Fire dancers mesmerise with their daring and dangerous stunts; street sellers hawk neon t-shirts and knock-off sunglasses; a smiling local approaches you with a tray piled high with enticing looking fried snacks.
You're peckish at this point, so you catch their eye with a smile. Hand over your 20 baht or so, and receive a crackling bag of crunchy treats to nibble. Raise one to your mouth, and catch a glimpse before you bite – what is this?! A black form with spindly antennae, hard and shiny stomach with pointy limbs crossed over… all speckled with grains of salt. Little did you know, fried cockroaches are considered a delicacy in Thailand; and if you're brave enough to crunch your way through its satisfying, salted-popcorn flavour you'll find out why!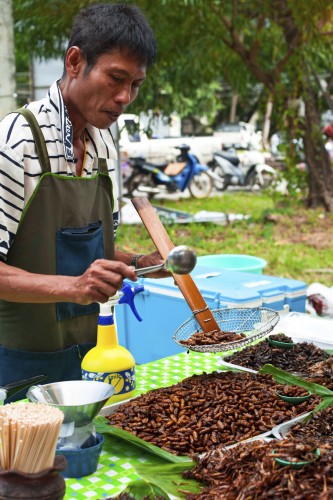 Thailand, along with many other Asian countries, is known for its wild selection of unusual foods that seem a bit… well, gross to the western palette – and fried bugs pale in comparison. That said, their resourcefulness in food preparation could serve as a valuable lesson to us in making the most of what's available and minimising waste; so read on for some truly – let's say, imaginative dishes. Here are our top ten mad meals from the Land of Smiles.
1. Kai Khao
Let's start with something you may have heard of. A delicacy across many Asian countries, here's a beer snack with a difference. Sit down at a pop-up bar and order an icy bottle of Chang beer in Thailand, and chances are you may see kai khao on the menu. Don't be fooled by appearances, though – this is no innocent boiled egg.
Kai khao is, put simply, an unborn baby duck. Crack open the pretty blue eggshell and you'll be greeted by a veined, pale, gelatinous mass complete with large yolk sac, tiny feet and eyes and even the beginnings of feathers. Locals love the intense poultry flavour and varied creamy-crunchy texture – chew it all down in one if you can face it!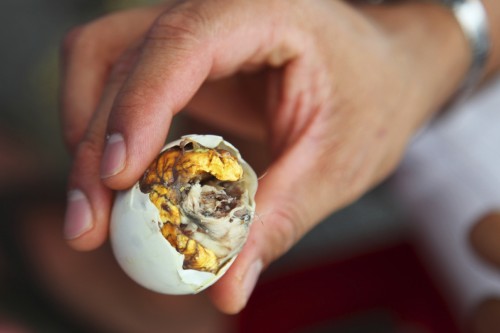 2. Som Tam Hoy Dong
The delicious, fresh, tangy and spicy som tam salad is a staple on many Thai restaurant menus, but the hoy dong in this particular recipe adds a none-too-appetizing twist. Take shredded green papaya, plenty of chilli, kaffir lime, garlic and crushed roast peanuts, and finish it off by adding some deliciously pungent fermented oysters. And then, drown the whole lot in a ruby red blood sauce. Serve with rice. Yum!
3. Durian fruit
This large, spiky-shelled monster is often called 'the king of fruit' – but from what we've heard, the jury is still out on that one. Banned in many public spaces and on public transport across Southeast Asia, the durian fruit looks (and smells) pretty threatening. You'll smell it a mile off when browsing fruit markets: the stench is said to be like rotten onions, turpentine or raw sewage depending on who you listen to.
If you can get past the formidable spiked exterior and stomach-turning scent though, the rewards are apparently worth it: the soft fruit inside has a delicate, creamy consistency and a rich, sweet, almond-y flavour.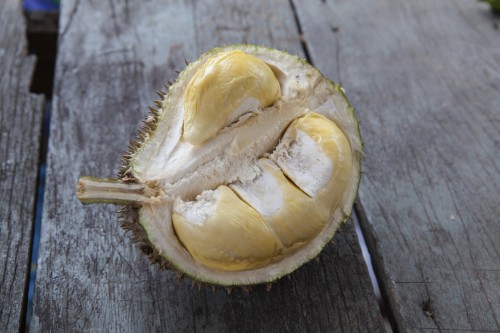 4. Goong Dten
Another one that definitely isn't for the faint of heart. Goong dten roughly translates as 'dancing shrimp', and this dish is perfect for culinary adventurers who are desperate to know what a mouth full of live shrimp feels like (we imagine squiggly).
Tiny, see-through live freshwater shrimp are put in a bowl where they toss themselves around with chopped green onion, chilli and spices (thanks guys) before being munched, still wiggling. They 'pop' between the teeth in a salty explosion that is meant to be really delicious. Would you be bold enough to try?
5. Bpaak Bpet
'Nose to tail' eating (scoffing the whole animal with the minimum of waste) has been a popular food fad in the UK for a few years now, but the Thais doubtless got there first. Bpaak bpet is a duck's beak, a couple of which can be picked up for just a few pennies at plenty of street food stalls in Thailand. The animal's bill is marinated in a delicious sweet soy sauce and then grilled.
Though the tough cartilage takes a lot of chewing, the rich, fatty meat inside is meant to be really tasty – just make sure it's soft enough to swallow!
6. Larb Mote Daeng
This is another crunchy creepy crawly dish that is supposedly totally delicious – after all, why should anteaters have all the fun? Red ants are cooked in their thousands with their large white eggs to create a dark, shiny mass speckled with creamy blobs. Close your eyes and take a bite – we reckon the sweet and sour crunch of the ants mixed with the rich, wholesome taste of the eggs is impossible not to love!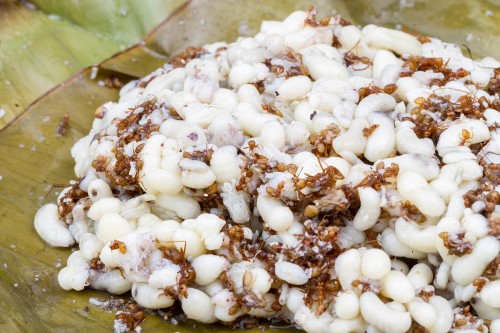 7. Mok Huak
Ever felt the need to plunge your mitts into the garden pond and scarf down handfuls of wiggly tadpoles? Somebody in Thailand has, and that's how mok huak came about. Get a big bucket of developing taddies (legs and all, if possible) and cook them up with green onions, spices, chilli… and a dash of fermented fish sauce (pla raa).
Bon appetit!
8. Luu Muu
On a Saturday morning, you may find yourself tucking into a hearty fried breakfast complete with black pudding, made of congealed pig's blood. Sounds gross but tastes great, right? What about luu muu?
Offal and blood feature heavily in Thai cooking due to their commendable attitude about non-waste. Iron-rich blood can be extremely good for you, or extremely bad (heard of Streptococcus suis?) so approach this dish with caution. Raw, bright red pigs' blood is mixed with a tasty spice mixture and served up over deep-friend crisp noodles and garnished with kaffir lime leaves and cab moo, fried pork skin similar to the pork scratchings you can get down the pub. The rich, iron-y flavour is meant to be quite bracing.
Let's not forget the words of many an esteemed doctor, though: the consumption of raw blood is not advisable.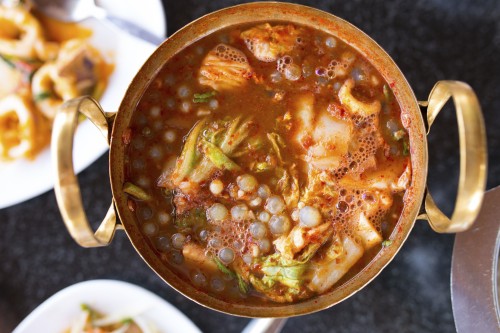 9. Bamboo rat
These toothy, oversized rodents are admittedly kind of cute, looking like a cross between mice and guinea pigs, and around the same size as the latter. They get fat on chomping through farmers' bamboo stocks and as such are considered a bit of a pest. When you're roaming around local markets, don't be surprised to see a couple of these big lads locked up in cages awaiting their fate – a swift skinning and being roasted whole on a grill.
The meat is said to taste similar to pork but with an exceptionally fatty, chewy texture – for this reason, it's usually served boiled up with veg and spices for a rich, meaty soup.
10. Laap
Back to the raw flesh and blood for a final hoorah – laap is quite similar to raw steak tartare, which is considered a bit of a delicacy in the west. This is another great way to make use of the whole animal when you're eating – unspecified meat (whatever is to hand!) is minced up really finely with a generous helping of blood and mixed with pulverised cooked offal and skin. Mix with fresh herbs like galangal, kaffir lime and basil; whack in some fried onion and garlic, and a special dried spice seasoning paste. Serve up the dark red, quivering mass with some sticky rice. Delicious.
We hope you've enjoyed this brief tour around the culinary conquests of Thailand; and remember, you can always enjoy a pad thai if none of the above tickles your fancy.
Fancy sampling some of these mouth-watering morsels for yourself? Check out our epic two month Thailand TEFL Experience by clicking here.