"You live where?! You do what?!"  Say those two sentences out loud in an incredulous tone and you will know what it is like when I tell people back home about my current lifestyle.
I am met with shocked outbursts and slight confusion; it seems like many people don't understand why I would take such drastic measures to turn my life around.
What could I have possibly done to make people react so strongly? Well, one year ago I packed up one large suitcase and my backpack and flew to the other side of the world: Bangkok, Thailand to be exact, to start my life living abroad and working as an English teacher.  Doesn't seem so bad, right? Never mind the fact that I had never been to Thailand before, let alone Asia and that the only times I had been in a classroom were as a student.  It only took a couple days for me to realise that it was the best decision I had made in my short life of 22 years. Others may think I'm a bit crazy (and I think those are the ones who secretly envy my decision), but I've found so much joy in this major lifestyle change and I am never turning back!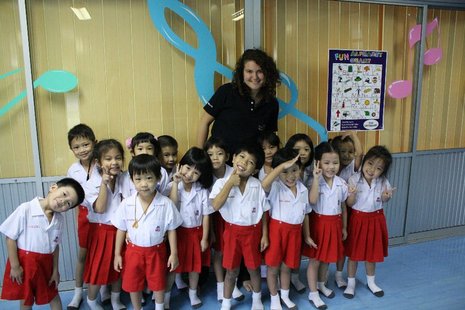 Just over a year ago I was down on my luck and feeling disheartened by the lack of jobs available for a recent graduate like myself. I was starving for that "big break" and the meagre responses to my resume left me feeling hopeless.  Little did I know that that big break would be to TEFL in Thailand.  You see, I was also starting to feel claustrophobic living in a small town in New Hampshire and my desire to travel could not be quelled.  While browsing the web one day, I came across TEFL and some more browsing led me to i-to-i's website.  Suddenly, the pieces fell into place and I knew what I needed to do.  It wasn't long until I was signed up for a 120 hour course and I finally saw my life heading in a direction that I was excited about.
Fast-forward two months, and I was on a plane to Bangkok after finding a teaching job.  I was nervous and excited all rolled up into one and nothing could have prepared me for those first few moments in the classroom when you realise, "Whoa, I'm responsible for these kids; I'm the TEACHER!"  After those moments passed, I stumbled a few times and then found my groove, a groove I was able to maintain for a year teaching with a language company in Bangkok.
Teaching is both overwhelming and fun at the same time. It's not easy to put into words, and now I know how all my teachers felt when I was in school!  It's not easy, but it's not hard; it's a mutual partnership between the students and the teacher and you do your best to hold up your end of the bargain and if the students don't hold up theirs, then you just grin and bear it.
I've taught mostly Kindergarten students, which is what I prefer. It is very humbling to work with 4 and 5 year old kids who have a better command of multiple languages than you do in your 20s.  It is also very encouraging to know that, maybe some aren't speaking full sentences, but you really are doing them a world of good by exposing them to the English language.
If living abroad has taught me one thing, it is that English truly is a universal language now and it is so important for non-native speakers to learn in order to succeed in this emerging global community. So, if you think it is pointless to teach Kindergarten students English, then I encourage you to come to Asia, or any other part of the world and teach a class and to see how beneficial it is or to talk to locals who see English as the most important thing for them to study in order to rise above their current, bleak circumstances.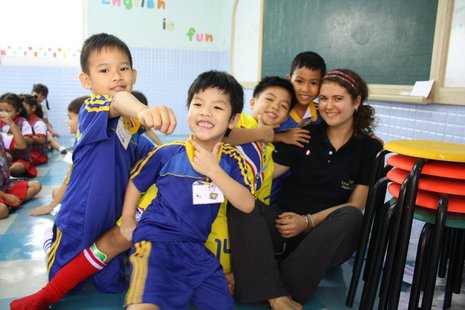 TEFL in Thailand: one year on
Am I happy with my decision to work and live abroad?  I think the answer to that question lies in what I did after my contract with the language company I worked for in Bangkok expired.  I packed up my suitcase for a second time and instead of boarding a plane back home to America, I hopped on a bus and headed to Phnom Penh, Cambodia to begin a new chapter of my life abroad.  I plan on living in Cambodia for a year and volunteering at a local non-profit and teaching English, of course! Plans always change, but I feel pretty confident that at the end of this year in Cambodia (if there is an end!), I won't be going back to America either; and that instead I'll go off to a new country, with a new culture and spend time there living, working and spreading the TEFL love as I go.
Is it your dream to TEFL in Thailand?  Whether you want to find a job independently, or receive in-country support and a network of interns in the form of an internship, anything is possible with i-to-i!