Guest written by our lovely intern, Jenny, who's on the Thailand TEFL Internship. 
"What do you like to do in your free time?" I ask my students this question as Natalie, (my fellow intern at school), and I teach them about hobbies.
Unfortunately they're not quite at the level where I can tell them what I did at the weekend, but I am pleased to be able to enlighten you as the blog reader! And if you ever find yourself in central Thailand I hope it might be useful!
Kanchanaburi – a town full of history and beautiful surroundings
On my first and second weekend after commencing teaching, I found myself in the city of Kanchanaburi. It is the provincial city and mostly known for being the site of the famous bridge over the river Kwai – part of the Death Railway built by prisoners of war in WWII to provide the Japanese army with a route into Burma (now Myanmar). The historical sites in the town are definitely worth checking out. But if you have a day I recommend hiring a ride to take you further out to see Hell Fire pass – a section of Death Railway that resulted in a vast number of deaths during construction.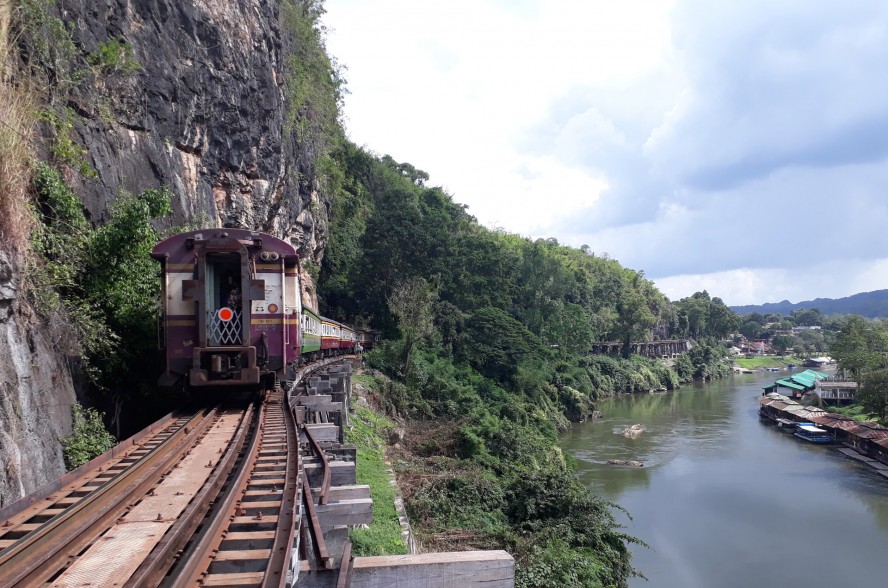 Closer to Kanchanaburi, you can also stop at part of the railway that is still in use. You can walk along the railway to get amazing views, but listen out for the train. I found myself having to dive for cover when it came along the track! Nah just kidding… the train deliberately moves at snail pace at this point to allow tourists to find a safe space.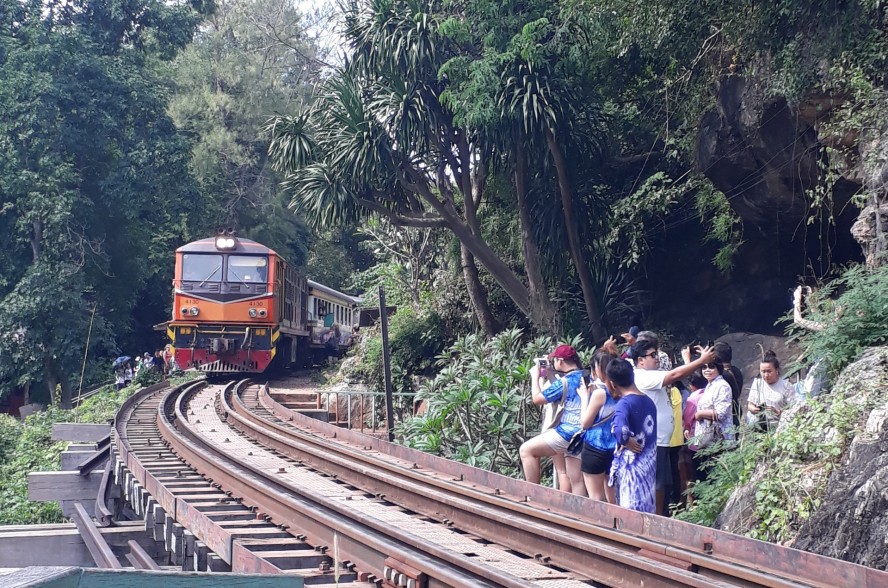 Erawan Falls
Another day trip I recommend is to Erawan. This beautiful national park is the site of a vast waterfall. The park is divided into 7 tiers, with waterfalls and pools at each tier. After the 5th tier I found myself clambering up through the waterfall itself to reach the top. I got pretty muddy but it was totally worth it! And after the trek down I went swimming in the 1st tier pools.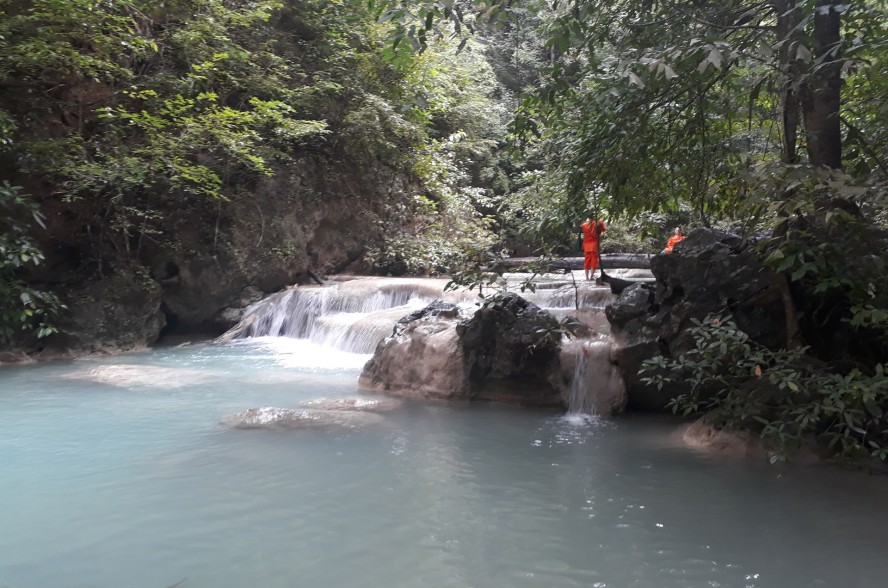 Aside from the historical sites and national parks, Kanchanaburi has everything you need for the weekend. When I needed a break from sightseeing, I found myself paying 100 baht to use the beautiful swimming pool at a local hotel. A wonderful way of keeping cool in the 35 degree temperatures of this "cool season". I then followed my session relaxing by the pool with a Thai massage.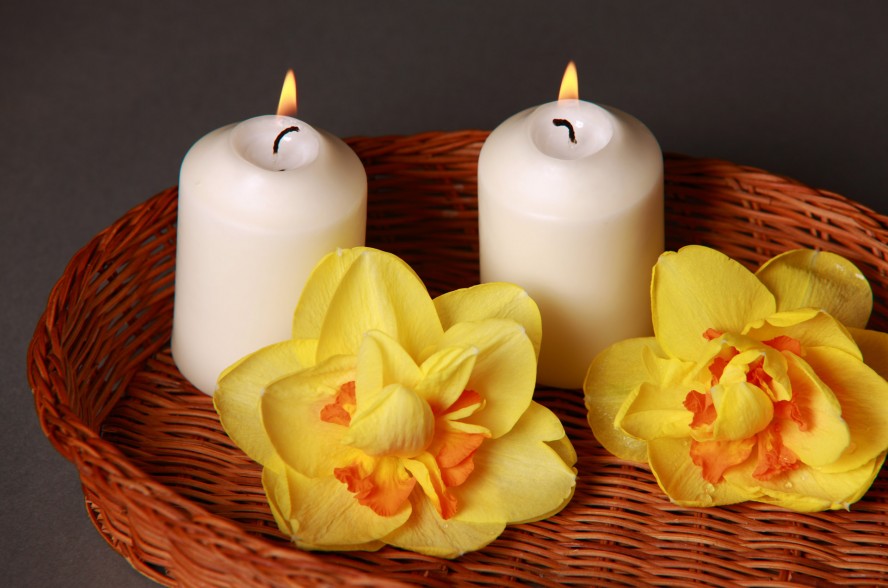 This was a strange experience but totally worth trying. The masseuse did a great job of working the knots out of my back and bending me in every direction possible!
Bangkok – the beating heart of Thailand
On my third weekend I found myself in the capital. The sour stench of the city smacked me in the face the minute I left the air conditioned mini bus. But before long I found myself liking the place. I strolled across Pinklao bridge and took in the incredible sight of the city sprawling to the horizon in all directions.
It's a wonderfully weird mish mash of beautiful, old temples and modern architecture between some less slightly buildings. I found I had picked an awesome hostel where people weren't shy to give me hugs and show me great places to eat and drink. Bangkok is a big city that can seem confusing, unorganised and unfriendly if you don't find yourself staying the right place.
Khao San Road
If you are travelling solo or in a small group, I do recommend staying in a large, sociable hostel. And you don't need to be on the Khao San Road to find a good atmosphere. Speaking of which, the Khao San Road was exactly how I imagined it – buzzing with people, clubs and market traders!
Wat Pho & Wat Arun
But it's the temples that were absolutely the most amazing things I'd set my eyes on. Wat Pho and Wat Arun are stunning and must take high priority on your list if you ever visit!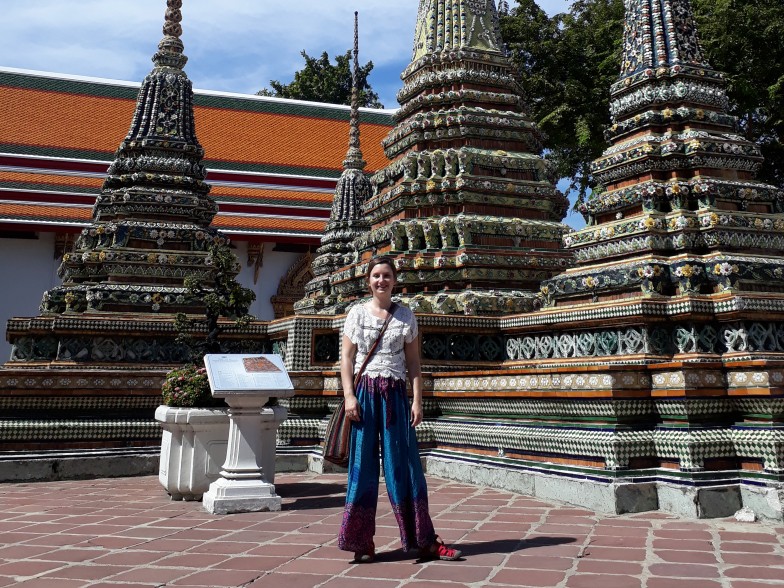 Then after two busy days I was pleased to discover one of the shopping malls. I had no regrets tucking into a Subway and watching Thor: Ragnorak. It's a fantastic city but I needed the 'down-time'.
I have met a huge number of travellers on my weekends who seem to be having the trip of a lifetime around South East Asia. I wouldn't swap the teaching for endless travelling right now though. I feel that the time I have spent at school and with the Thai community has made me wiser to this country. In particular, I found Bangkok a lot less overwhelming compared to others. I look forward to the weeks that I will spend on the road after the internship. But right now I am enjoying the sense of belonging to a place in this vast country. I look forward to the Friday feeling and my fun weekends here. But I also enjoy coming back to my lovely housemates and amazing students – it's pretty much my home from home.
Ready to start your own Thai adventure? Check out our Paid Thailand Internship or our TEFL Experience…