After the grueling 22 hour train ride from Beijing, pulling up into Guangzhou station was very exciting. The train moved slowly through Guangzhou for about twenty minutes before it stopped as the city was enormous. My friend who was placed here mumbled to me, 'I don't think five months is going to be long enough to explore this place.' We all disembarked from the train, and representatives from our school came to collect us. All of a sudden, we found ourselves saying goodbye to each other and setting off in different directions.
My turn came to go, and suddenly our group was down to just four. It was sad, but the sadness at leaving the others was mingled with excitement at finally beginning our new lifestyles and getting into teaching. Luckily, most of the people I'd become really close with were living between 30 minutes – 2 hours away so we promised to catch up on weekends. The four of us drove for about forty minutes to Foshan. We were the new foreign teachers for the Nanhai Guicheng Foreign Language school.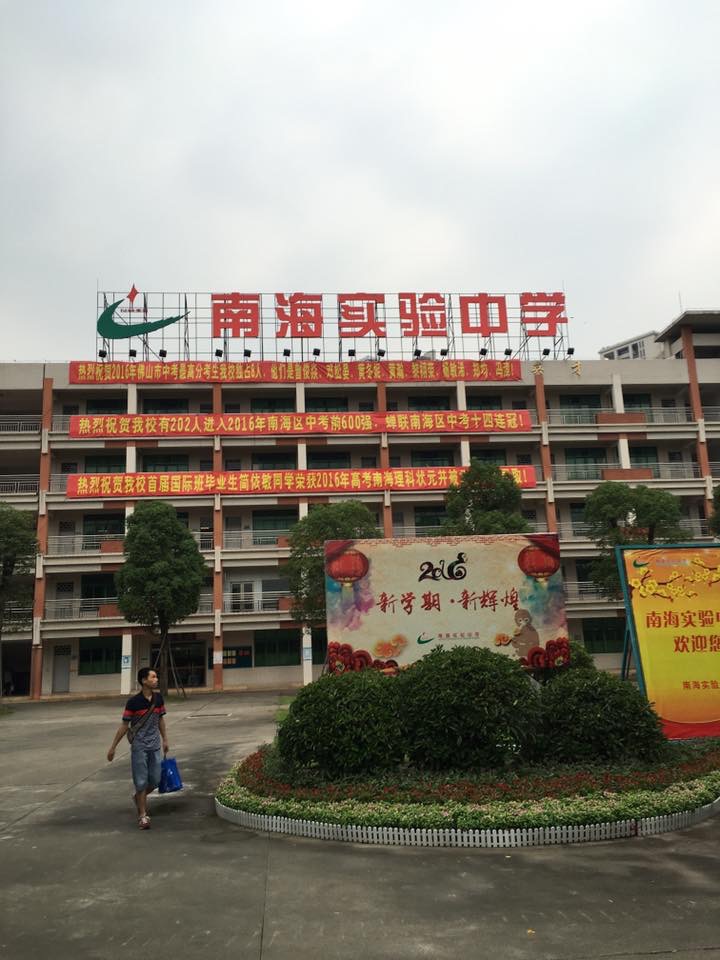 There are two campuses, one is the middle school in the heart of the Nanhai town and the other is the primary school a twenty minute bus ride away. The foreign teachers all live at the middle school for convenience so that they can walk to the town, the supermarket, the train station, etc. Steph and I were told we would be teaching at the primary school and the two Danish boys we were with, Johan and Jonathan, would be teaching at the middle school. We moved into our new apartments, our English contacts were very welcoming and told us on many occasions if we needed anything or had any issues, to ask them and they would fix it. They held a welcome lunch for us in the next couple of days which was a really nice gesture.
Foshan itself is really lovely. It's so green, there are trees everywhere, lush grass and an abundance of frangipani flowers. One of the foreign teachers who had been working for this school for a year gave us a tour of the centre, showing us the train station, supermarket, shops, where the local Chinese hang out, etc. the weather is very different to home in Australia, it's quite hot and the humidity is very intense. You walk outside and ten minutes later without even realizing your whole body is drenched in sweat! We have arrived just in time for the rainy season, the first few days the weather was nice. The next few days it rained like I've never seen before. I didn't think it was possible for so much rain to fall at once; the term 'bucketing down' isn't strong enough to describe it. The climate is very interesting here that's for sure!
I'm really excited to embrace my new lifestyle here and take up every opportunity Foshan has to offer! Steph and I went to explore Foshan and rather than going to the built up 'westernized' mall and shopping centers, we went to what is known as The Alley. The Alley is authentic China, a strip of shops and street vendors down a grubby winding alleyway that has absolutely everything: tea houses, mini restaurants, street food, mini marts, massage palours, $2 shops selling everything, cheap clothes stores, cheap knock off shoe stores, a Buddhist temple, fruit and veggies stores bursting with produce, pool tables, basketball courts etc. It was fantastic.